News
When Hollyoaks actors do horror
There's long been a hidden link between Hollyoaks and horror. Here are 10 actors who've made the jump from soap to gore...
NB: This article contains spoilers.
There's a moment in one of comedian Simon Amstell's stand up shows where he recounts a conversation he once had with the executive producer of Channel 4 soap opera Hollyoaks. Trading on the commonly held opinion that Hollyoaks is "garbage", Amstell enquired as to why the producer didn't try to make it better. The answer came that they did make it better, but people stopped watching.
Even by the not-so-great standards that soaps are measured, Hollyoaks has always been firmly towards the bottom of the ladder. The fictional Chester suburb where the majority of inhabitants are extraordinarily good looking but also extraordinarily stupid has been identified by its often wildly outlandish storylines and impossibly pretty people.
Hollyoaks has been on the air for almost 20 years now, and as with any soap, it's had a sizeable cast move in and out of it during that time. Unlike other soaps though, Hollyoaks' primary cast has been predominantly made up of younger actors. It might not be too much of a surprise, then, that a number of them have found their way into the horror genre since leaving the show. It's not unfair to say that horror movies have a tendency to fill their casts with actors that are easy on the eye. Hollyoaks is almost like a breeding ground.
Most recently, former 'Oaks star Wendy Glen has been seen in the very well received You're Next, but for others, the foray into the genre of scares and gore has proved to be something of a mixed venture…
Gemma Atkinson
On Hollyoaks: wallflower turned wild thing Lisa Hunter.
In Horror: Emily in 13 Hrs, amongst others.
Gemma Atkinson has been carving herself out a rather nice career in horror movies of late. She's the lead in the upcoming Night Of The Living 3D Dead. Her latest movie, the Renny Harlin directed The Dyatlov Pass Incident, recently played at FrightFest, and she featured alongside Mark Hamill in flight terror Airbourne. Unfortunately for Gemma, she's yet to appear in anything that's actually been any good, including her horror debut 13 Hrs.
Jonathan Glendening's werewolf-in-a-remote-country-house movie is a very by the numbers offering, in which Atkinson stars as the promiscuous best friend of the heroine alongside Draco Malfoy and that guy who played the son in My Family. They're chased around dark corridors and ripped to pieces by something that's largely unseen and has the vision of a person holding a red filter over a lens. The movie does have some nice gore make up effects at times.
Gemma seems to be playing to type, trading on her lad's mag image, but she looks the part of a horror movie victim at least, and it's not her fault that the script could have used a little more attention. It's a shame that her character goes out by blowing her head off with a shotgun.
Ali Bastian
On Hollyoaks: bad teacher Becca Dean
In Horror: Dani in Strippers Vs Werewolves
Ali Bastian had an eventful run on Hollyoaks from 2001 to 2007 which saw her go from naïve undergraduate at the prestigious Hollyoaks Community College to getting pregnant by one of her students, and ended with her being stabbed in prison. After a stint on The Bill, Bastian made her way to Lock Stock-style face-off horror, Strippers Vs Werewolves.
In a movie from the same school as the ill-conceived Lesbian Vampire Hunters, Bastian is one of the SVsW's few redeeming features. Dani is the kind-hearted stripper, who only wants a cute relationship with her strip club's nice doorman. Unfortunately, their first date gets off to a rather bad start when she arrives at his home to find his head's been detached from his body by a pack of revenge hungry lycanthropes.
Ali gets a couple of the movie's very few funny lines and comes out of the whole thing in a better light than most of her co-stars. That said, no one looks very comfortable, especially when having to engage in a scene where the strippers perform a routine for their hairy enemies dressed as Red Riding Hood.
Strippers Vs Werewolves is the second movie this piece has included from Jonathan Glendening, a director who really seems to have a thing for werewolves and ladies from Hollyoaks.
Loui Batley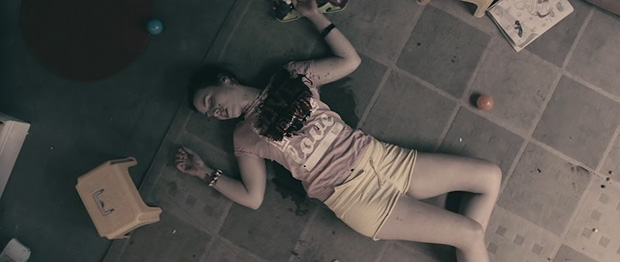 On Hollyoaks: Olympic swimming hopeful Sarah Barnes
In Horror: Amy in Tower Block
Loui Batley's exit from her Sarah Barnes character in Hollyoaks could well have fitted nicely into a Single White Female-type horror. Having enraged her lover Lydia, she became the victim of a sabotaged parachute meant for her friend Zoe and plummeted to her doom.
Her exit during Tower Block isn't nearly as dramatic, being one of the first victims picked off by the angry sniper who targets a floor of high rise residents in the British thriller. Tower Block had a good mix of characters and an excellent cast to play them but was marred by high school play-type conversation, and an unsatisfying and well-telegraphed resolution. A shame, really, as it's a movie with some good ingredients.
Max Brown
On Hollyoaks: "heartthrob student" Kristian Hargreaves
In Horror: Liam in Turistas – also known as Paradise Lost
If some of the women from Hollyoaks haven't had too much luck in horror movies, then Max Brown has possibly fared even worse. In fact, his contribution to this piece is probably the worst movie talked about here.
As Kristian Hargreaves, Brown was one of Hollyoaks' long line of interchangeable, bed hopping students and non-too-memorable a character. In Turistas he's one of horror's long line of interchangeable vacation makers getting butchered in a foreign land. Alongside Melissa George, Josh Duhamel and that British guy who was in Go and used to be in Grange Hill, Brown makes up the numbers as one of a clutch of unlucky backpackers that fall foul of an organ harvesting racket, run by a baddie who looks like Nick Knowles from DIY SOS.
Brown doesn't even get a spectacular death scene to add to his CV, as he is simply beaten and dragged off to be sliced open. The movie really only has one truly gory moment before it's back to more scenes of people swimming and walking through the jungle. The obvious ones survive and the ones who've had sex don't. It's no wonder Max Brown has steered clear of the genre since.
Warren Brown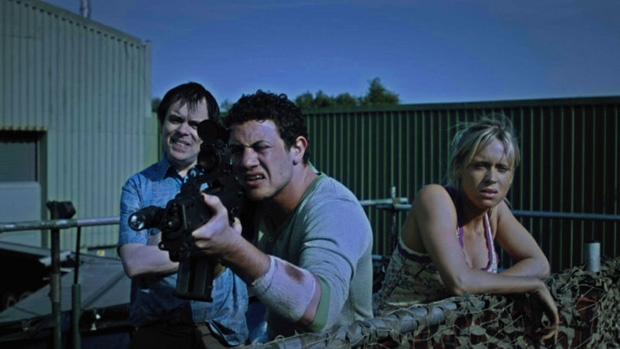 On Hollyoaks: nasty piece of work Andy Holt.
In Horror: Marky in Dead Set.
Ooh, they don't come more evil in Hollyoaks than Andy Holt. Luring unsuspecting women into his bed by illegal pharmaceutical means, Warren Brown gave viewers one of the show's most memorable villains. He died when he ran into a pole, so that was nice.
Warren Brown has established himself as reliable hand in TV drama since his stint in Chester, appearing in the likes of Luther and Inside Men. He even popped up as one of Bane's henchmen in The Dark Knight Rises, but his single contribution to horror so far is in Charlie Brooker's zombie serial Dead Set.
Brown was one of the participants in a fictional version of Big Brother when a zombie outbreak threatens Britain. Dead Set appeared when people actually cared about Big Brother, and while it carried a novelty value of seeing past house mates and Davina McCall going all undead, it provided a remarkable amount of gore for an E4 show. Andy Nyman, the highlight as loathsome producer Patrick, meets a particularly gruesome end.
It probably wasn't as clever as Charlie Brooker thought it was, and didn't quite get over the "we are all zombies in front of the television" message it wanted to, but Brown and the rest of a cast, which included Kevin Eldon and Jamie Winstone, made it decent enough. Warren's Marky was your typical BB alpha male.
Roxanne McKee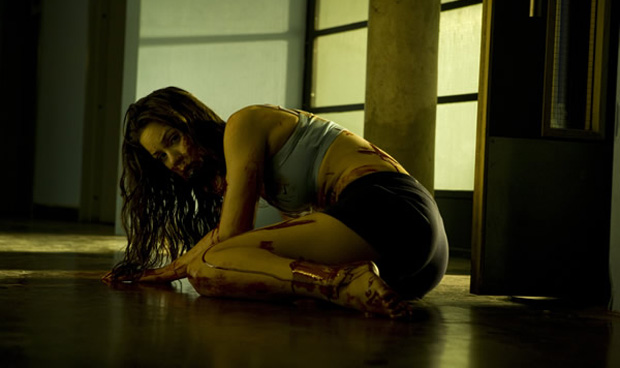 On Hollyoaks: ice queen Louise Summers.
In Horror: Nicky in F.
Roxanne McKee is probably more recognisable to readers of this site as Doreah, handmaiden to Daenerys Targaryen on Game Of Thrones, but before that she was Hollyoaks' vixen Louise Summers, who met her end when her fiancé smothered her with a pillow on Christmas day. Which also happened to be their wedding day, so not a good day all round.
In between Hollyoaks and Westeros, McKee appeared in F, Johannes Roberts' school-based horror. McKee played an admin assistant at teacher David Schofield's high school, which finds itself under siege from a group of mysterious hooded figures. It is a movie which divides opinion, but this writer comes down firmly on the side that believes F to be one of the best horror movies of the last decade. The movie taps into the identifiable fear of going to school and infuses that with the stuff of nightmares. It plays out in desolate, clinically creepy corridors and has one of the best open endings in recent memory. It's rare that horror is done so right as it is with F.
The movie really belongs to Schofield and Eliza Bennett, who plays his daughter, but McKee makes her brief time on screen memorable as she's the victim of one of the movie's nastiest moments, and a stunning make up job that lingers in the brain for days, along with many other elements of this great movie.
Emma Rigby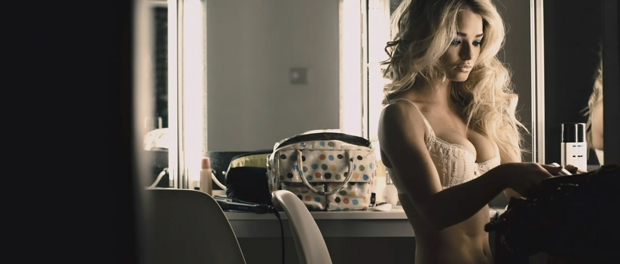 On Hollyoaks: bulimia sufferer Hannah Ashworth.
In Horror: Samantha in Demons Never Die.
Emma Rigby won much praise for her time on Hollyoaks as Hannah Ashworth. She was at the center of one of the show's most hard hitting storylines at the time, which dealt with bulimia and anorexia.
Now popping up in various TV shows on both sides of the Atlantic (she's the Red Queen in Once Upon A Time In Wonderland), the illness her character suffered from on Hollyoaks translated to the one she took on for British slasher Demons Never Die – a movie which is much better than it has any right to be given that its primary marketing tool was that it also featured Tulisa (I think she's in a band and on X-Factor).
Rigby is one of a group of teens who commit to a suicide pact, only to change their minds as a masked killer starts picking them off one by one. Emma's bulimic model Samantha suffers from 'second girl syndrome' so isn't in the movie for very long, but she's not bad for what time she does spend on screen. Demons Never Die owes a huge debt to Wes Craven's Scream movies. There are some scenes lifted directly out of that series, but it does enough to keep up the interest with a few genuinely creepy moments. It's a shame the ending makes no sense whatsoever.
Davinia Taylor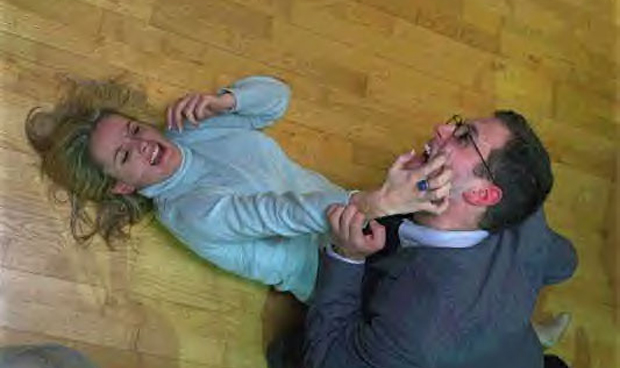 On Hollyoaks: bad girl Jude Cunningham.
In Horror: Lauren in Urban Gothic episode, The One Where.
Jude Cunningham was the original Hollyoaks wild girl. Stealing cars and jewelry, she ended up taking her dead sister's passport and fleeing the country and the authorities. Since her departure from Hollyoaks, Davinia Taylor has been busy marrying and divorcing a footballer, but she did turn up back in 2000 in one of the best episodes from horror anthology show Urban Gothic.
Urban Gothic ran for two series and was made up of short, half hour horror stories that went on a weekly basis on late night Channel 5. Some of them were good, some not so much, but Taylor's, which paid homage to US sitcom Friends, was a blood-soaked and memorable one. Davinia's Lauren is one of a group of friends that also includes Crispin Bonham Carter and a pre-Peep Show Robert Webb. She begins dating a man named Lucien who plays puppet master with the gang's relationships and inner torments, eventually bringing out their resentments and hatred. Still, it's good to have friends that you can rely on to help you dispose of a body.
The episode was as characteristically dark as many of Urban Gothic's offerings and stood out thanks to its semi-recognisable cast. Taylor shows some decent horror chops here, so it's shame she never did much else. The episode ends on a deliciously dark note and is well worth seeking out. It'd be great to see Urban Gothic given a revival.
Hannah Tointon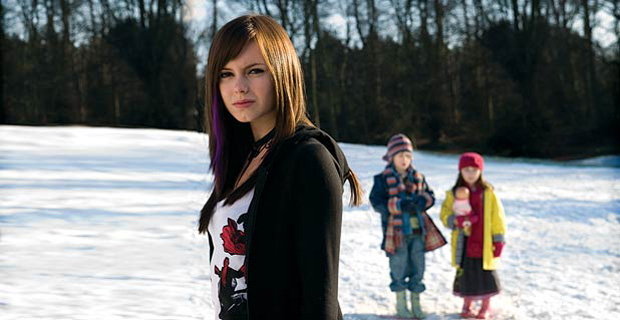 On Hollyoaks: the always-in-trouble little sister Katy Fox.
In Horror: Casey in The Children.
Hannah Tointon was only on Hollyoaks for about a year, mainly a facility for advancing storylines with her on screen brother, Warren Fox. She did have the honor of being kidnapped and driven over the edge of a cliff, though.
Tointon has had better success in horror since leaving 'Oaks than some of her co-stars. She's in the upcoming Young, High And Dead, and was an essential ingredient in director Tom Shankland's 'kids do the scariest things' movie, The Children. Set over a New Year's weekend at a remote farm house, two families find themselves set upon by their little darlings when the younger members of the party go all Damian. It's an intense movie which amplifies the frustration of parenthood to an extreme level, as well as delivering some seriously sinister kids. There's a dinner table scene that acts as the catalyst for the following bloodshed which puts any tea time tantrum your offspring may have thrown into clear perspective.
Hannah plays the eldest child, caught between the adults and the rugrats. She does the misunderstood teen thing really well, and doesn't go over the top hysterical when the mayhem begins. The movie has a slightly frustrating lack of explanation as to why these little ones turn into homicidal maniacs, but it does a very good job of exaggerating the tension of sibling rivalries and family get-togethers, and mixing that with some supernatural stuff.