News
What we know about John Carter
We take a look at John Carter's long journey from the printed page to the big screen, and at Andrew Stanton's adaptation, due out next year...
Of all the blockbuster movies due out next year, Disney's John Carter hovers somewhere near the top of my personal most anticipated list. An adaptation of Edgar Rice Burroughs' series of John Carter novels from the early 20th century, it promises to be a fun, adventure-filled yarn full of exotic aliens, soaring architecture and heroic action.
Originally published in serial form in 1912, Burroughs' A Princess Of Mars introduced the steely-eyed hero, Captain John Carter, and his adventures on the red planet, referred to by its inhabitants as Barsoom. It was a fanciful, action-filled story, with warring alien tribes (the humanoid Red Martians and the multi-armed Greens), kidnappings and rescues, along with a side order of swooning romance. Anticipating Superman by several years, ex-soldier Carter found that the change in gravity and climate had given him extraordinary athletic powers and eternal youth.
The popularity of A Princess Of Mars saw John Carter return for ten more adventures, all published between the years 1918 and 1940, and collectively known as the Barsoom series. These stories have had a lasting influence on authors and filmmakers, and their grandiose narratives left an indelible imprint on movies such as Star Wars and, most recently, James Cameron's Avatar.
It's mildly ironic, then, that it's taken so long for an adaptation of the Barsoom stories to make it to the big screen. A low-budget, swiftly produced adaptation called Princess Of Mars was punted out by The Asylum in 2009 and went straight to DVD, but Hollywood, meanwhile, has struggled to make a John Carter movie for decades.
A feature-length animation was proposed by MGM in the 1930s, with legendary animator, Bob Clampett, at the helm. Using the same kind of rotoscope technique that was later used so well in Disney's Snow White And Seven Dwarfs, Clampett produced some promising early test footage for the movie, yet the project was ultimately scrapped. Bafflingly, it was decided that the concept of an adventurer on Mars was simply too high-concept for audiences to grasp.
Various well known directors and producers have attempted to bring John Carter to the big screen since. Disney toyed with the idea of making one as a rival to the Star Wars franchise in the 1980s, with Tom Cruise in the lead, but this was again scrapped, this time due to the cost of producing the requisite special effects.
And so, after years of proposals and a revolving door of writers and directors, the John Carter property has landed in the talented hands of one Andrew Stanton.
Stanton is, of course, the writer and director of classic Pixar features as WALL-E and Finding Nemo, so John Carter marks an exciting step into live-action filmmaking. He's co-written John Carter with prize-winning author Michael Chabon, and the movie will concentrate solely on the events of the first of Burroughs' books, A Princess Of Mars.
Headed up by Tyler Kitsch as John Carter, the movie boasts a sterling supporting cast, including James Purefoy, Mark Strong, Dominic West, Samantha Morton, and best of all, Willem Dafoe.
Aside from the pedigree of its cast and crew, it's the evidence that Stanton is sticking closely to his source material that is so exciting about this adaptation. Where some film productions fill me with an increasing sense of dread as more information is released, I get a little more enthusiastic about John Carter with each snippet of news.
Earlier this week, actor Mark Strong spoke about the movie's progress, and praised Stanton's abilities as a storyteller, but also mentioned that John Carter will be set in the same time frame as the original novels.
"The thing that I think will distinguish it, which I'm most excited by, is that, even though it takes place in space – it's science fiction – it's from a Victorian point of view," Strong told SFX. "Because Edgar Rice Burrows novels were at the turn of the century, and his perception of space was very different from ours."
In A Princess Of Mars, John Carter is introduced as an American Civil War veteran, a plot point that will remain unchanged in the movie. As Strong points out, Burroughs' novels are keyed into the time in which they were written, shortly after the Victorian era, and an attempt to modernise them would surely eradicate much of their resonance.
The fact that the film's characters share the same names as those in the first novel is, I hope, a further sign that Stanton's approached the adaptation with more sensitivity than some Hollywood directors might otherwise have done.
Last Friday, Stanton spoke of his work on the film to the LA Times. It's a fascinating interview that you really should read, but one particular thing he said filled me with intrigue. When asked how he'd differentiate John Carter from films such as Star Wars or Avatar, which moviegoers may not realise were influenced by Burroughs' works, Stanton responded that he wanted to tackle John Carter as an historical epic, a sequence of events that really happened.
Citing movies such as Apocalypto, Shogun and Lawrence Of Arabia, he said, "They give me a sense of what it would be like in that land and in that age. So, then you ask, 'Well, what if we just did our Martian research really, really well and treated it as a period film?'"
It's this aspect, more than any other, that intrigues me about Stanton's John Carter movie. Back when Steven Spielberg made his adaptation of War Of The Worlds, I was heartened by how memorably he'd brought HG Wells' Martian war machines to life, yet faintly saddened that he'd updated the story to the present day. I'd always wanted to see a genuinely faithful rendering of Wells' seminal sci-fi tale, in which tripodal invaders boil the waters of the Thames in Victorian England. This was something attempted by Pendragon Pictures' adaptation in 2006, but the filmmakers, sadly, lacked the skill and budget of their Hollywood competitors.
A couple of concept images from the movie accompanied the Stanton interview. They offer a tantalising glimpse of an exotic alien world of extraordinary machines and weird architecture.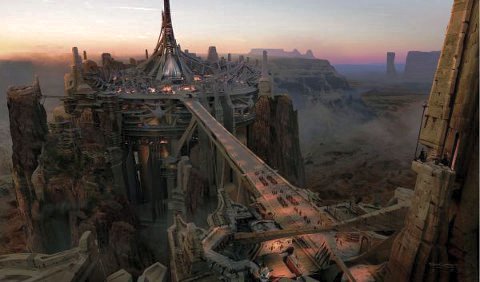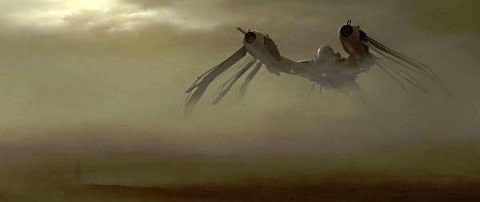 Next year marks the centenary of John Carter's debut in the February 1912 edition of the US magazine, All-Story. I've every hope that Andrew Stanton has given Carter the movie he deserves.