News
What on earth is Letterboxd?
Looking for a social networking site based entirely around film? Then Letterboxd may be for you. Glen takes a closer look at what the service has to offer...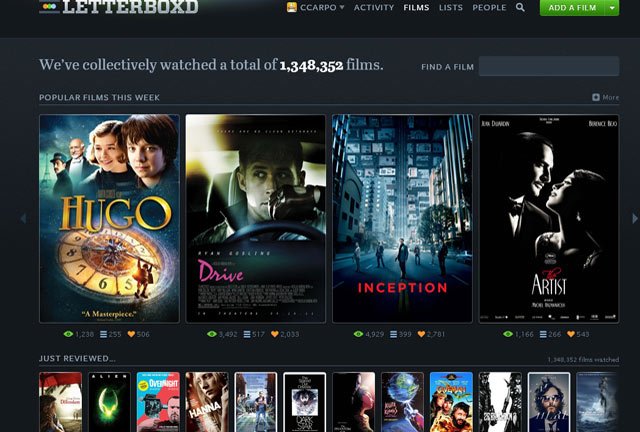 One of my New Year's resolutions this year was to make a list of each film I watched. This way, I'll know exactly how many films I'll have ended up watching in 2012, and know whether it would be anywhere near my target of 365. Despite being a film fan for as long as I can remember, I have never logged how many films I watch in any given year, so thought it would be an interesting exercise.
In order to keep track, I toyed with a few ideas: keeping a spreadsheet and a weekly blog recapping what I watched were two. But a far more elegant solution soon presented itself, as not too far into the new year I received an invite to Letterboxd – a social networking site for film lovers.
I was initially a little sceptical, as I've tried using Hulu, IMDb and Get Glue for similar purposes, and I didn't really take to any of them. But within minutes of using Letterboxd, I was hooked. The design and interface are intuitive and user friendly. Once you've secured and accepted your invite, getting started couldn't be simpler.
After completing my profile by listing my favourite movies (a task that takes minutes), I was up and running and ready to start logging the films. One of the joys of the site in this regard is how flexible it is. You can simply log the title and leave it at that, or you can add a star rating, date when you viewed it, tag it with key words, like the title, or add a review. From what I've seen, there's some diversity on how users take advantage of the site's functionality.
Some will review everything they watch, others simply list and rate the titles they watch (which is what I do for the most part), and some seem to be on a mission to log every film in their collection or that they've seen. The watchlist is a great feature, as adding titles is incredibly easy, so once set up, there's no excuse for forgetting to watch films that have been recommended to you.
If there's one thing that seems to be popular among film fans and spark conversation, it's lists, and Letterboxd enables you to quickly and easily create your own to share with your followers. Common ones seem to be top tens of a particular year, but a few other examples include: Head Trauma, Ultimate 'Ow my balls', and a list of titles someone wants on Blu-ray.
Personally, I've only added my top ten films of the past two years, but great new lists seem to crop up daily, many of which are well worth flicking through.
Another useful function is the ability to find your Twitter friends on the site by entering your username and password. Doing this early on will give you a starting point in terms of people to follow. Checking this periodically is also useful as more people are getting invites all the time.
The film information contained is supplied by TMDb, so the range included is extensive. There have only been a couple of instances where a film I have watched hasn't been available for selection, and adding a missing entry is a simple enough process.
There are numerous other great touches, such as being able to add titles to your Netflix queue, and later updates will enable you to import your Netflix ratings and viewing history to the site – something similar will also be available for IMDb ratings. With Letterboxd currently being in closed beta, improvements to the site are planned, as are additional services, such as an iPhone and Android app.
Developed by small team in Auckland, New Zealand, Letterboxd has been set up for film fans to share their tastes in film. The site launched in October last year, and in that time, 13,000 users have registered, collectively creating 8,000 lists and logging close to 1.5 million films – impressive, given the short time it's been running.
To gain some further insight, I contacted one of the Letterboxd's creators, Matthew Buchanan, to ask a few questions.
What was your inspiration for starting Letterboxd?
Mostly it was the lack of a focused, design-led service to share taste in film with friends. The first version of Wil Shipley's Delicious Library desktop software was ground-breaking in terms of representing films (and other items) in an application interface, but didn't provided much social interaction. I'd count that as an early inspiration.
When recommending the site to people, I'm often asked how it differs from MUBI or IMDb. What would you identify as your unique selling point?
The site was born out of a desire to do two things well: to record each film you watch (and, optionally, your opinion of them), and to create arbitrary lists of films to share. These two simple activities have remained our key focus, and we're striving to make the experience around that ecosystem as fun and as enjoyable as we can.
The roll out seems to have been fairly low-key and has grown through word of mouth; how did you go about getting the ball rolling?
We launched with a short video presentation at Brooklyn Beta, and the rest has been word of mouth through various social channels. Growing at a controlled pace allows us to fine-tune our platform to handle increasing traffic and load.
Has the reaction to Letterboxd so far met your expectations?
We've been thrilled with the response, which has been mostly very positive. We try to learn from the constructive criticism as well, and continue to make improvements based on what has been lucid, well-considered feedback from hundreds of testers.
What do you have planned for Letterboxd for the next 12 months?
Very soon we're rolling out an import facility for IMDb, Delicious Library and Netflix. Following this we'll concentrate on the transition to a public beta, followed by release of a public API. Apps will follow in due course.
*  *  *
Letterboxd's a great tool for any film fanatic, and I would highly recommend that you give it a go. At the moment, the site is in a closed beta, so to get in you generally have to wait until someone invites you. Fortunately, the Letterboxd team have given us some invites, so you can give it a try for yourselves.
We have a limited number available, so they'll be allocated on a first come first serve basis. If you're interested in giving Letterboxd a try, then give us a shout on Twitter (but make sure you're following us, so we can get back in touch with you!).
Follow Den Of Geek on Twitter right here. And be our Facebook chum here.