Features
What did we learn from The Hobbit trailer?
The new trailer for The Hobbit: An Unexpected Journey has landed. And Nick has been analysing it...
When the first trailer for The Hobbit hit our screens, it was like going home again. Through use of familiar motifs, a warm sense of belonging hovered over the images – there was the Shire; there was Gollum, the Ring, and the evocative music. Jackson had returned to us, and we were once again about to visit Middle-Earth.
But what of the latest trailer, and the first since The Hobbit officially became a trilogy?
Well the trailer for The Hobbit: An Unexpected Journey (which you can see here) is certainly a different beast, and one which looks like it might be setting the tone for this trilogy. While recognisably part of the same film series and film world as The Lord Of The Rings, it has its own vibe, visual palette and sense of itself. Parts of this trailer are pretty funny, and there's a definite lightness in the material – as befits an adaptation of a children's book.
While LOTR was very sombre and grown-up, this feels like it might enjoy itself a bit more, with a real sense of adventure about the whole thing, as opposed to a terrible burden placed upon innocents, which is what the LOTR trilogy dealt with. The fingerprints of Guillermo del Toro also are apparent in the design of the film, particularly in the new goblins, which look like they've stepped out of a fairytale book. In fact this fairytale tone is set from the very start with Gandalf's talk of a far-away land, and an opening shot of a crumbling ruin.
While not exactly giving much away story-wise of what exactly is going to end up in this first part of the new trilogy, there is a lot to digest about just what's going to be involved. Rest assured they'll be lots of helicopter shots of our heroes running across hills and mountains… We all know that The Hobbit is all about the Dwarves, and in particular Thorin Oakenshield's quest to reclaim his lost home of Erebor. This is neatly summed up in the opening of the trailer, with introductions to Thorin and his companions, as well as their goal (and only glimpse of Smaug in the trailer)…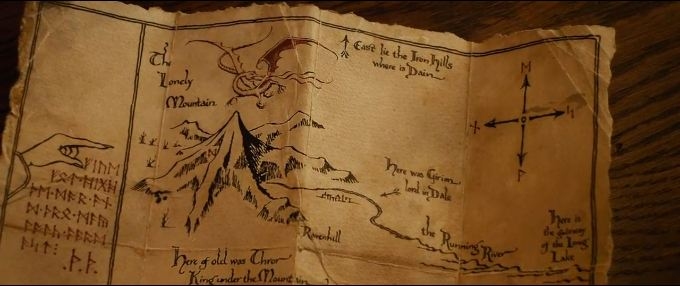 However it's quite apparent that they won't be quiet and reserved travellers, but instead expect a lot of the comedy elements to come from them.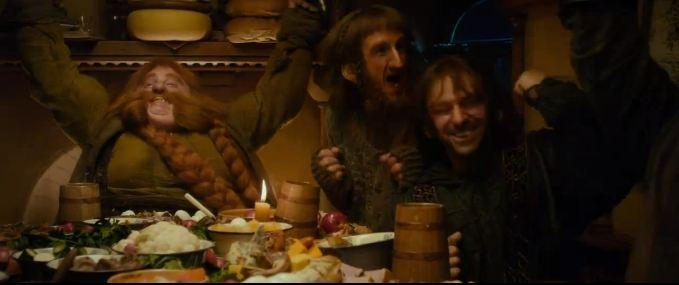 We get ourselves a long, hard look at Martin Freeman as Bilbo in this new trailer, and so far I quite like what I'm seeing. He's no Ian Holm, but instead a young hobbit without the weight of a lifetime and the One Ring upon him. He still sees life as a game, and is genuinely excited by the imminent adventure.
However it's clear he'll be doing his fair share of the fighting, as the famous Sting is shown in combat against the new look goblins.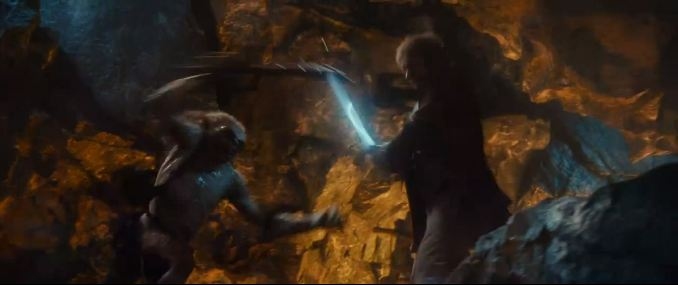 Of course Sting isn't the only familiar sight to appear in this trailer, which while setting out to be its own thing is very much aware of what has come before/after (depending on how you're looking at it). So as well as some mighty Gandalf action we also see the return of the Lady Galadriel, in some very earnest discussions with 'Mithrandir' about choosing Bilbo…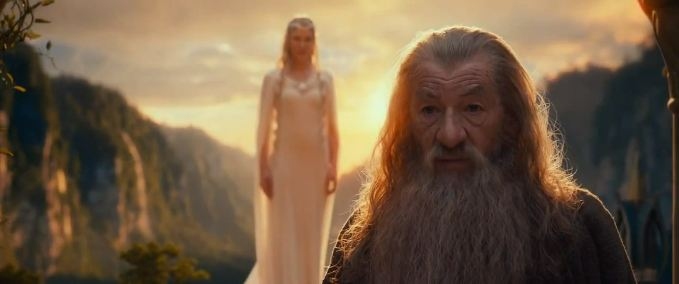 … as well as Elrond in council with the Dwarves about their desire to reclaim their home.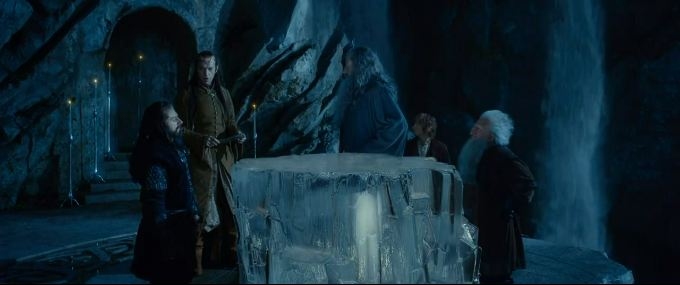 But of course The Hobbit is renowned for introducing both Gollum and the One Ring, and the Riddles in the Dark scene is teased at in a moment which encapsulates both horror and humour, a sure sign of what to expect in this trilogy.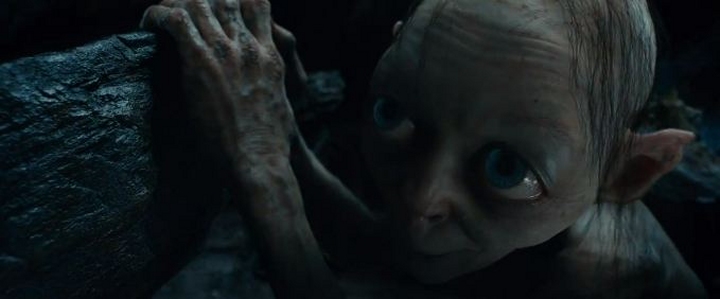 As for new characters promised, we don't see many apart from the Dwarves, but the trailer does give us a good look at another member of the White Council, Radagast the Brown, played by Sylvester McCoy. Given a fair amount of screen time in this trailer, it's clear his role is being expanded from the book, and here he is warning about a threat, 'a dark power has entered the world', which can only mean the Necromancer at Dol Guldur. It will be interesting just how much they show of Radagast in the final film, as the sub-plot of the White Council dealing with this evil is one of the most intriguing prospects of the trilogy.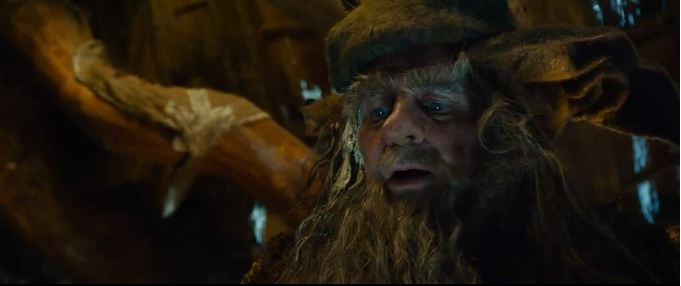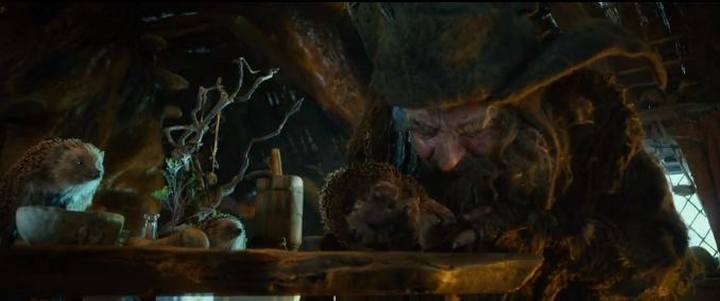 We also get a sense of scale of what will be on offer, with various action sequences showcased, many of which will be familiar to fans of the LOTR trilogy – mines and mountains. However rather than just an avalanche on the mountain side, our heroes appear to be dealing with some sort of giant rock creature hurling stones at them instead. Colour me intrigued…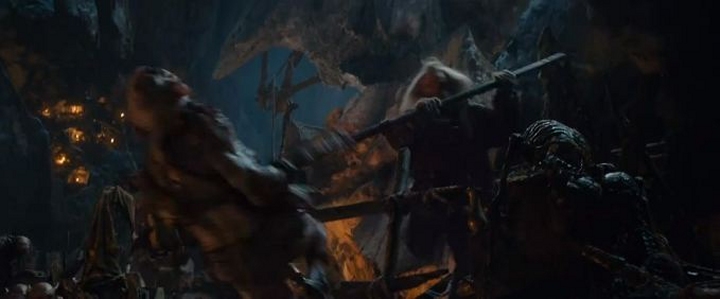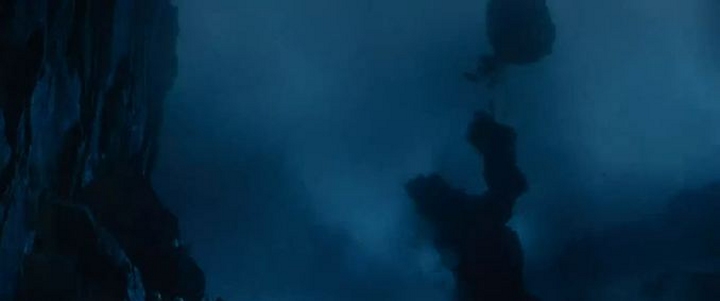 We also get some Warg action which is always welcome, and the famous troll sequence from the book looks like it will be brought to life vividly too.
So all in all I'm pretty confident in the film we'll be getting in just a few short months. Different yet familiar, and seemingly more than just a copy of the Lord Of The Rings trilogy. I really like the fantastical fairytale elements that seem to be in place, and the sense that this is a world not yet under the renewed threat of Sauron and Mordor, a place where adventures could be enjoyed.
Martin Freeman seems perfect as Bilbo, his scenes with Gollum should prove a highpoint, and most importantly Peter Jackson seems to be having fun again with his filmmaking, and imbibing the film with this same sense of fun – just look how he ends the trailer on a comedy moment.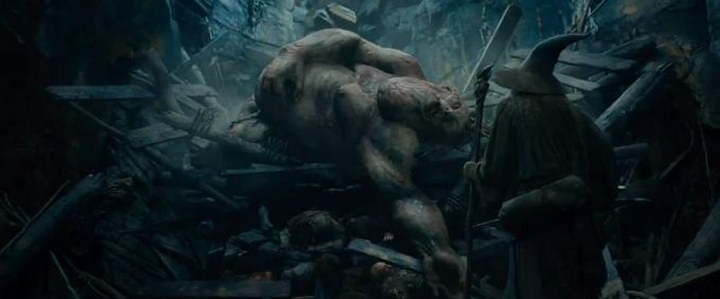 Roll on December…
Follow our Twitter feed for faster news and bad jokes right here. And be our Facebook chum here.