News
WGA Tells Ad Buyers Strike Could Be Imminent
If the WGA and AMPTP don't come to an agreement in the next three weeks, a WGA strike will most likely begin on May 2nd.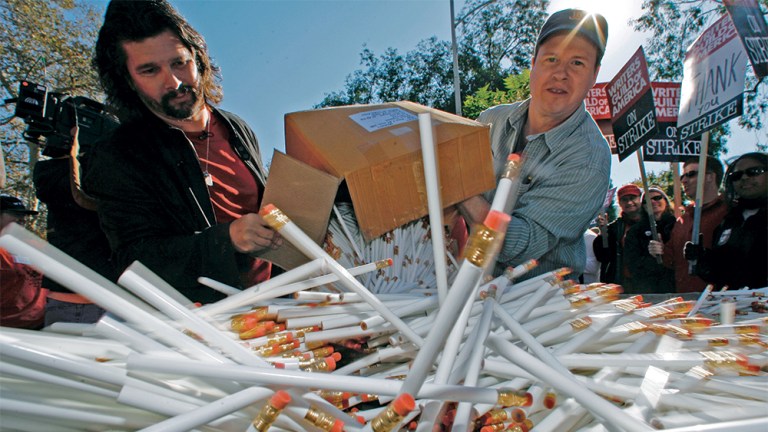 Rumblings of another Writers Guild of America strike have become increasingly prominent in the last few weeks as the guild draws closer to its May 1st contract expiration date with the Alliance of Motion Picture and Television Producers. Now, in a letter to media buyers (via The Hollywood Reporter), the Writers Guild of America has explicitly stated that if a new deal is not struck, its members will go on strike starting on May 2nd.
What does that mean exactly? Well, if you remember the writers' strike in 2007, it's A Big Deal. All writing for television, feature films, and digital series will stop. In 2007, that meant 60 TV shows shut down production during the 100-day strike. The strike not only led to a loss of an estimated billion dollars for the California economy, but affected the narrative quality of much of the fare that was produced during that time — films like Quantum of Solace, which didn't have an on-set writer to fix glaring narrative problems, and TV shows like Heroes, which most fans would agree never returned to pre-strike form.
(For more on how the 2007 writers' strike affected the industry and how another writers' strike could affect the industry now, check out our recent feature on the subject.)
The WGA's letter to media buyers, sent by WGA West executive director David J. Young (via Variety), reads:
With the cable networks' Upfronts underway and the broadcast networks' Upfronts beginning in May, I am writing to inform you of a potential labor dispute that could have a significant impact on primetime programming for the 2017-2018 television season. As a stakeholder that may be negatively affected by this dispute, this information may be relevant to your media buying plans.
The letter also breaks down how much the WGA's proposed contract would cost the media industry. The estimates are as follows: CBS $16.0 million; Disney $21.20 million; Fox $25.45 million; NBC $17.90 million; Sony $12.80 million; Time Warner $27.40 million; Viacom $9.79 million; other producers $47.74 million. In total: $178.28 million. 
It's not time to start panicking about your favorite TV show or the fate of your favorite film franchise just yet. The WGA and the AMPTP will begin five days of negotiations on Monday. (Prior negotiations between the two recently fell apart, with both sides blaming the other for walking away.) The WGA will meet with its members and have an online strike authorization vote April 18-24. This is the first time in 10 years a strike authorization has gone to vote.
According to Deadline, both the AMPTP and the WGA plan to return to negotiations following the strike-authorization vote. AMPTP management said: "Keeping the industry working is in everyone's best interests, and we are ready to return to negotiations when they are."
Meanwhile, WGA leaders told its members: "We are committed to continue negotiating with the companies in good faith to get you the deal we all deserve."
What does the WGA want exactly? Well, as with most contract negotiation, it is not just one issue that is being discussed. The WGA is looking to provide relief for low and mid-level writers, rescue the WGA's failing health plan, and shore up the pension plan's foundation, among other issues. But let's focus on that first one because it seems to be at the heart of the matter — or at least the only one of the three that might make a good TV docudrama a few years down the line.
The TV industry especially continues to change at a rapid pace and this hits low to mid-level writers especially hard. The foundation of how TV writers are paid is still based on the traditional broadcast model, which assumes 22 to 24 episodes per season and a more predictable schedule (from September to May, with renewals or cancellations coming in a routine manner).
With the rise of cable, streaming, and some non-traditional broadcast fare, TV writers are often writing fewer episodes, which means they are paid less. This might not be as much of a problem if their contracts didn't keep them from writing for or even looking for a job on another TV show while they wait to find out if their current TV show is renewed. 
The WGA wants higher minimums and script fees for TV writers working on shorter-episode series and stricter limits on how long a studio can keep writers under holds and contracts. So far, a compromise has not been made.
More news as we hear it.