News
West Side Story Spielberg Remake Wraps Production
We have our first image and new details about Steven Spielberg's West Side Story remake. So keep cool, boy.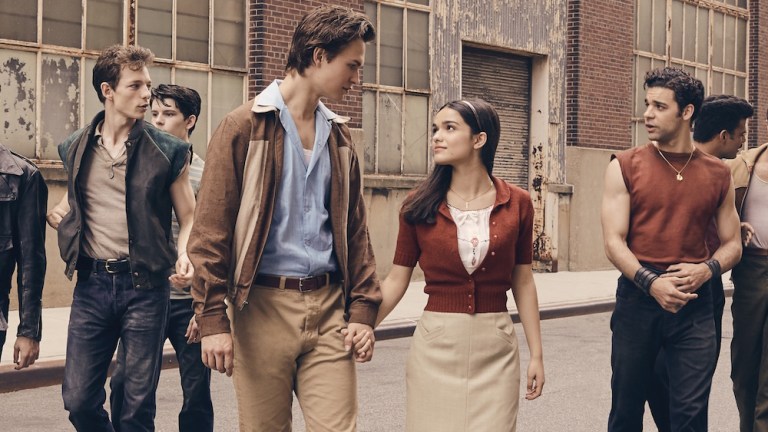 Skyscrapers bloom in America, Cadillacs zoom in America, industry boom in America, and, of course, remakes loom in America. Indeed, in the 21st century there are few sacred cows left that will not be remade or rebooted, but when someone with as much legendary clout as Steven Spielberg elects to remake something, much less Lenard Bernstein and Stephen Sondheim's seminal West Side Story for the screen, it does pique interest.
Spielberg, a filmmaker who's made only a handful of romances and absolutely no musicals before West Side Story, is trying his hand at adapting the classic Broadway show that served as the basis for the iconic 1961 movie adaptation directed by Robert Wise. And given the political underpinnings of the musical about tensions and hatred between gangs in 1957 New York, one of which is Puerto Rican immigrants who are vilified by their white neighbors, it is not hard to imagine what drew Spielberg to the project alongside playwright Tony Kushner. For context, Kushner's other film writing credits were some of Spielberg's most sophisticated passion projects of recent years, including Munich and Lincoln.
The film just wrapped production. And announcing the news, Spielberg shared the following on social media:
""This has been a journey without precedence: a joyful, stunningly moving, endlessly surprising encounter with the story and score of one of the world's greatest musicals. My brilliantly talented, fiercely committed, generous and apparently inexhaustible cast and crew of hundreds have given our film everything they've got, and already I can say that the film we'll be releasing on December 18, 2020 owes everything to them, as does its immensely grateful director."
Here's everything else you need to know about the film.
West Side Story Release Date
West Side Story will have its big tonight, tonight on Dec. 18, 2020.
West Side Story Cast
West Side Story will star Baby Driver's Ansel Elgort as Tony, a tuneful young man who is a member of the Sharks, an all-white teenage gang in the late '50s Lincoln Square area of Manhattan. His crew despises the sharks, but he falls instantly in love with a girl called Maria (Rachel Zegler).
Zegler steps into the role famously played by Natalie Wood, although Zegler, unlike Wood, will be doing her own singing. Only seventeen-years-old and still in high school when Spielberg cast her, Zegler beat out thousands who auditioned for the part. Maria is the young woman who finds love and then something bitterer due to Tony's affiliations, as well as those of her older brother Bernardo's.
The film likewise stars David Alvarez as Bernardo, who will be making his big screen debut as the leader of the Sharks gang. Anita, meanwhile, has been cast with Broadway alum Ariana DeBose. Anita is Maria's friend and the lover of Maria's brother Bernardo. Rita Moreno famously won an Oscar for her compelling turn as Anita in 1962, and Moreno will also be in the new film, in a role created for this version called Valentina. Moreno gave the remake her personal blessing earlier in 2019 when it was revealed her Valentina would replace "Doc" from the original Broadway show, a character who owns the corner store where Elgort's Tony works.
Also starring in the movie is Mike Faist as Riff, Tony's BFF and leader of the Jets, Corey Stoll as Lt. Schrank, Brian d'Arcy James as the corrupt Officer Krupke, and Josh Andrés Rivera as Chino.
West Side Story Plot
Famously, West Side Story is a musical reworking and modernization of William Shakespeare's Romeo & Juliet. (So if you don't know the ending, expect some degree of tragedy). The basic gist is that Tony and Maria see each other at a dance and fall hopelessly in love, even as Tony's friend, Riff, and Maria's brother, Bernardo, are gang leaders on a warpath due to hostilities between their gangs along a racial line. Tony and Maria must keep their love a secret, although Tony promises he'll try to deescalate tensions. Good luck with that. Death and heartache follow. Plus, finger-snapping.
West Side Story Image
Twentieth Century Fox released the first image of the film which shows Ansel Elgort as Tony and Rachel Zegler as Maria.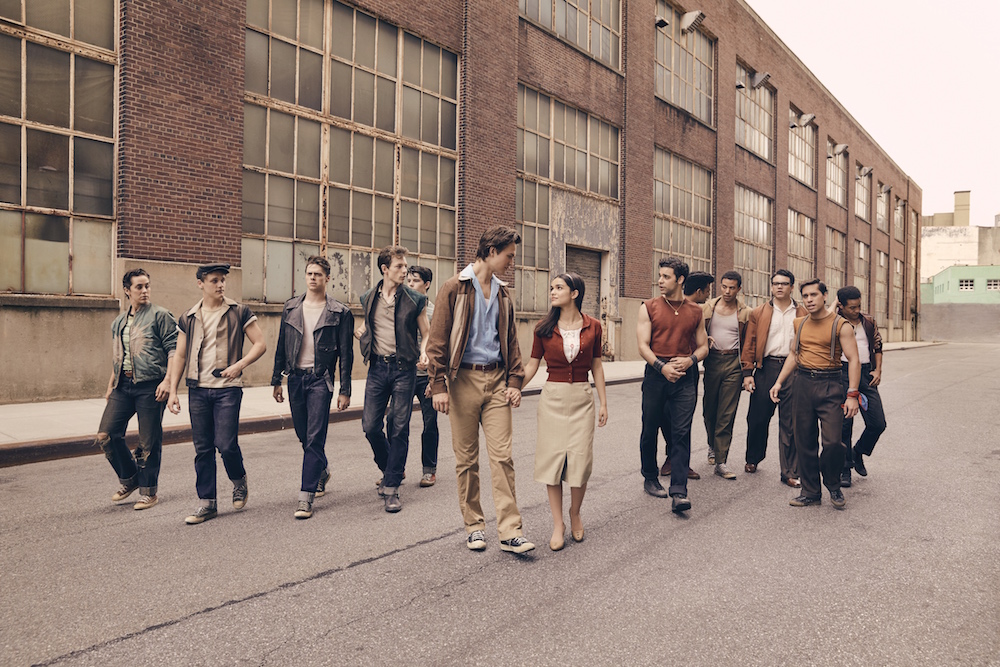 The full caption Fox released with the image is below:
Pictured left to right are: Jets members Anybodys (Ezra Menas), Mouthpiece (Ben Cook), Action (Sean Harrison Jones); Jets leader Riff (Mike Faist); Baby John (Patrick Higgins); Tony (Ansel Elgort) and Maria (Rachel Zegler); Maria's brother and Sharks leader Bernardo (David Alvarez); and Sharks members Quique (Julius Anthony Rubio), Chago (Ricardo Zayas), Chino (Josh Andrés Rivera), Braulio (Sebastian Serra) and Pipo (Carlos Sánchez Falú).