News
Wesley Snipes Says He's Fine With Blade Reboot Without Him
Marvel's Blade, the half-vampire superhero, is being resurrected for the MCU starring Mahershala Ali.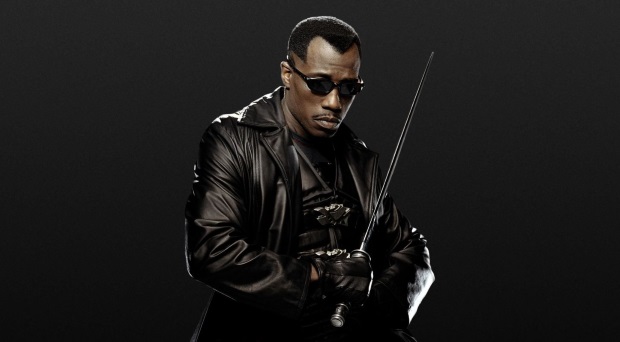 At San Diego Comic-Con Kevin Feige dropped the mother lode of movie announcements and one of the most thrilling for fans was the news that Blade, the daywalking Dhampir, would be resurrected as part of the MCU, with two-time Oscar winner Mahershala Ali in the title role.
One person who reasonably might not have been thrilled, though, is Wesley Snipes, who played the character on screen in Blade (1998), Blade II (2002), and Blade: Trinity (2004), films which helped to cement Marvel's big screen superhero presence. The actor had been quite vocal about being up for returning to the role, something which fans had been generally on board with.
But it turns out Snipes, talking to EW, is pretty sanguine about the whole thing. In a statement from his rep, Snipes told fans to "chillaaxx"
"To all the DAYWALKERS losing their minds right now, chillaaxx. Although the news comes as a surprise, it's ALL GOOD. Such is the 'business' of 'entertainment!' Much peace to the MCU crew – always a fan. Honor and respect to the grandmaster Stan. Congratulations and Salaam to Mahershala Ali, a beautiful and talented artist whose expressions I look forward to experiencing for many years to come. Inshallah, we will someday work together. Most importantly to my loyal fans, the incredible outpouring of love is overwhelming. I am grateful for the never-ending support. So, 'nah fret nah worry, it's not de end of de story.' Welcome to the Daywalker Klique."
Blade is just one of the Marvel announcements to come out of SDCC which also included news about Black Widow, The Falcon and the Winter Soldier, Eternals, Shang-Chi And The Legend Of The Ten Rings, WandaVision, Loki, Doctor Strange in the Multiverse of Madness, What If?, Hawkeye, Thor: Love and Thunder, as well as quick mentions that there'd be sequels to Black Panther and Captain Marveland a thirdGuardians Of The Galaxy movie, as well as two mind-blowing additions to the MCU (thanks to Disney's acquisition of Fox): the Fantastic Four and "mutants" (check out the full schedule of upcoming Marvel movies here).
We're glad Snipes is chill, and you never know, Feige might find some cheeky way to honor the actor anyway when filming comes around.
Read and download the Den of Geek SDCC 2019 Special Edition Magazine right here!