News
Welcome to Marwen Debuts New Trailer
Steve Carell stars in Welcome To Marwen, from director Robert Zemeckis. A new trailer is now here.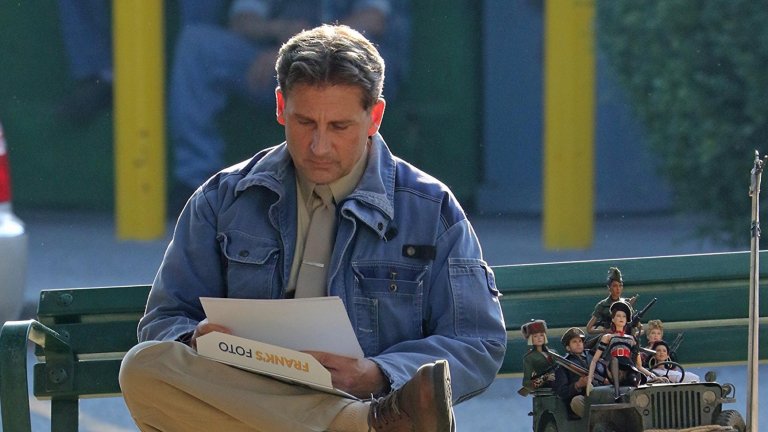 With the news surfacing that director Robert Zemeckis is in line to take on a new adaptation of Roald Dahl's The Witches, it's worth noting that Zemeckis has a new film coming out later this year as well.
He's directing Steve Carell in Welcome To Marwen, about a man who loses most of his memory after being beaten nearly to death. Unable to afford or access proper therapy, the man decides to build a scale model of a Belgian town during World War II. And then he adds characters to it, right down to the people who attacked him.
The film is based on the true story of a man named Mark Hogancamp, which was already the basis of a documentary called Marwencol. The documentary (see the trailer here) painted a portrait of one man's odd but moving story that Zemeckis seems to have added a fantasy element to. Whether that works or not — it's hard to say from the trailer — remains to be seen.
In the latest update, the Welcome to Marwen release date has been shifted to a month later, set for December 21, making it a Christmas season release. Distributor Universal gave the film's previous release date of November 21 to the Viggo Mortensen and Mahershala Ali drama, Green Book.
The ensemble also includes Leslie Mann, Gwendolyn Christie, Diane Kruger, Eiza Gonzalez and Merritt Weaver. Zemeckis co-wrote the screenplay with Caroline Thompson.
The director's last effort was the rather turgid World War II thriller Allied with Brad Pitt and Marion Cotillard, while Carell is coming off an outstanding and genuinely affecting performance in Richard Linklater's 2017 drama  Last Flag Flying. 
Today, the film received a second official trailer with some more helpful Steve Carell voiceover. 
Below is the Welcome to Marwen synopsis:
Welcome to Marwen tells the miraculous true story of one broken man's fight as he discovers how artistic imagination can restore the human spirit. When a devastating attack shatters Mark Hogancamp (Carell) and wipes away all memories, no one expected recovery. Putting together pieces from his old and new life, Mark meticulously creates a wondrous town where he can heal and be heroic. As he builds an astonishing art installation—a testament to the most powerful women he knows—through his fantasy world, he draws strength to triumph in the real one.
In a bold, wondrous and timely film from this revolutionary pioneer of contemporary cinema, Welcome to Marwen shows that when your only weapon is your imagination…you'll find courage in the most unexpected place.
And this is the first official trailer.