News
Weekend US Box Office report: Tyler Perry's Madea can't be stopped
Tyler Perry rockets to the top of the box office with Madea Goes To Jail. The world simply shudders.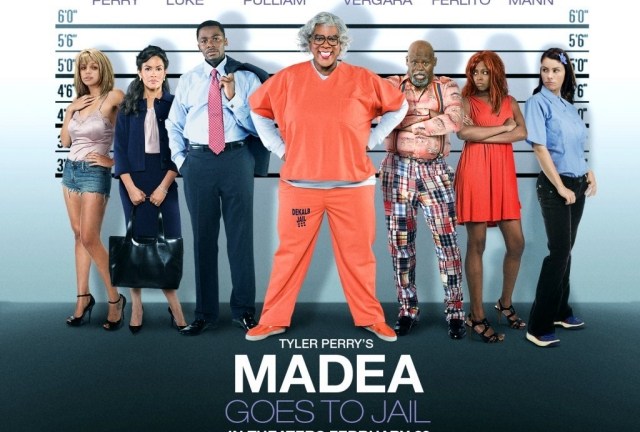 Another weekend, another $40 million opener. Last week, audiences ate up the gimmick of a Friday The 13th reboot on Friday the 13th. This weekend, it's another guy dressing as a fat, elderly woman. It's apparently the most profitable genre in film history.
Tyler Perry's Madea Goes to Jail brought in a staggeringly high $41.4 million in its debut. It's the highest-grossing Tyler Perry weekend yet, though it remains to be seen what sort of legs the movie will have. Friday The 13th brought in $43.5 million last weekend, but slumped to sixth place this weekend on 7.8 million dollars. It'll be hard pressed to match the legs of Freddy Vs. Jason.
Speaking of legs, Taken (2nd place, $11.4 million) and Coraline (3rd place, $11.03 million) continue to do really well. I can't explain why Taken is doing well, but Coraline had a big marketing blitz this weekend warning audiences that this would be the last weekend to see it in 3-D. I kind of hope it isn't, given that the movie is doing most of its business in the third dimension, but if it is then it's been a great run.
Slumdog Millionaire was the big story at the Oscars. It won best director, best picture, and six other awards in addition to that. It's also one of the few nominated movies to continue to play at the box office. Its fortunes and theater count rose this weekend, with the film widening just slightly. It took in an extra 10% in terms of total gross, and brought in an additional $8.050 million. It stands right outside the $100 million barrier, which it'll cross easily this week as everyone rushes out to see what they've missed out on.
He's Just Not That Into You and Confessions Of A Shopaholic serve as a point and counterpoint. One of these films seems to be doing really well. The other is Confessions Of A Shopaholic. He's Just Not That Into You remains in fourth place this week on the strength of 8.5 million bucks, while Shopaholic finds itself in seventh place on 7.019 million bones. How is there a big difference between the two? He's Just has grossed over $70 million, while Confessions has only $27.6 in its coffers.
Paul Blart: Mall Cop continues an improbable run of success. While it is down to eighth place this weekend, from sixth last weekend, the picture brought in another 7 million dollars and has brought in over $121 million in its 6-week box office run. Wow. The first $100 million picture of 2009 and it stars Kevin James, a B-sitcom star (and funny comedian). Amazing.
What isn't amazing is Fired Up. While it tried very hard to sell itself as not another cheerleading movie and sought to flaunt its dumb teen comedy badge, nobody was interested. I doubt people were terribly interested in either prospect. Ninth place this weekend on $6 million means next week the cheerleaders will be back on the sidelines and out of the multiplex. Small victory, I suppose. That's what they get for advertising their movie when I'm watching TV.
The International's struggle remains a curious thing. In its second week, the movie drops to tenth at the box office on only $4.45 million. I would think that Clive Owen and Naomi Watts could do better, even if the movie is pretty preposterous in terms of plot. I suppose Euro-style thriller fever hasn't exactly overtaken the States, even if Liam Neeson is raking in money hand over fist.
Out next weekend is Street Fighter: The Legend of Chun Li. I'm not sure what to think about this, but at least Kristin Kreuk is Chinese, so for once they didn't miscast the lead in a Street Fighter movie (ahem, Van Damme as an American). Following in Chun Li's footsteps is the drama Crossing Over, about a group of immigrants in Los Angeles. It's directed by Wayne Kramer, whose earlier film Running Scared is the cinematic equivalent of being beaten with a copy of Grimm's Fairy Tales (I mean that as a compliment, it's a hell of a film). And finally out is…
Ugh, not this. Anything but this!
Fine. Also out this weekend is The Jonas Brothers: The 3D Concert Experience. This is probably the reason why this is Coraline's last weekend in 3-D. For those of you not familiar, think of a boy version of Miley Cyrus, except there are three of them and they pretend to play instruments. It's the second coming of Hanson, and they're IN YOUR FACE IN THREE DIMENSIONS!
I truly pity you parents. Just thinking about this movie makes me want to slam my face in a car door.