News
Weekend US Box Office report: Monsters Vs. Aliens destroys
Monsters vs Aliens dominates the box office - but leaves room for The Haunting In Connecticut..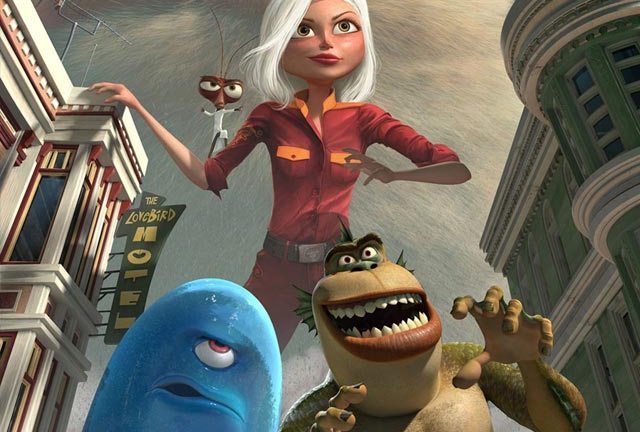 Dreamworks Animation is a monster. In fact, it's a Monster with a capital M, as its latest picture exploded out of the gate. Monsters Vs. Aliens, depending on its cast of misfit critters and A-list celebrity voices, debuted at an expected #1 position this weekend with 58.2 million bucks grossed on over 4100 screens.
This sci-fi comedy took square aim at Disney's Race To Witch Mountain and blew it out of the water. Witch Mountain dropped 55% from last weekend, driving Dwayne Johnson's sci-fi comedy adventure kid's movie (did they mix enough genres there?) down to sixth place for the weekend, down from fourth. The movie's $5.6 million weekend pushed the movie past $53 million, but the ceiling appears kind of limited despite the marketing blitz and likable star.
An impressive, but distant, second place showing this weekend was accomplished by The Haunting In Connecticut. Horror films usually open pretty well, but the 23 million dollar opening is exceptional for the genre and the time of year. Given that Last House On The Left (tenth place, $2.6 million) opened strong but faded quickly, Haunting will probably follow a similar slope regardless of the film's quality or lack thereof.
Last weekend's top film, Knowing, finds itself in third place this weekend. The $14.7 million weekend helped boost the film's total gross so far to $46.2 million. Sci-fi is a hard sell, and the movie's apocalyptic theme has already been hit pretty hard this quarter thanks to The Day The Earth Stood Still. I'm kind of surprised it's held up as well as it has, considering Monsters Vs. Aliens is also a sci-fi picture to compete for a smidgen of that audience. Not much overlap aside from the general theme of sci-fi and Earth-in-peril, but enough to hurt Knowing.
I Love You, Man finds itself in fourth place this weekend. The comedy continues to perform very strongly given the lack of names involved (aside from Lou Ferrigno). The movie has picked up another 12.6 million bucks this weekend, and is hanging onto its share of the audience. These kind of ribald guy comedies usually hang around for quite some time, and apparently I Love You, Man is quite the quotable flick. The commercials still don't impress me in any way, but maybe I'm too smart to be in the target audience.
Duplicity falls to fifth place ($7.556 million), and continues to underperform. I honestly never thought I'd see the day when Julia Roberts couldn't rake in at least $75 million in a romantic comedy, but I guess that day is now. Did taking time off to have babies really damage her career that much? Is Clive Owen that much of a box office anchor? Maybe it's both.
I'm not sure if it is possible to have pity for a multi-million dollar business, but if there's ever a company that's struggling at the moment, it's the WWE. A few short years ago, the company was worth a billion dollars. The Rock was headlining Pay-Per-View events and debuting movies at the top of the box office. Business was good. Then The Rock became Dwayne Johnson and quit the industry, the storylines grew stale, ratings and buyrates went down, and the latest offering from WWE films, 12 Rounds, can only muster $5.3 million for a seventh-place opening weekend. In comparison, John Cena's debut film, The Marine, opened in sixth place for its debut weekend and brought in 7.1 million dollars back in 2006. As it happens, Cena is as boring on the big screen as he is in the wrestling ring.
Watchmen lost 1500 theaters this weekend, and box office receipts plunged yet again. Eighth place and $2.755 million helped push the film to $103 million in the US and $163 million internationally. So, basically, the movie is finally getting close to breaking even. It made its $150 million production budget, but it still has to pay for a lawsuit and a ton of advertising.
Taken slips to ninth place this weekend, but its $2.7 million weekend is only a slight decline from last weekend's $4 million, and gets the movie only $13 million off a $150 million US gross. It can definitely be reached given how the movie's held onto audience attention for the last 9 weeks.
Out next weekend are the Vin Diesel auto adventure Fast And Furious and the comedy Adventureland. Adventureland looks to be riding the Judd Apatow and Seth Rogen coattails pretty hard, while Fast And Furious is, well… a sequel to two inexplicably popular movies featuring most of the original cast of the first inexplicably popular movie. Vin Diesel's lost a ton of his luster in recent years, and there's no way Fast And Furious beats Monsters Vs. Aliens next weekend, but the bald bull might be able to bring home a strong second week performance, with Adventureland also landing in the top five.