News
Weekend US Box Office report: Fast & Furious FTW
Diesel's sequel overtakes all the competition in US theatres at the weekend...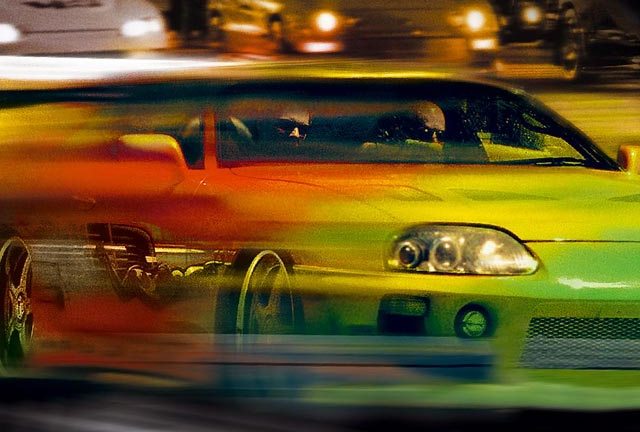 Well, that was, uh, pretty unexpected. Fast And Furious has pumped some hi-test petrol into the engines of the once-flagging franchise based on hot cars and hot people doing hot things and street racing. The formula works, and bringing back stars Vin Diesel and Paul Walker was a genius move, as Fast And Furious brought in an impressive $72.5 million over the box office weekend. It averaged almost $21,000 per showing!
Compared to that, second-place movie Monsters Vs. Aliens, which took in $33.5 million, looks like small potatoes! Monsters did steam across the 100 million dollar barrier in only two weeks, though it's still fairly short of making a profit at the moment. It'll get there, but I don't think anyone expected Fast And Furious to open so massively. At least I didn't. I assumed, quite wrongly, that Fast And the Furious: Tokyo Drift had taken some of the luster off the franchise.
Meanwhile, debuting Adventureland opened with a weak sixth place on 6 million dollars at the box office. While the film's connection to Superbad was played to the hilt in the advertising campaign, the actual commercial didn't offer much in the way of Superbad-type laughs. It came across as a pretty lame and generic teenage comedy, which is definitely not what was hoped for.
The Haunting In Connecticut also continues to scare up acceptable box office, as horror films go. Lionsgate's spook festival brought in an additional $9.55 million this weekend, good for third place. Not bad for a holdover horror, as most of them burn out fairly quickly.
Nicolas Cage's apocalyptic thriller Knowing finds itself in fourth place this weekend. It brought in $8.13 million this weekend, pushing it to $58.2 million in total box office gross in the States. There'll be a bit of a challenge for it to pass Keanu Reeves' remake of The Day The Earth Stood Still, but since Cage's movie is better all around than Reeves' terrible film, I hope it happens.
Rounding out the top five is the comedy I Love You, Man. Riding on a wave of positive commercials full of praise, I Love You, Man took in $7.89 million this weekend, fighting off the challenge of Adventureland easily. It should pass $50 million US by this time tomorrow.
Duplicity sinks to seventh place this weekend. The Julia Roberts vehicle is essentially a non-starter at this point, bringing in $4.3 million for the weekend. Its total gross is only $32 million! I never thought I'd see the day in which a Julia Roberts movie didn't take in at least $50 million, but this one is her worst performing wide release since Something To Talk About. That movie took in 30 million in 1995 dollars, which means it probably took in significantly more than Duplicity will. (Someone else can do the math on that one.)
Race To Witch Mountain (eighth place, $3.351 million) and 12 Rounds (ninth place, $2.3 million) are both films starring former or current professional wrestlers. One's been a minor hit with box office grosses inching closer to $60 million. The other is 12 Rounds, which is a flop by any standard. Poor Renny Harlan has lost a lot of shine since Die Hard 2.
The indie black comedy Sunshine Cleaning expanded this weekend, cracking the last spot in the top ten thanks to 1.879 million dollars. It's getting seriously good press and the distributors are trying the slow growth strategy that worked for films like Napoleon Dynamite and the unrelated Little Miss Sunshine in the past. It isn't growing like the surprise hit Little Miss Sunshine, though.
Coming out this weekend is what I hope to be the last gasp of the Hannah Montana craze. Hannah Montana The Movie, starring the mullet-child of Billy Ray, bows next weekend. I hope this is the end of it. I'm sure it's harmless entertainment for tweens, but I'm sick and tired of hearing about her everywhere I look.
I'm not sick of Seth Rogen yet, which is surprising considering that he's everywhere lately. Observe And Report debuts next week, and will probably make a good amount of money as he seems to sell very well. Pineapple Express didn't do as well as some of his films in the past, but it still made $81 million in spite of not being very broad in scope. Teaming with Anna Faris (and featuring her prominently) should help.
Of particular interest to geeks everywhere is the long-dreaded Dragonball live-action film, Dragonball Evolution. It looks as bad as Street Fighter: The Legend of Chun Li. Actually, it looks much worse than the video game bust a few weeks back. On one hand, I'm looking forward to it because I think it might be one of those 'so good it's bad' films made to mock. On the other hand, it might lead to more Dragonball, which is one of the worst anime/manga/video game series ever, so I'm kind of torn.