News
Weekend US Box Office report: Bruno debuts, Beth Cooper bombs
Bruno fails to measure up to Borat's business, while I Love You Beth Cooper becomes the latest flop of the summer...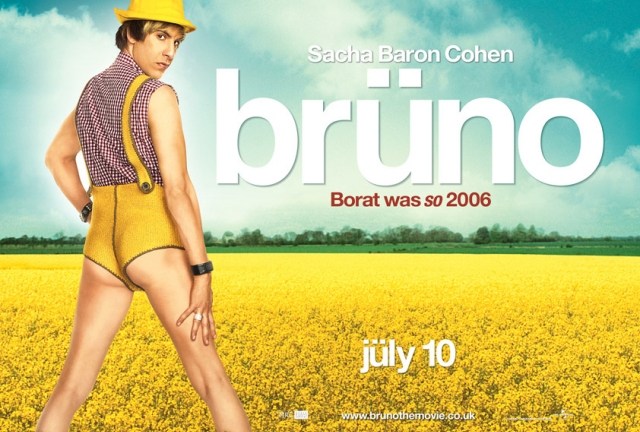 Attempting to build off of the smash success of Borat, Sacha Baron Cohen's Bruno sashayed flamboyantly into theaters this weekend, bringing in $30.4 million in its debut. Unfortunately for Bruno, the premise isn't as fresh as it was when it was called Borat, and that reflects in the movie's mediocre, at best, opening weekend. Given the attempted frenzy the marketing campaign tried to establish, the trailer left me pretty cold as, well… there's no way it could be Borat good.
Similarly flat was Fox's I Love You Beth Cooper, one of the many comedies attempting to out-Judd Apatow Judd Apatow this summer. The movie debuted in seventh place this weekend with a downright miserable $5 million, which actually puts it behind fellow comedies The Proposal (fifth place, $10.5 million in its fourth week out) and The Hangover (sixth place, $9.93 million in its sixth week in release). Beth Cooper was slotted to be kind of between those two in that there are elements of guy comedy mixed in with a romantic comedy plot, with an extra helping of teenage angst to stir the pot.
The only movies to really shine this weekend were the holdovers. The Proposal and The Hangover both held tightly to their audiences. Ice Age: Dawn Of The Dinosaurs (second place, $28.5 million) and Transformers: Revenge Of The Fallen (third place, $24.2 million) both strung together very strong weekends given the typically deep slide blockbuster films undergo after their opening week. The lack of real competition helped, as Bruno and Beth both were marketed at the comedy set, not the big budget set.
Public Enemies hit fourth this weekend, dropping from third on release with $14.1 million. Compared to Transformers et al it's a pretty steep drop, but that's more along the lines of what your normal summer release would experience. This hasn't been a very typical summer, though.
Up continues its slow decline, dropping to eighth this weekend on a take of $4.65 million. The movie has tallied up $273 million, and may get close to $280, but won't hit $300 as it seems to be finally running out of steam. My Sister's Keeper hits ninth on $4.1 million, which hasn't been a bad haul for a drama in a non-drama season and the film has made a neat little profit here in the US thanks to its $35 million gross and a very low-key marketing campaign.
Rounding out the top 10 is the remake nobody wanted, The Taking Of Pelham 123. The movie brought in only $1.6 million, and is far below the movie's listed $100 million production price. Has the bloom gone off the rose for Denzel Washington after Training Day? Maybe it's a bit of Denzel fatigue, or remake fatigue? Not sure what it is, but if it means there's less mining of the past, I'm all for it.
Last week was kind of a boring week for new releases. This weekend promises to be very exciting. Not only do we get the long-awaited release of Harry Potter And The Half-Blood Prince, we also get the family adventure G-Force (featuring wise-cracking gerbils), the romantic comedy The Ugly Truth, and the horror movie Orphan (only the fifth or sixth killer orphan movie in the past 10 years). It's going to be a very busy weekend next week, but Harry Potter is going to be the movie taking all the money.
The wait has only heightened fan desire. Expect lots of sold-out showings and packed theaters.