News
Weekend US box office report: A second helping of Meatballs
Cloudy With A Chance Of Meatballs sees off the box office competition for a second straight weekend...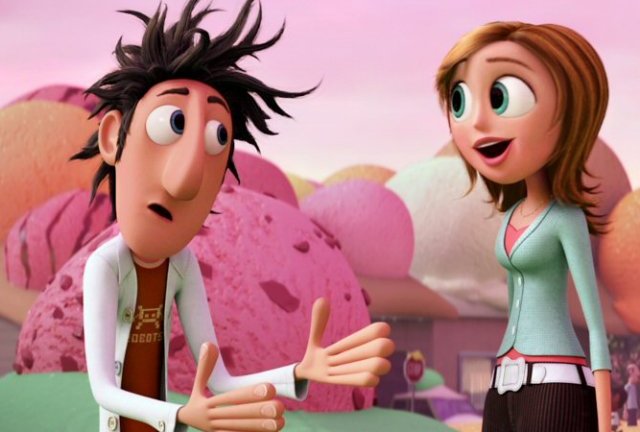 With a second strong weekend, Cloudy With A Chance Of Meatballs (reviewed here) added another $24.6 million at the box office, down only slightly from last week and bringing its box office totals to $60 million in the US. The animated comedy from Sony fought off a very wide slate of new releases, none of which had broad appeal. Bruce Willis doing sci-fi, teenagers dancing and singing, and space monsters all have their niches, but none of them are substantial.
Surrogates debuted in second place in its opening weekend, with an estimated $15 million. I got a chance to see the movie this weekend (the review is here), and I'm not surprised at the movie's lack of audience success. The ads weren't very attention grabbing, and as a result my screening was mostly deserted. When I talked to the ushers, that seemed to be par for the course.
Fame did no better. In its opening weekend, the latest in a long line of singin' and dancin' movies picked up $10 million. Even as those sorts of movies go, it was a serious disappointment. Step Up made debuted with $20.6 million back in 2006! While Fame will probably outgross the original Fame's $21 million domestic box office, it won't be by much.
The other debut this weekend, Pandorum, was also basically a non-starter in sixth place. Considering all I can tell you about the movie is that A) Dennis Quaid is in it, B) it takes place on a space ship of some sort, and C) there are monsters, you could probably blame the trailers on the movie's lack of interest. Sci-fi/horror mashups are usually really entertaining, and while Pandorum might be awesome on video, it's hard to attract attention in a crowded sci-fi and horror market. There's been a little too much of it lately.
The Informant! continues to perform surprisingly well in its second weekend. The Matt Damon film brought in another $6.9 million in its second weekend, good for fourth place at the box office. Even with being a weird-looking film with an unusual premise, Matt Damon is very important.
Tyler Perry's I Can Do Bad All By Myself lands in fifth in its third weekend at theaters, bringing in another $4.75 million. The total domestic gross for Madea's fourth movie is $44.5 million so far, which is fairly on track for the first two releases, albeit not nearly as much as Madea Goes To Jail's $90 million US take. In spite of the weak opening (by Perry standards), it'll be another hit for Tyler Perry.
Unfortuately for Diablo Cody, Jennifer's Body (reviewed here) has dropped like a stone, from fifth to eighth place this weekend on only $3.5 million. Even Love Happens (seventh place, $4.327 million) performed better this weekend in significantly less theaters. It really is a shame, as Jennifer is a really decent horror comedy. Then again, people aren't really paying any attention to 9 (ninth place, $2.832 million) either, and it was just as good as far as animated action movies go.
Inglourious Basterds settles in for tenth place, finishing off a great US run with a final $2.7 million weekend. Of course, the movie won't disappear overnight, but it'll start going by the wayside sooner, rather than later. You know the Weinsteins are thrilled with this result; as a Tarantino fan, I'm definitely pleased.
Speaking of big weekends, this weekend is going to be a huge one. Sadly, I believe most of the money will be going to the released double-feature of Toy Story and Toy Story 2, now in 3-D! Of course, the movie I'm seriously interested in is the long-awaited Zombieland, but the roller-girl comedy Whip It! also looks fairly interesting. Then again, I like roller derby and Ellen Page, even if I don't like Drew Barrymore very much.
With Michael Moore's Capitalism: A Love Story getting wider release, the odd-movie-out is probably going to be Ricky Gervais in The Invention Of Lying. It's a shame, because I'd love to see Gervais take off in the States and I really hope I'm wrong.