News
Weekend Box Office: Four Christmases makes merry
Just how far did Twilight fall this weekend? Quite far. Reese and Vince are happy, though. Just not in the same room...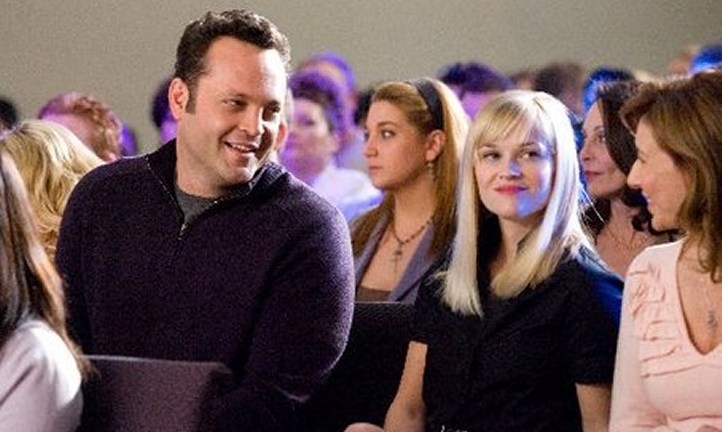 You've already read here that Twilight was knocked off the top of the weekend box office by, of all things, a Christmas comedy made by two people who can't stand one another, but what wasn't clear until the final numbers came in was just how bad Twilight has fallen (sorry about the pun).
Not only did this weekend belong to Four Christmases, which found itself in first place with an unexpected $31.06 million dollars, but Twilight also got lapped by last weekend's third place feature Bolt. Disney's jive-talking Travolta dog with a case of Saturday night fever brought in $26.58 million dollars over the US holiday weekend. That's an IMPROVEMENT from last weekend's $26.22 million!
Things aren't exactly dire for Twilight. While the film dipped a huge 62 percent in total gross, it still brought in a healthy $26.3 million dollars, nearly landing in second place for the weekend. It's a testament to Twilight's fans that the movie opened with $69 million dollars, and a testament to the lack of return business that the movie fell to $26 million. Then again, the movie roared past $119 million dollars in total box office, so I doubt anyone associated with Summit Entertainment is shedding any tears.
Quantum of Solace, the latest in the mega profitable James Bond series, continues to chug along strongly. The rebooting with Daniel Craig and the overall change in tone could not have come at a better of time for the venerable franchise. Bond hangs onto fourth place, no doubt while dangling from an exploding helicopter, with $18 million dollars.
One of the other heralded releases this weekend was the wannabe epic, Australia. I say wannabe epic, because in order to be epic, you need epic box office results to match. Fifth place and $14 million dollars doesn't quite cut it, especially when you're talking about a $130 million film. This is probably not the best release window for this sort of film, since Thanksgiving is family time, but any later and it would have been crushed by a holiday sci-fi release.
Madagascar: Escape 2 Africa was a trailer I could not get away from this summer. Every other movie I saw ( and I saw a ton of movies as a glance at Den of Geek's older posts would tell you), had a trailer for this bloody film attached. By the time the movie came out, I could not have been more sick of this film. I must have been the only one turned off, because the film has crossed $160 million dollars at the box office by the time you read this, and was sixth place this weekend with a strong $14.2 million dollars.
Transporter 3, on the other hand, shows that perhaps the American people are suffering from a bit of Jason Statham overload. Death Race had a surprisingly tepid $12.6 million dollar opening weekend, and Transporter 3 falls below that, with $12.06 million in receipts, good for seventh place. Transporter 2 opened with $16.5 million, while Transporter opened with only $9.1 million way back in 2002. Don't ask me to work out the exchange rate; I majored in English in college. No matter how poor the movie does at the box office, my crush on Jason Statham remains as disturbingly strong as ever.
Speaking of disturbing and strong, Role Models proves that there's nothing so timeless as a sassy black orphan boy being cared for by a goofy white person, and audiences will always love a geek being taken under the wing of someone comparatively cooler than he. Eighth place this weekend is a pretty good showing for a comedy that's been out for over a month, and its $5.28 million dollar gross gives it an outside shot at crossing $65 million before it fades into the home video market.
Boutique films also did well this weekend. The Boy in the Striped Pajamas held onto ninth place, with $1.69 million dollars in only 582 theaters, while tenth-place Milk picked up $1.45 million in only 36 theaters! Danny Boyle's Slumdog Millionaire also performed well, landing just outside the top ten with $1.34 million dollars in a paltry 49 theaters. It's always a nice feeling to see little films do big business.
I suppose that's why next weekend is playing host to a bunch of limited release films. Cadillac Records is getting a limited release, as are Frost/Nixon and Nobel Son. There's plenty of big and loud to go around, with Punisher: War Zone making it out. Ray Stevenson was awesome on Rome, so maybe he can do well in taking over as Frank Castle.
US correspondent Ron Hogan believes that the best Christmas movie made in the past 40 years is Bill Murray's Scrooged. Find more by Ron at his blog, Subtle Bluntness , and daily at Shaktronics and PopFi .