News
Weekend Box Office: Christmas comes early – again
Reese and Vince put aside their differences to continue to top the box office charts. The Punisher, however, hasn't fared as well...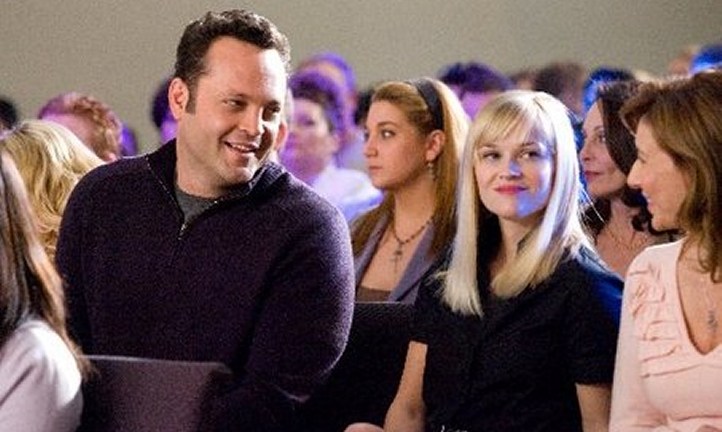 The more things change, the more they stay the same. While Four Christmases continues to ho-ho-hold onto the top spot at the box office for the second week in a row with 16.7 million dollars, Twilight and Bolt continue to play tag in second and third. Or, perhaps, they're playing a game of fetch with a baseball.
Either way, this weekend Twilight scraps back into second place (no thanks to my dollars at the box office) with 13 million dollars, while Bolt takes a post holiday bath, weakening to third place with $9.7 million.
Twilight continues to perform very strongly despite being awful, while Bolt has managed to bring in $80 million in three weeks. Bolt's done well, but I imagine Disney expected the holiday rub to last a big longer for its cuddly super-pooch. History isn't particularly kind to kids movies on the weekend after a holiday.
Australia continues to perform incredibly modestly ($7 million this weekend, a meagre $30.9 million in two weeks), despite its immodest $130 million budget. The fourth place movie this weekend improves on last week's pole position at the expense of Quantum of Solace (fifth place, $6.75 million). While Bond's numbers are lagging behind Casino Royale as the new has rubbed off of Daniel Craig, the movie's grossed nearly 510 million dollars worldwide and $151 million in the States. James Blond has to be pleased with that!
Madagascar: Escape 2 Africa, like its opponent Bolt, also suffered a decline this weekend. The movie held strongly between its third and fourth weekends, but since Thanksgiving the movie has dropped from $14.2 million to a sickly $5.079 million. The animals still hold onto sixth spot at the box office, but the lion's got mange and the hippo has diarrhea.
Someone should probably call the vet.
Transporter 3 continues to hold onto seventh place, but like basically every other movie holding steady amongst moviegoers, the money is down. Stuffed in the trunk this weekend was $4.66 million. Of Jason Statham's recent brooding, balding action yarns, this is the weakest second weekend he's had as a star, behind the other Transporter films, Death Race, and Crank. It's outperforming Ghosts of Mars, though! I'm trying to look on the bright side, as I love Jason Statham and never want him to have to turn back to real acting to make his living so long as there are sports cars to wreck and things to shoot shiny chrome guns at.
Speaking of shooting and crashing and explosions, the weekend's wide release was Punisher: War Zone. The fact that I'm four paragraphs down into this article and have yet to mention it should tell you that it's going ignored at the box office queue. Eighth place and 4.2 million dollars has to be disappointing for Marvel, despite their lack of promotion.
This is a movie that will do well on DVD, I'm sure, but I don't think there's going to be much clamor for a fourth adventure of Frank Castle (or another actor trying to make a go of it in the Punisher's black leather coat). Interesting fact: Lexi Alexander, the director of Punisher: War Zone, is a former karate and kickboxing champion who wrote and directed the excellent Green Street. That means she could beat up every actor who has ever played The Punisher, save perhaps Dolph Lungdren. That's two poorly done reboots by Marvel. Cross your fingers the X-Men rehash works better.
The weekend's other debut performed much stronger. Despite being in ninth place with 3.44 million dollars, Cadillac Records managed to make its mark in only 686 theaters. By comparison, Nobel Son screened in 893 theaters and brought in $333,912. That means most of those theaters were basically empty. Sorry, Alan Rickman.
Role Models, making its final appearance in the box office top ten, brought in $2.57 million. The little comedy has passed $61 million at the box office and given its lack of budget, is a pretty big hit for Universal. People seem to still like Seann William Scott. I mean, I do; even though the second 'n' in his first name gives me hives, Stiffler's act still works for me.
There are three movies getting wide release next weekend. One's a(nother) holiday comedy, Nothing Like The Holidays with John Leguizamo, Freddy Rodriguez, and every other Hispanic male actor working today (and randomly, Debra Messing). One's a(nother) animated film, Delgo, which is about… well, it's a pretty vague CGI animated adventure, but it is one of Anne Bancroft's final roles and has some A list talent (and also Freddy Prinze Jr.).
There's also… okay, deep breath.
I didn't want to get into this, but the big movie next weekend is The Day The Earth Stood Still, featuring the man of no faces, Keanu Reeves. I'm not even a gigantic mark for the original (I like it and will rewatch it this week, but don't absolutely love it) and I'm offended by this casting. Klaatu is supposed to be an alien, not a mannequin! Still, I've got my fingers crossed that it won't be completely awful and that maybe they'll CGI Keanu a second facial expression.
US correspondent Ron Hogan can't wait for someone to remake Manos: The Hands of Fate, with Nicholas Cage as The Master and Ryan Reynolds as Torgo. Find more by Ron at his blog, Subtle Bluntness , and daily at Shaktronics and PopFi.