News
Weasels Rip My Flesh – and other deathless horror movie titles
Join us for an absurd horror movie title apocalypse, in the company of vampire hookers, satanic cheerleaders and werewolf mums...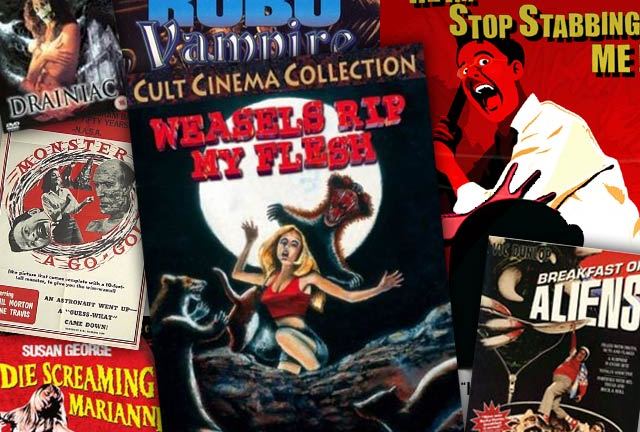 I Married A Monster From Outer Space; The Incredibly Strange Creatures Who Stopped Living And Became Mixed-Up Zombies; I Dismember Mama; Frankenhooker…
Sometimes the motive behind a truly appalling horror-movie title is simply to ensure that the raw power of the pitch that got the film greenlit not be diminished by any fancy notions of quality or integrity, as such things can confuse the target audience. If a film has vampires, zombies, hookers and nuclear bombs, it had better damn well be called Nuclear Vampire Hookers Vs. The Zombies.
Other jaw-dropping titles issue from porno-spoofs (which we have tried to avoid in this list) or simply seem twee with hindsight; the in-your-face, no-frills naming style of I Married A Monster From Outer Space was more common for relatively mainstream movies in the 1950s. Retromania has ensured that a slew of new and very funny titles are issuing daily from the low-budget horror houses of Hollywood, but as they're satirical in nature –and are probably the most entertaining aspect of the movies in question – they don't figure prominently here…
A Fairy's Mandarin Duck (1990)Attack of the Flesh Devouring Space Worms from Outer Space (1998)Attack of the Puppet People (1958)Beautiful Dead Body (1987)Beauty with No Neck (1966)Bela Lugosi Meets a Brooklyn Gorilla (1952)Better Sex Through Yoga (2003; listed as a horror film at IMDB – does everyone die at the end?)Blood of Ghastly Horror (1972)Blood Slaves of the Vampire Wolf (1996)Bloody Parrot (1981)Bog (1983)Breakfast of Aliens (1993)Breakfast of Imbeciles (2005)Bride of Killer Nerd (1992)Bummer (1973)Buttcrack (1998)Canadian Mounties vs. Atomic Invaders (1953)Cannibal Rollerbabes (1997)Daily Chicken (1997)Dance of the Dwarfs (1983)Day of the Nightmare (1965)Dead Dudes in the House (1991)Deafula (1975)Death Nurse (1987)Die Screaming, Marianne (1971)Dracula in Vegas (1999)Dragula (1973)Drainiac! (2000)Ed and His Dead Mother (1993)Fools in the Dark (1924)Frankenstein Meets the Spacemonster (1965)Geek Maggot Bingo (1983)Gentlemen Don't Eat Poets (1995)Get Pony Boy (2007)Ghost-Cat of Arima Palace (1953)Ghoul Sex Squad (1991)Hardcore Poisoned Eyes (2000)HeadCheese (2003)Hello Dracula (1985)Help Me… I'm Possessed (1976)Hey, Stop Stabbing Me! (2003)Hide and Go Shriek (1988)Hollywood Chainsaw Hookers (1988)House of Psychotic Women (1973)I Bought a Vampire Motorcycle (1990)I Was a Teenage Mummy (1992)Killer Fish (1979)Killing Bee (2005)Lake Dead (2007)Long Pigs (2007)Look Who's Toxic (1990)Monster A Go-Go (1965)Monsters Crash the Pajama Party (1965)My Mom's a Werewolf (1989)Naked You Die (1968)Nude For Satan (1974)Once Upon a Virgin (1975)Pig-Chicken Suicide (1981)Please Don't Eat the Babies (1983)Psyched by the 4D Witch (A Tale of Demonology) (1972)Pumpkin Zombies (2005)Pussbucket (1991)Ragazza tutta nuda assassinata nel parco [A totally nude woman killed in the park] (1972)Robo Vampire (1988)Santa Claws (1996)Satan's Cheerleaders (1977)Say You Love Satan (2000)Science Bastard (2002)Shriek of the Mutilated (1974)Slave Girls from Beyond Infinity (1987)So, You've Downloaded a Demon (2007)Sorority Babes in the Slimeball Bowl-O-Rama (1988)Space Psychos 4 (2003)Space Zombie Bingo (1993)Suckula (1973)Teenagers Battle the Thing (1976)The Beautiful, the Bloody, and the Bare (1964)The Creature Wasn't Nice (1983)The Gay Bed and Breakfast of Terror (2007)The Ghastly Ones (1968)The Ghost in the Invisible Bikini (1966)The Ghost-Cat Cursed Pond (1968)The Mad Love Life of a Hot Vampire (1971)The Mystery of the Ghastly Face (1935)The Night of the Living Duck (1988)The Nostril Picker (1993)The Rats Are Coming! The Werewolves Are Here! (1972)The Revenge of the Savage Bees (1978 TV movie)The Super Madman (1937)The Vampire-Beast Craves Blood (1968)The Washing Machine (1993)The Werewolf Versus Vampire Women (1971)Three on a Meathook (1972)Vampire Dentist (2006)Vampire Hookers (1978)Vampire Time Travelers (1998)Varan the Unbelievable (1962)Violent Shit (1989)Weasels Rip My Flesh (1979)Werewolves on Wheels (1971)Wrestling Women vs. the Aztec Mummy (1964)Zebadiah the Anthropophagus (2002)