News
Watchmen: 30 minutes of new footage screened
..and Zak Snyder promises no sequels, prequels or sidequels. But will it be his decision if Watchmen busts the blocks...?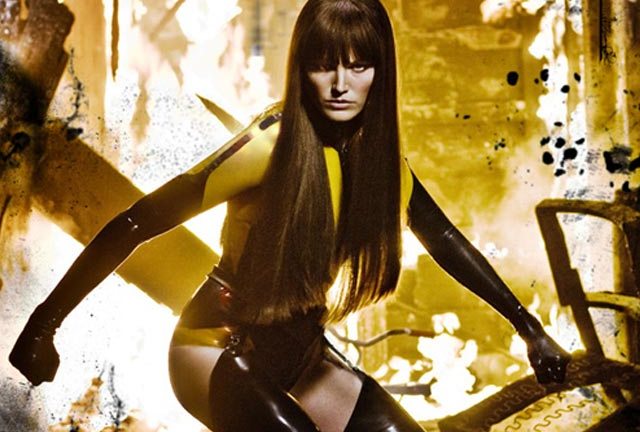 Thirty minutes of new footage from Zak Snyder's Watchmen, due for release in March of 2009, has been screened to an audience by the director, who was joined by Production Designer Alex McDowell and costume designer Michael Wilkinson.
The first twelve minutes were shown intact, with a remaining collection of scenes and various footage bringing the preview footage up to half an hour.
The opening scene as described at comingsoon is a graphic and very faithful rendering of the graphic novel's opening, with Blake's murder by an intruder in his own apartment played out to the strains of 'Unforgettable'.
The opening credits also mimic the flashbacks of the classic Moore/Gibbons story, with Dr. Manhattan taking cine-film on the moon as the first astronauts land (as well as an SFX shot that inserts him shaking hands with President Kennedy), Ozymandias (Matthew Goode) outside Studio 54, Andy Warhol and Truman Capote showing a painting of Nite Owl and Silhouette kissing a nurse on VE day.
Later scenes show Manhattan ruminating meditatively on Mars and pondering the events of his life before summoning an enormous clockwork structure out of the red sands and also a post-coital scene between Nite Owl and Laurie, which Snyder later explained demonstrates the sexual kick the couple get out of their superheroic antics.
Snyder revealed that the current runtime of the film is 2 hours and 46 minutes, but that it could end up changing ' in either direction'.
He also refuted the notion of any sequels or prequels, declaring that there that there would be "No chance of a sequel or prequel or 'Watchmen Babies' or anything like that."
It certainly would be ironic if the legions of fans who have almost threatened bloodshed if Snyder's film strays one ink-stroke from the original comic should find themselves so enamoured of the highly anticipated cinematic version as to start baying with equal fervour for Watchmen 2.
It will be equally interesting next year to watch Hollywood testing the waters for such sacrilege by trying to get rights to develop spin-off cartoon series and other Watchmen side-projects, sounding the fan-base out for the unthinkable…