News
Warner Bros. Launches Monster Week to Celebrate Rampage
A new app, special posters, themed monster trucks, and more are part of this week-long event.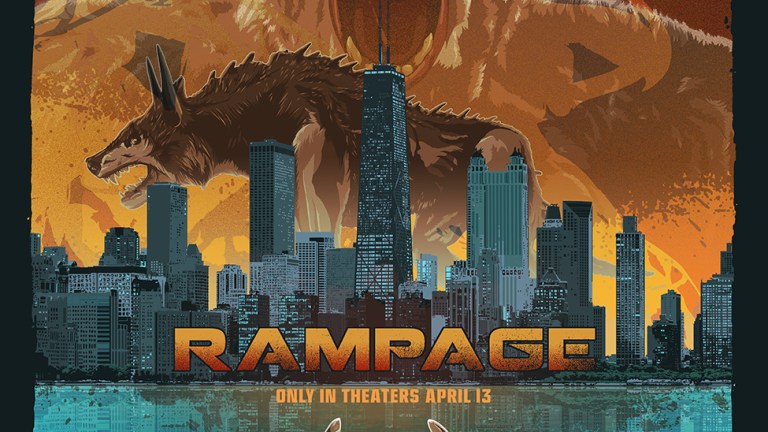 In celebration of the upcoming release of Rampage, Warner Bros. has kicked off an event known simply as "Monster Week."
Monster Week will kick off with the release of a new mobile app called Rampage: AR Unleashed. While the release of an interactive app based on Rampage may sound like a return to the franchise's gaming roots, Unleashed is not actually a gaming app and bears little resemblance with the 1986 arcade title that kicked off the series.
Instead, this augmented reality experience will allow players to digitally insert George the gorilla, Ralph the wolf, and Lizzie the alligator into our world. For instance, you can snag a picture of George scaling the Empire State Building – or your regional skyscraper equivalent – and even have him strike some attack poses. You'll even be able to scan Rampage movie posters and watch George digitally bust through them. 
Rampage: AR Unleashed is currently available for iOS and Android devices. Sadly, neither version lets you project a 50-foot image of Dwayne "The Rock" Johnson onto a nearby building. 
That's not all Monster Week has in store, though. All this week, Warner Bros. will be releasing a new series of film posters that feature various artistic interpretations of the upcoming movie. The first poster – featured in the image at the top of this page – was drawn by Stephen Sampson and is actually pretty cool. As for the rest, those will be revealed via Rampage's Twitter account throughout the week. Those attending WonderCon in California might also be able to snag three limited edition posters via the Rampage booth at the event. That same event will feature an updated version of the Rampage arcade game exclusive to the convention. 
Rampage fans in select countries will also be able to enter a "Rampage Monsters Unleashed Contest" that will send some lucky winners to LA – or the United Kingdom – in order to view the film's premiere and meet Dwayne Johnson. To enter it, you just need to post your best Rampage: AR Unleashed video on social media by using #RampageMonstersUnleashedContest. The contest will run from March 19 to March 23. You can find the full list of supported countries and regional contest details here. 
Finally, those attending Monster Jam in Las Vegas on March 24 will also be treated to three monster trucks modeled after the Rampage monsters. Those monster trucks will be publically revealed on Friday, March 23.