News
Warner Bros. Develops a Competing Robin Hood Film (Bringing Total to 4)
Because three is never enough, Warner Bros. is developing its own Robin Hood film in competition with Disney, Sony and Lionsgate.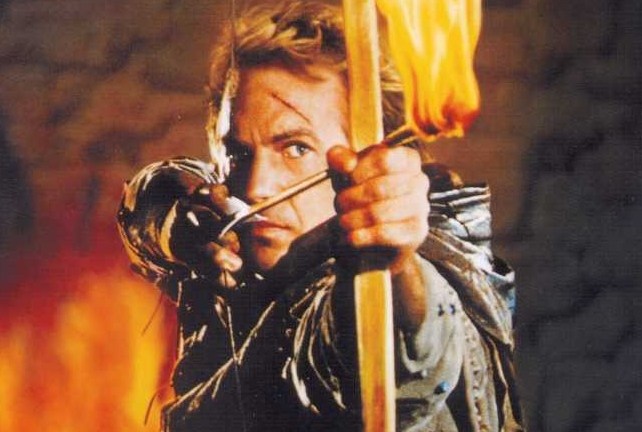 Generally, when someone sees four studios simultaneously developing the same non-copyrighted material, they might think there is a hint of desperation in the air. Then again, maybe it's gold fever with Disney's Marvel Cinematic Universe showing a new way to strip mine a brand, and now everyone is rushing to be the first one up the mountain to claim the prize? At least with Warner Bros. entering the Robin Hood fray, they might be able to work a Treasure of Sierra Madre angle into their Shared Sherwood Universe project?
Yes, WB is the fourth studio to be developing a competing Robin Hood project at the moment. While Disney and Sony put their flags down first, the deed isn't delivered until one of them starts shooting, and the boardrooms at Warner's must think Will Beall and Dan Lin have a hot idea on how to make Robin Hood happen since Deadline is reporting that the studio is letting them develop a treatment. Will Beall, who scripted 2013's Gangster Squad and the upcoming Aquaman adaptation, will be handling the writing duties while Dan Lin of The Lego Movie shared universe is producing the project.
This is in direct competition with Robin Hood: Origins, which recently landed at Lionsgate. That franchise-universe-daydream-believer foundation is masterminded by writer and producer Joby Harold. Harold has previously worked on drafts for WB's Edge of Tomorrow and the upcoming Arthurian shared universe progenitor, Knights of the Round Table: King Arthur with Charlie Hunnam. For Robin of Locksley's legacy, he partnered his Safehouse Pictures production company with Leonardo DiCaprio's Appian Way to make it happen. And if DiCaprio is the one to don Lincoln Green silk stockings, then this is the one I'm rooting for!
However, both will have to first beat Sony Pictures' Hood in front of the camera if they want to claim their bullseye trophy. Indeed, Sony paid an eyebrow raising seven figure sum to Cory Goodman and Jeremy Lott for this idea, and they apparently used the words "Avengers" and "Mission: Impossible" in their pitch.
But lest we forget, there is also a spec script by Brandon Barker being developed at Disney that's called Nottingham & Hood. Apparently that project was pitched as a "revisionist" take on the Robin of Locksley mythology that the studio views as a medieval equivalent to Pirates of the Caribbean.
Confused yet?
Honestly, I hope ALL OF THEM get made and each and every spin-off too. Up until The Amazing Spider-Man 2's opening weekend, there were three competing Marvel Cinematic Universes. Why not four of the Robin Hood variety? I can't wait to see which gets a Friar Tuck movie made first!
Again, it's all enough to make you say, "hey noni noni and a ho ho ho."