News
Voice from the Stone Trailer: Game of Thrones' Emilia Clarke in a Supernatural Drama
Voice from the Stone sees Game of Thrones star Emilia Clarke stuck in a creepy castle as governess to a grief-stricken child.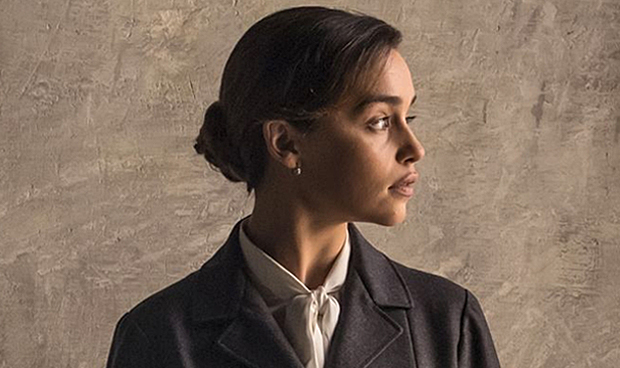 Game of Thrones actress Emilia Clarke builds to a blood and fire-filled denouement on the HBO series with its penultimate season arriving this summer. Yet, seeds for her continuing big screen career have been slowly, but steadily planted, notably with her (likely one-off) role as Sarah Connor in 2015's Terminator Genisys, leading 2016 romcom Me Before You and as the female lead of 2018's Han Solo-centric Star Wars spinoff film. However, one project of hers that's been in the can for over two years in Voice from the Stone will finally see a proper release next month.
Promoting the upcoming disc/VOD release of Voice from the Stone, USA Today unveiled an exclusive trailer, showcasing the creepy, atmospheric supernatural drama in which Emilia Clarke sheds her dragon-themed Targaryen fineries for more subtle sartorial choices as an English governess in the 1950's who finds work based in a castle in Tuscany. Clarke's Verena – a nurse by trade – is tasked with taking care of a young boy named Jakob (Edward Dring), who, grieving over the loss of his mother, has become withdrawn and stopped speaking. However, Verena soon suspects that Jakob – through a grave stone – maintains a connection to the malevolent spirit of his mother. Complicating matters, Verena becomes romantically involved with Jakob's father Klaus (Marton Csokas); a relationship she enters at her own potential peril, since sinister secrets are abound in the unfriendly estate, continually chipping away at her sanity.
Voice from the Stone is the passion project of director Eric Howell, whose four-year process to adapt the 1996 novel of the same name by Silvio Raffo came to fruition when Emilia Clarke agreed to the role. Howell, who found his way into a director's chair after spending decades as a stunt coordinator for several high-profile films, works off a script adapting Raffo's original novel by Andrew Shaw, who wrote Howell's 2015 short film Strangers. Poignantly, Howell describes Voice from the Stone with the intriguing pitch classifying the film genre-wise as an "Hitchcockian fairy tale."
Voice from the Stone will unleash its evil spirts with a day-and-date limited theatrical run and video/VOD release on April 28. Clarke will subsequently ready a long-awaited invasion when Game of Thrones returns on HBO for Season 7 on July 16.