Features
Visiting the set of The Amazing Spider-Man 2
While shooting was still underway on The Amazing Spider-Man 2 in June, we went along to visit the set of Sony's forthcoming sequel...
Very mild spoilers for The Amazing Spider-Man 2 lie ahead
Early on a New York Saturday morning, Andrew Garfield psyches himself up for another take. He jogs on the spot and punches the hot spring air like a boxer preparing for a fight, a blue gown flapping around him like a gaudy cape.
This is the 83rd day of The Amazing Spider-Man 2 shoot, and we're here to watch director Marc Webb film an early scene from his superhero sequel. It's Peter Parker's graduation, and he's late for the ceremony. In the finished movie, Parker will swoop in from an escapade elsewhere in Manhattan, hurriedly change into his blue cap and gown behind the stage, then rush to the front in time – just – to collect his diploma.
While all this is going on, Gwen Stacy (Emma Stone) is standing at the lectern with Principal Conway (Cal McCrystal). As valedictorian, it's her job to give the farewell speech that signals the end of the students' four years in high school – and given the events of the last film, its faintly morbid tone is perhaps understandable.
"I know we all think we're immortal," Stacy says. "And we should feel that way – we're graduating. Our future should be and is bright. But like our brief four years in high school, what makes life valuable is that it doesn't last forever. What makes it special is that it ends…"
Like Andrew Garfield, Emma Stone's dressed in a blue cap and gown, as are the several hundred extras sitting in the audience, each posing as one of Gwen Stacy's fellow students.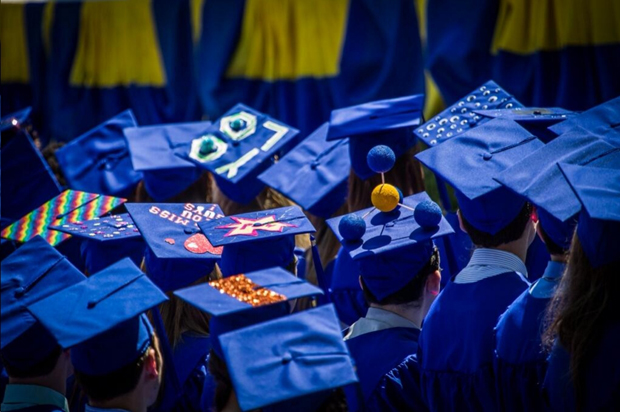 It's an unseasonably hot day – even at about eight in the morning, the temperature's a muggy 32 degrees or so – and those extras are simmering beneath their polyester caps. While we're lucky enough to be shaded by several tall maple trees, the cast are less fortunate; between takes, they seek refuge beneath umbrellas, or shield themselves with magazines. Webb himself, bounding around to direct various cameramen and crewmembers, is dressed in shorts and a large floppy fisherman's hat, the brim folded up jauntily at the front. Co-producer Avi Arad's here, too, shaded beneath a baseball cap and smoking a cigar the size of a chair leg.
The ceremony scene takes place in an amphitheatre located by New York's East River; essentially a 20-foot high hoop of concrete, its steel supports give it an appropriately technical atmosphere, like a miniature Sydney Opera House. The amphitheatre's been decked out with Midtown High School banners, garlands and flowers picked to match its familiar blue and yellow colour scheme. It's only when you look outside the area on which the cameras are trained that you get a true sense of the production's scale: there are cranes, tents, boxes of equipment and trucks everywhere. Crewmembers stand around near their gear, looking toned and tough.
The East River forms the scene's backdrop, and since it's a hot day, half of New York appears to have taken to the waters on a variety of jet skis, cruisers and speedboats. Presumably, Webb and his filmmakers will have to carefully edit around the various waterborne vehicles that hurtle past in the takes, while the sound department will somehow excise the various honks and parps that accompany them – at one point, a huge barge burbles past, carrying a gigantic burden of what looks like rusty metal.
Fortunately, audiences packed into cinemas next summer won't be able to smell what this June day is like, either; although there's a welcome breeze coming in from the river, there's a vaguely fecal smell carried on the back of it. "Is it me," one journalist asks me shortly before lunchtime, "Or does something smell like cow shit?" 
We both agree that the smell is probably coming either from one of the huge boats carrying junk down the river, or perhaps one of the ominous looking industrial buildings located on the opposite bank.
Whatever the smell is, it's but one of the numerous occupational hazards the cast and crew have had to put up with while on the movie's lengthy bout of location filming. Although parts of The Amazing Spider-Man 2 were filmed on soundstages, a considerable chunk of it was shot on the streets of New York, either in the bustling areas around Central Manhattan, or in quieter parts like this one, located somewhere near a busy thoroughfare and the Williamsberg Bridge.
Producers Avi Arad and Matt Tolmach tell us proudly that this is the biggest film production in New York's history – and it's only fitting, given that New York has been a part of Spider-Man lore since the first comic appeared in 1962.
Like The Dark Knight Rises in 2011, the use of public spaces in Spidey 2's filming has resulted in a steady stream of candid, unofficial pictures appear on the net. We've already seen early glimpses of Jamie Foxx as Electro, and Paul Giamatti as The Rhino. On the day we were invited to the set, passers-by – whether they were topless male joggers sweating in the midday sun or kamikaze jet ski riders – all looked on at the filming with an air of bemusement and curiosity. Some even stopped to take pictures on their phones – frustrating, given that we were warned quite sternly that such a thing wasn't allowed. As Emma Stone gave her speech, the moment of Hollywood glamour was undercut somewhat as a middle-aged man walking a pair of dogs turned up to watch. Distractingly, one of the dogs had a pair squeaky wheels instead of working hind legs.
Then again, there's little hint of Hollywood pomp and circumstance to be found, and as extras sit around laughing and chatting between takes, and various runners and crewmembers rush around with bottles of water and trays of fruit drinks to keep everyone hydrated, the atmosphere's more like that of a church fete than the set of an expensive blockbuster in the making. 
Webb, although quiet and thoughtful during interviews, seems relaxed and happy while filming, and if he feels any sense of pressure from this multi-million dollar production weighing on his shoulders, he really doesn't show it.
"We've done it before, and everyone went into it with the right attitude," Webb says, as we talk to him beneath the shade of a tree that occasionally rains down tiny red spiders. "Knowing that you have to think on your feet, and knowing what you're going to encounter with the paparazzi in the locations you're dealing with. It's made everybody mentally more prepared and more able. We've enjoyed it. Making movies is fun, or it can be."
When it appeared last year, The Amazing Spider-Man was met with a mixture of reactions. Popular enough with audiences to make $750 million at the box office, some critics nevertheless picked fault with certain aspects of its production. A sense of over-caution, some iffy CG effects on its villain The Lizard, and a bland script were some of the accusations levelled against it.
Some filmmakers might suggest that the till receipts prove that public was right and the critics were wrong, but almost everyone involved in The Amazing Spider-Man 2 is surprisingly ready to at least mention its predecessor's flaws.
"We were finding our way on the last movie, in a way," admits co-producer Matt Tolmach. "It's one of the oldest cliches in the film business, that if you have a truly great script, it doesn't guarantee anything, but boy is it a great way to start. Because everyone's holding hands on what the film's about, and you can just build from there."
"I feel more confident in the script," agrees Andrew Garfield when we catch up with him after lunch. "I felt more confident coming into this only in the sense that I was really happy with the way the script was right in the beginning – two, three weeks before shooting I was, like, we could shoot this now. The story is beautiful and layered and rich. It feels like an ensemble piece, the story has a logic to it, and also an emotional trajectory."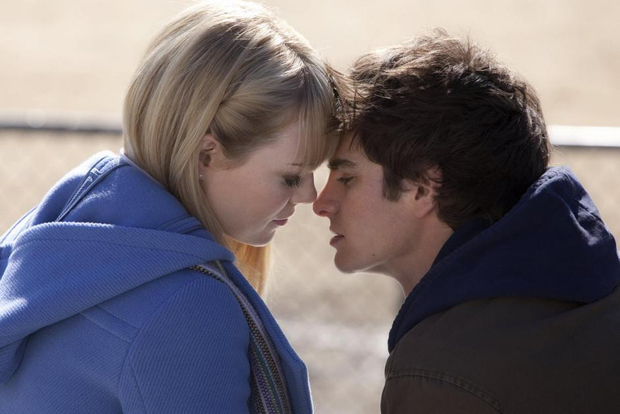 Both Garfield and the creative types behind the camera seem relieved, too, that the burden of retelling Spider-Man's origin story is now behind them ("We're sort of fee of that, in some ways," Tolmach says). With writers Roberto Orci and Alex Kurtzmann having taken scripting duties, it sounds as though The Amazing Spider-Man 2 is heading into a different, somewhat lighter direction than its predecessor, with a greater emphasis on physical comedy.
Names including Buster Keaton, Bugs Bunny and Charlie Chaplin are regularly dropped by almost everyone we speak to; even Cal McCrystal, who plays Principal Conway in the scene we're watching today, is an award-winning physical comedy actor and director.
"I read about the trickster archetype," Garfield said, providing a brief insight into his comedic fighting style in the new film. "And what he does is use his enemy's weaknesses against themselves. Bugs Bunny would be a good example of that. If I can defeat these people by not touching them, and just let them beat the crap out of themselves, that is brilliant. Intelligent, and kind of pacifist."
Spidey 2′s lighter, more comedic direction is well served in the scene we see being filmed today. Having thrown his ceremonial gown over his head, Peter Parker hurtles around to the front of the stage, snatches up his diploma, and depending on which take we're watching, alternately snatches Gwen up in his arms, gives her a huge old Hollywood-style kiss, before giving a baffled Principle Conway a high-five and marching off to the hoots and applause of his peers. It's an undeniably fun, physical bit of comedy – the ungainly way Garfield totters across the stage is certainly amusing – but isn't his raunchy, public display of affection towards Gwen a bit out of character for the normally demure Parker, we wonder? Not necessarily, according to Garfield – rather, Parker's still in full-on Spider-Man mode ("I've just come from doing some incredibly acrobatic, joyful, fun, playful things, and I'm still in that mode… I've got to chill a little bit," Garfield explains).
It's also the sign of a shy young man throwing caution to the wind because he knows he'll never see his classmates again. And what's more, the kiss wasn't originally in the screenplay; Garfield went for it on the spur of the moment during one early take, and Webb liked it so much, he encouraged the actor to try it again. And again.
"Oh, the kiss wasn't scripted," Garfield tells us. "I didn't know I was going to do it. I just thought, 'I just missed my girlfriend's valedictorian speech. How am I going to make it up to her?' Then I was thinking, 'I'm graduating. I don't really give a fuck about this place, and fuck all of the people. So I'm going to go in and have fun. And embarrass her!'"
Webb's experimental yet exacting approach is evident throughout our day on the set. With the camera set up at different angles, Stone recites her valedictory speech over and over again, with subtle changes each time – in some takes earlier that day, she made wondered aloud whether Principle Conway was "wearing any pants" under his gown – an intentionally muted gag that she drops in later takes.
If there's one character notable for his absence on this sweltering day, it's the web-slinger himself. Very early that morning, we'd spotted two body doubles in Spider-Man outfits, and in spite of ourselves, our hearts leapt with childlike joy. Yet those glimpses were all too brief, and the filming of one scene featuring Spidey took place while we spoke to the film's producers – presumably, the shots of Spider-Man were shot early while the temperature was relatively low. At around half nine, we spotted Garfield wandering casually to his trailer on the periphery of the location. Dressed in a T-shirt and shorts, he was still wearing his red Spider-Man boots – just another day at work for Andrew Garfield, but a surreal sight for the rest of us.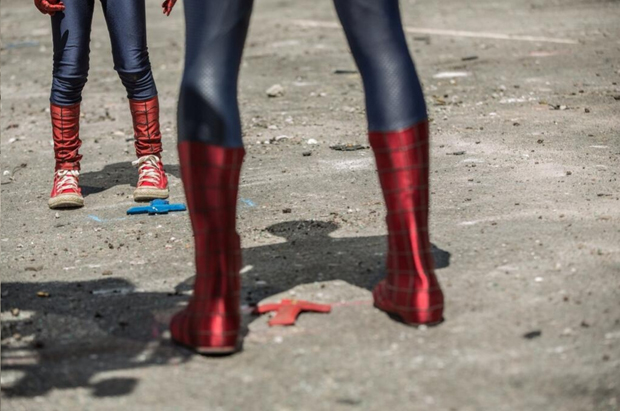 Seeing Garfield in his Spider-boots aptly sums up the day, in fact: a slightly askew glimpse into an alternate world that resembles our own, but with sparkly bits around the edges. Watching a movie being shot for a single day is a bit like watching five minutes of a stage play from the left entrance: you get a snapshot of the story, but you're not sure where it will fit into the bigger picture. Nevertheless, it gave us a flavour of The Amazing Spider-Man 2′s tone and themes: the physical comedy, Peter Parker's trademark cheekiness, all with a vague undercurrent of melancholy.
As we head back to the bus at around six o'clock, the air still simmers with heat, the graduation scene's still filming, and Emma Stone's still going through her speech. It's weird to think that, by this point in the movie's production, the cast and crew have endured all the strangeness that New York and its changeable weather can throw at them: traffic, angry locals, paparazzi, the howl of airplanes overhead, the din of barges and jetskis, rain, wind, snow, and finally, blazing heat. But in spite of all those hardships, the producers insist it'll be worth it when we see Spider-Man swing through real New York locations on the big screen.
"New York is actually a character," Arad says. "If we have Peter Parker, New York is a character. The Daily Bugle. The Empire State Building. Everything about New York has been adopted for the character of our movie. That makes it all worth it, right?"
"The airplanes are a challenge," Tolmach adds, thoughtfully. "There's a lot of flight traffic so you're always having to wait. But like Avi said, sometimes it's hard, and sometimes…"
"Sometimes," Arad says, "it's amazing."