News
Visiting The Movieum
Michael takes a look at a London attraction that's a haven for movie geeks...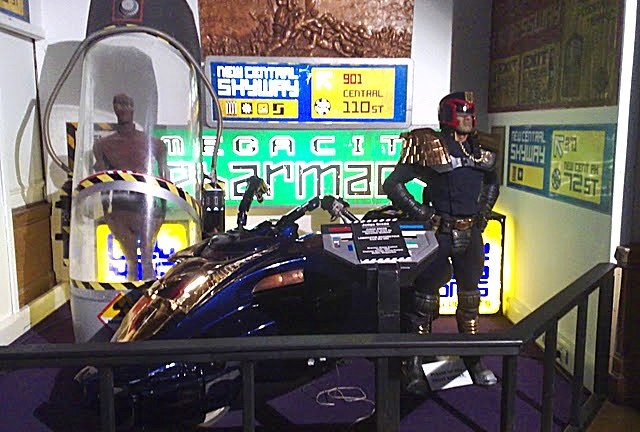 The Movieum has the potential to be the geekiest of all London's tourist spots. Tucked away on the South Bank, in between Westminster and Waterloo Bridges, this 'movie museum' is housed in County Hall, the old, vast civic building that has been given over to private interests. This is prime tourist-centric real estate, right next to the London Eye and the Sea Life Aquarium. However, due, no doubt, to high rents and competitive price-gouging, tickets for entrance are £17 for adults (£12 online) and £8 for children. It's worth noting this, as it is precisely the reason why I hadn't ventured out to the Movieum earlier, until being invited to a press day in anticipation of their latest major exhibition, Charlie Chaplin: The Great Londoner.
Bearing the mark of the building's civic roots, the Movieum mostly consists of long, narrow corridors and small side rooms, both of which are overstuffed with text, video screens and memorabilia for visitors to pore over.
As you enter, you are bombarded with texts and images from the London On Film mini-exhibition, which details the role of the city in the film industry, from the stars who grew up locally, to the studios that flourished within the Greater London area. Once you stride into the museum proper, you hit an atrium filled with a number of dioramas, including a display of the Terry English-designed armour from Excalibur And, what's that in the corner? Nothing but the Rank Organisation gong!
Another large, circular room boasts a number of settings that loosely correspond to the production process, from filming to post-production to exhibition. This is a little scattershot, with highlights, no doubt, being the life-size replica tube car set (used in an Eastenders episode), and displays with props and costumes from Doctor Who and the Daleks, Aliens and Judge Dredd, but those dedicated to animatronics and soundtracks looked a little ropey and tired – a big surprise, considering the Movieum isn't by any means an old fixture.
Most puzzling is the section concerned with exhibition, which features a long, fascinating, recent documentary produced by Film24.com about the current state of the UK film industry, with input from Mike Leigh, Film4's Tessa Ross, Empire's Helen O'Hara and John Woodward from the UK Film Council. This is brilliant, informative stuff, but it is mostly drowned out by a looped trailer sequence blaring out from a Harry Potter display across the room.
There is a strange, awkward mix of the informative and the impressive that runs through the whole of the Movieum, with its text-heavy exhibitions rubbing up against loud and distracting video screens. It is not without its great sights, attractions and tidbits.
There is some great material from the production of both Tim Burton's Batman and Superman II, such as a make-up chart for the latter, and location charts and on-set memos for the former, one of which speaks of a set visit from Life Magazine, noting "best possible Batmobile on set… Carl Newman is available from 2nd unit to appear as background figure… in best possible Batman costume".
Likewise, there's a plethora of props and wardrobe items from scores of films – from a severed head from Shaun Of The Dead, to a room dedicated to the recently released Sherlock Holmes film. These rub up against drier, yet just as interesting bits and pieces, like a small selection of Golden Age of Hollywood photographs from the Mo Gillett collection, or in-depth text histories of the various famous British studios from over the last 100 years.
There is plenty to see and ingest, but it's a little overwhelming. There's even a chance to have photos taken with lightsabers in a scale recreation of the Tantive IV set from the beginning of Star Wars.
And that's without going into the side exhibitions, like a collection of photographs of the Beatles, presented in collaboration with the Getty Images Gallery, or an animation gallery, titled Art You Grew Up With, that is stuffed with bits and bobs that would make any cartoon or comics nut grin with delight, such as original production drawings from Peter Pan, Cinderella and Tom And Jerry, storyboards from Ren & Stimpy, and comic art including Brian Bolland's cover from 2000AD Prog228.
But what of the Chaplin exhibition? Well, the press day was on December 12th, with the exhibition open from the 14th. Unfortunately, we weren't allowed to see it, and weren't offered much in the way of tantalising information. As a considerable Chaplin fanboy (I live a stone's throw away from his birthplace, and actually care to bore people with such a fact), this was a disappointment.
The details on the Movieum's official website suggest quite a wide-ranging display, covering not only Chaplin's exploits in Hollywood, but also his poverty-stricken childhood, his maturation on the vaudevillian stage, and his eventual exile to Europe from the 1950s until his death. Furthermore, with the input of Leslie Hardcastle (creator of the Museum of the Moving Image) and David Robinson (writer of the definitive Chaplin biography), this should be quite an enlightening experience.
It just depends on how recession-proof your wallet is, and how intent on a film-based museum trip you are. The capital has a glut of free, world-class museums and galleries, and it is a shame that the Movieum suffers in comparison. Nevertheless, there is some charm – and a few squee-worthy moments – contained within.