Reviews
Violent Cop DVD review
Japanese celeb Takeshi Kitano makes a bloody splash in his directorial debut, Violent Cop.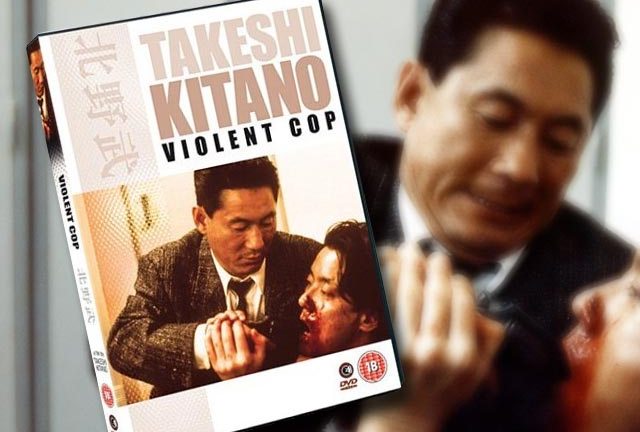 Originally meant to be much more of a comedy, and to be directed by Kinji Fukusaku (Battle Royale), Violent Cop (Suno otoko, kyobo ni tsuki) ended up being international cult icon "Beat" Takeshi Kitano's first directorial credit. After an uncredited, but significant screenplay re-write, Kitano made sure that this vehicle would be a distinct break from his public persona in Japan – where he first found fame as a comedian and a hard-working television presenter – in the process making a thrilling meditation on violence and the police action genre.
In capsule form, Violent Cop plays out like an Asian resetting of Dirty Harry. Kitano stars as Azuma, a no-holds-barred copper whose brand of swift, uncompromising justice is both unorthodox and liberal-baiting. In his first scene, he stalks a teenage gangbanger home after said youngster had assaulted an old man – and proceeds to beat him up in his own bedroom, inciting him to offer a confession at the station in the morning. Likewise, he kicks a pseudo-pimp in the teeth, hits suspects-in-pursuit with a car and harasses a potential boyfriend of his sister by pushing him down the stairs.
Although, whereas Harry Callahan was ultimately heroic and suave, with his highly-quotable adventures spinning out into an iconic franchise, Azuma is more complicated and unnerving. There are no quips or one liners in Violent Cop, as Azuma is mostly a quiet and non-communicative protagonist. Even though Kitano has a charming look about him, his natural charisma is buried and twisted, giving his character a deadened facial expression, and a waddling, awkward gait.
While his early acts are laced with a jet-black sense of humour, the film soon takes a sharp turn towards the unsettling, as Azuma becomes obsessively unhinged in his personal involvement in a drugs case, leading to the character's tense and gruesome downfall.
Throughout, the violence is graphic, but Violent Cop achieves a visually impressive, naturalistic aesthetic, with Kitano showing himself to be a very assured director despite this being his first film. Using long takes, location shooting and mostly natural-seeming lighting, Kitano cooks up an action film which is just as engaging and blood-soaked as its more explicit genre brethren, but without resorting to overly choppy editing, or other exaggerated production flourishes. In fact, Kitano seems more willing to send up these conventional tendencies, as seen in one of the more left-field chase scenes ever seen in a cop movie, which is drawn out in an agonisingly slow way, and is soundtracked by an oddly serene, yet sparse score.
Violent Cop works both as a deadpan parody of gung-ho shoot-em-up flicks, and as a thrilling, almost cinema-verite recalibration of the conflicted cop movie genre. It presages, in a very distinct way, the 90s obsession with cinema violence, seen in Quentin Tarantino's Reservoir Dogs, Oliver Stone's Natural Born Killers, or the Belgian film Man Bites Dog. But, instead of revelling in post-modern cheekiness, as those films do, Kitano adopts an artful mode that strengthens the impact of Violent Cop's action, yet deflates any Death Wish-style extremism. This leaves the film complicated, but nutritious; it is important viewing for anyone interested in international cinema.
While light on raw features, the Second Sight DVD is still impressive. The commentary track comes from Chris D., an Asian crime film expert (and ex-singer in LA Punk band The Flesh Eaters) who shares his considerable background knowledge, opening up discussion to international genre conventions and Japanese cinema history. It is informative, yet not at all stodgy, as his mild croon meanders through musings on Japanese architecture and the one time he witnessed a real-life shootout – which reminded him of a Kitano movie.
Accompanying the feature is an hour-long episode of the French television series Cinema, De Notre Temps, where French critics and filmmakers would interview notable international directors (with episodes also dedicated to David Lynch, David Cronenberg, Nanni Moretti and Abbas Kiarostami). In this particular episode, 'Takeshi Kitano: L'imprévisible' (Takeshi Kitano: The Unpredictable), Jean-Pierre Limosin travels to Japan to meet the director. With the help of Professor Shigehiko Hasumi, Limosin sets up a long-form interview with Kitano, where they discuss his career and his creative methods.
It is quite uncompromising and heavy, but it still manages to attain a sense of depth and insight that the vast majority of dumbed-down, shallow factual television programmes fail to grasp. By the time this episode was filmed, in 1999, Kitano was more of an established filmmaker, but it is interesting to see him here as a interestingly nuanced fellow – simultaneously awkward, self-effacing, outspoken and utterly determined in his ambition. In its own right, this special feature is revealing viewing, but released in tandem with Violent Cop, it adds great value to the DVD as a package.
Film:
Disc:
Violent Cop is out now.