Reviews
Vicky Christina Barcelona DVD review
Woody Allen's Vicky Cristina Barcelona gets its DVD release. But it's the usual empty affair...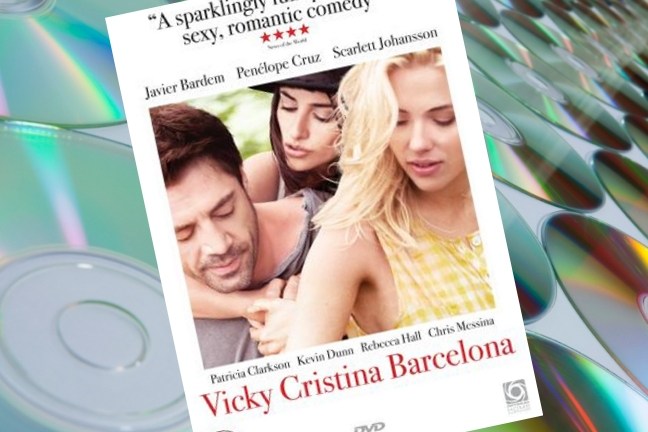 It's, for this reviewer's money, getting a little old hat now to suggest that one film or another is Woody Allen's "return to form". A phrase thrown around with reasonable abandon, in the past decade alone I've heard both Melinda And Melinda and Match Point described in that way, and now, more recently, Vicky Cristina Barcelona.
The thing is, there's no real return to "form" at all, or at least no return to the last golden patch that Allen enjoyed, back in the 1990s. I've enjoyed all three films mentioned thus far, but none are really in the same ball park as a Husbands And Wives, or Bullets Over Broadway (and certainly they pale next to Allen's finest films from the decades before those two).
What they have in common, however, is that they mark some kind of upturn from a slump, and given that the two films Allen made prior to Vicky Cristina Barcelona were Scoop (which I saw, and didn't care for) and Cassandra's Dream (which I didn't, but was widely panned). Perhaps that's one reason why the film got more attention than any Allen movie since Match Point.
That said, it might also have something to do with the fact that it's a film with good, solid charms. Allen's script tells the story of Vicky and Cristina (played by the excellent Rebecca Hall and Scarlett Johansson, respectively), who seize the opportunity to spend a summer in Barcelona. Vicky is about to get married, and we're informed by the really quite irritating voiceover (and it really is: I can't remember voiceover being used to such nauseating effect in a long time) that she's the more together and risk-averse of the two. Cristina, meanwhile, will open her heart for the chance of love and passion, accepting that it'll hurt when it all falls apart. This being an Allen film, though, both are goingt to be tested and put through the emotional wringer.
The pair soon encounter Juan Antonio, played by Javier Bardem, and he has a significant influence on both of their summers. He invites them both for a weekend in Oviedo, with the open intention of sleeping with them, and matters pick up from there. The changing reactions of the two women to the excellent Bardem are intriguing, and Allen proves that he's still got the knack of writing good, solid relationships in his films.
In the second half of the film, Allen throws into the mix Juan Antonio's ex, Maria Elena, played in her Oscar winning performance by Penelope Cruz. Cruz is, to be fair, excellent here, and the latest in a long line of actresses that Allen has directed to a Best Supporting Actress gong. But it's not just her that deserves the plaudits: his small and tight cast serve him well, too, from the two main leads, through to the always-terrific Patricia Clarkson in the supporting cast.
To tell any more of the plot would spoil the film, but it's a morally ambigious, well structured piece, that doubles as a love letter of sorts to the city of Barcelona. Allen uses that backdrop to pick apart modern day relationships, and gives us hints of his past peaks.
Yet it doesn't quite engage all the way through. It's odd: he doesn't waste time, per se, but does take a little too much of it by the time the film comes to its abrupt stop. Thus, it's ultimately not a flat-out "return to form", but it's certainly an improvement. If that's the current definition of "return to form", though, then fair enough…
The DiscLong-time Woody Allen followers know the drill here. You'll never get the man to contribute a single extra feature to his films, arguing that they speak for themselves. So outside of a trailer and subtitles, that's your lot. Heck, the film's only broken down into eight chapter breaks, too. Bluntly, enjoy the film, because it's all that you're getting…
The Film:
The Disc: