News
Vice: Christian Bale as Dick Cheney Movie Trailer Arrives
Christian Bale is playing Dick Cheney in a movie written and directed by Adam McKay. Here's everything we know about Vice.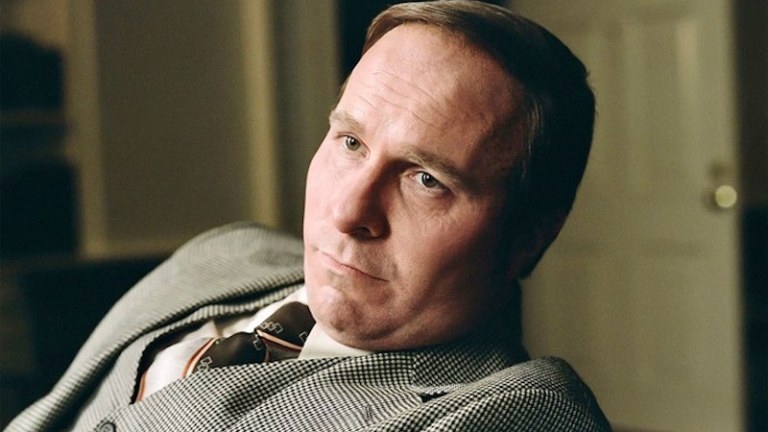 Biopics are a dime a dozen, but when Christian Bale and Adam McKay decide to make a biographical film, and one about the most infamous Vice President of the United States in history, well we're so excited about this Vice Dick Cheney movie that we could very well accidentally shoot a friend in the face. Hey, we said "accidentally." Indeed, the funnyman filmmaker who spent the Bush Years (or what some might call the Dick Cheney years) taking potshots at then then-nadir of modern American presidencies (my how times have changed!) via Anchorman, Talladega Nights, and Step Brothers is now teaming with his The Big Short star for a biopic that will have to at least half its tongue partially in its cheek. It has to right?
Vice is of course written and directed by McKay, who received Oscar nominations for both duties on The Big Short. Prior to that film, he is best known for his anarchic comedies with Will Ferrell, which include Anchorman: The Legend of Ron Burgundy, Talladega Nights: The Ballad of Ricky Bobby, Step Brothers, The Other Guys, and Anchorman 2: The Legend Continues. McKay and Ferrell met when McKay wrote for Saturday Night Live from 1995 to 2001, including two seasons as head writer. The two also created the Funny or Die website together. Ferrell is also a producer on Vice, as is The Big Short producer and co-star, Brad Pitt. The film is also produced by McKay, Dede Gardner, Jeremy Kleiner and Kevin J. Messick.
Here is what you need to know about the film.
Vice Trailer
Get your first look at an unrecognizable Christian Bale as Dick Cheney, arguably the most powerful vice president in history. Sam Rockwell's spot-on George W. Bush is a bonus.
Vice Release Date
Vice will shock and awe audiences when it is released on Dec. 21.
further reading: The Must See Movies of 2018
Vice Cast
Obviously the biggest selling point this early out on Vice is its absolutely stacked cast. This is because McKay made the impressive transition from comedy director to at least dramedy filmmaker via The Big Short, which featured fierce performances from stars Steve Carell, Ryan Gosling, and Christian Bale, the latter of whom was nominated for Best Supporting Actor at the Academy Awards for his work.
In Vice, Bale has undergone a shocking transformation to become Dick Cheney, the former Congressman, White House Chief of Staff for Gerald Ford, Secretary of Defense for President George H.W. Bush, and (most famously) the vice president for President George W. Bush. To embody such a meaty role, Bale gained an incredible amount of weight in just a matter of about five months. When asked how he piled on the pounds during a film festival sit down with Variety, Bale said, "I've just eaten a lot of pies."
The rest of the cast includes Amy Adams as Lynne Cheney, Dick's wife and mother to their two daughters, Liz and Mary. Notably, Adams has worked twice with Bale on David O. Russell's The Fighter (for which Bale won his Oscar) and American Hustle (for which they were both nominated). Adams was even there aiding in Christopher Nolan's auditions for Batman when they were both impressed by Bale way back in 2003.
Fellow The Big Short alumni Steve Carell has been cast as Donald Rumsfeld, President Bush's Secretary of Defense who sided with Cheney on an aggressive Iraq War strategy that included "shock and awe." Sam Rockwell, meanwhile, is going from his award winning role in Three Billboards Outside Ebbing, Missouri to playing President George W. Bush himself in Vice. Bush memorably imbued Cheney with more power than any vice president in American history and went along with Cheney's strong support for "enhanced interrogation techniques," which is a euphemistic term for what President Barack Obama later described as torture.
Alison Pill (The Newsroom, Midnight in Paris) will play the adult Mary Cheney, whose coming out as a lesbian led to Dick Cheney evolving his viewpoint on gay rights. Lily Rabe (American Horror Story, The Wizard of Lies) has been cast as Liz Cheney, Dick and Lynne's daughter who is a strong defender for Cheney's neoconservatism and has carried on the family name as a source of political power. She is currently a member of the U.S. House of Representatives, representing Wyoming's at-large district, a seat held at one point by Dick Cheney himself.
Tyler Perry (the Madea films, Gone Girl) has been cast as Colin Powell, Dick Cheney's one-time friend and political rival for President Bush's support during the first term of the Bush presidency. Powell served as Chairman of the Joint Chiefs during President George H.W. Bush's tenure, helping preside over the successful Gulf War which stopped short of marching on Baghdad. Powell's reluctance to pursue that strategy again during President George W. Bush's first-term (Powell was his Secretary of State) led to growing animosity between Powell and neoconservatives like Cheney, Rumsfeld, and others. Bill Pullman (Independence Day) is playing Nelson Rockefeller, who served as vice president under President Gerald Ford, for whom Cheney acted as White House Chief of Staff. Adam Bartley will play Frank Luntz, the Republican political commentator and pollster who notoriously worked with Fox News about messaging during the early years of the Iraq War and whole Bush presidency. Shea Whignam is playing Wayne Vincent, Lynne Cheney's father, and Kirk Bovill has been cast as Henry Kissinger.
Vice Story
Vice will explore the life and times of U.S. Vice President Dick Cheney, who was the 46th man to hold his office. He also was imbued with more power than any vice president in history, which is all the more impressive given he was employed by the Bush campaign in 2000 to find the best candidates for vice president… and then settled on himself.
Cheney's career prior to being a very hawkish supporter of neoconservative foreign policy–which in basic terms involved using America's robust military power to spread democracy and a more open capitalist system via military invasion, as well as aggressive policies that valued security over human rights when it came to combatting terrorism–included being Secretary of Defense for President George H.W. Bush, a congressman in the U.S. House of Representatives who represented Wyoming's at-large district, during which time he eventually held the postions of chair of the House Republican Conference and miniority whip, and White House Chief of Staff for President Gerald Ford.
At least some of these earlier events in his life will be covered in this film, as younger versions of himself and his children have been cast, and paparazzi photos have depicted Bale playing Cheney as a younger man. Bill Pullman has also been cast as Nelson Rockefeller, who was the vice president to Gerald Ford when Cheney served as chief of staff at the White House.
David Crow is the Film Section Editor at Den of Geek. He's also a member of the Online Film Critics Society. Read more of his work here. You can follow him on Twitter @DCrowsNest.