News
VHYes Trailer Promises Spooky Low-Budget Retro Comedy
Shot entirely on VHS tape, VHYes trailer promises stranger things from the 80s.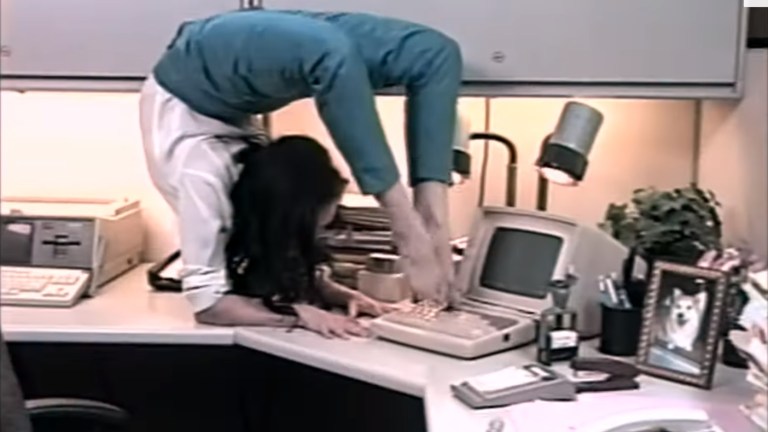 Before the internet, strangely personal celluloid was created on video tapes. Videodrome from 1983 is a frighteningly prescient film if you replace the VHS aspect with the dark web. By the 90s whole films were being shot on Betamax and VHS camcorders. Directed by Jack Henry Robbins, VHYes is a retro comedy of this period which was shot entirely on VHS.  
VHYes is a genre-spanning, anthology comedy like Groove Tube, Kentucky Fried Movie and Tunnel Vision. The largely ignored 1979 film Mr. Mike's Mondo Video, from National Lampoon Radio Hour and Saturday Night Live alumnus Michael O'Donoghue,  opened with a warning that the film the audience was about to see was shocking and repugnant beyond belief. They advised older people with heart conditions be moved closer to the screen. The director also said children of an impressionable age should not be allowed to leave the room. They should be woken if they fall asleep, and given hot coffee. The VHYes trailer warns whoever might be watching the tape that the kids who made it are probably dead.
read more: National Lampoon President Talks the Return of Radio Hour
That's probably because, at its heart, VHYes is a horror film about a kid recording over his parents' wedding tape after his family gets a camcorder for Christmas. Twelve-year-old Ralph uses it to record television shows, "home shopping clips, censored pornography and nefarious true-crime tales that threaten to unkindly rewind Ralph's reality," according to the official synopsis. Much of the movie appears to be the Ralph flipping channels through stranger and stranger late night cable territory.
You can watch the trailer here:
The director, who is the son of Tim Robbins and Susan Sarandon may have sold his kidney to make this film, as he hints on the film's public funding page. The film stars Robbins, Thomas Lennon, Charlyne Yi, Kerri Kenney, Mason McNulty, Rahm Braslaw, Courtney Pauroso, and Mark Proksch, the psychic vampire on the series What We Do in the Shadows.
VHYes! will have special advance screenings at multiple Alamo Drafthouses on Jan. 12, 2020. It will open wider in theaters on Jan. 17.
Culture Editor Tony Sokol cut his teeth on the wire services and also wrote and produced New York City's Vampyr Theatre and the rock opera AssassiNation: We Killed JFK. Read more of his work here or find him on Twitter @tsokol.
Read and download the Den of Geek Lost in Space Special Edition Magazine right here!