News
Venom Tracking Suggests It Could Break October Record
While Sony's Tom Hardy-starring Venom movie may have its share of obstacles, early tracking yields a possible record-breaking forecast.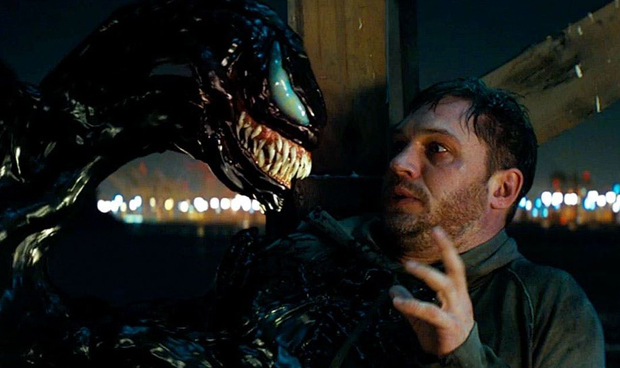 Sony Pictures' upcoming Marvel movie, Venom, has a lot going for it on paper. There's a top-tier star in Tom Hardy, a genre-capable director in Zombieland's Ruben Fleischer and a focus on one of Spider-Man's most popular rivals. Yet, a large segment of the fandom is left perplexed that a spinoff movie about a Spider-Man villain is happening without any of the necessary connections to the Wall-Crawler, leaving its prospects uncertain. However, for what it's worth, the emergence of some interesting tracking data brings potential good news.
As flummoxed fans ponder Venom's Spider-Man-less approach, the release of the full trailer last month showcased impressive footage that's apparently affecting box office tracking data, according to a report from Box Office Pro, citing data service Trailer Impact. The data suggests a surprise surge for Venom, upgrading the forecast for its October 5 weekend release from a conservative $30-50 million to a more auspicious $55-85 million.
Of course, Venom will never touch the territory reached by Marvel Studios' Marvel Cinematic Universe movies (which include the Sony-held Spider-Man), especially since this past April's Avengers: Infinity War just passed $2 billion worldwide. However, the purported momentum of Venom could ultimately position the film to break the record for October domestic opening weekends, which is currently held by 2013's Gravity ($55.8 million). Moreover, in a more optimistic cited scenario, Venom could become the first film to break the $100 million opening weekend mark that month.
Consequently, the tracking speculation plays into the real narrative pertaining to Venom, namely its status as an experimental spinoff effort by Sony Pictures, designed to cash-in on the MCU connectivity of Tom Holland's sequel-bound (assuredly intact,) Spider-Man, which banked big last year in Spider-Man: Homecoming, earning $880 million worldwide. Indeed, Venom only needs to prove itself to be moderately profitable to achieve Sony's aims, especially as the studio is already lining up Spider-Man-less Spider-Man spinoffs with movie centering on the Black Cat, Silver Sable, Kraven the Hunter, Morbius the Living Vampire.
Regardless, there's still about a month-and-a-half to go before Venom attempts to prove itself at the box office. Sony is apparently pushing hard for the film to manifest as a PG-13 effort, which stands in contrast to the seemingly R-rated ultraviolent footage shown in the aforementioned – momentum-starting – July trailer. While fans will cite the Fox-Marvel cinematic success of the Deadpool movies and Logan as examples of films helped by R-rated content, Venom ultimately exists in the Spider-Man arena, which the studio wants to keep PG-13.
Venom makes its arrival on October 5.
Joseph Baxter is a contributor for Den of Geek and Syfy Wire. You can find his work here. Follow him on Twitter @josbaxter.
Read the latest Den of Geek Special Edition Magazine Here!