News
Venom Reportedly Eyed for PG-13 Rating
While the upcoming Venom features a dark and violent Spider-Man character, Sony seems to be pushing for a PG-13 outing.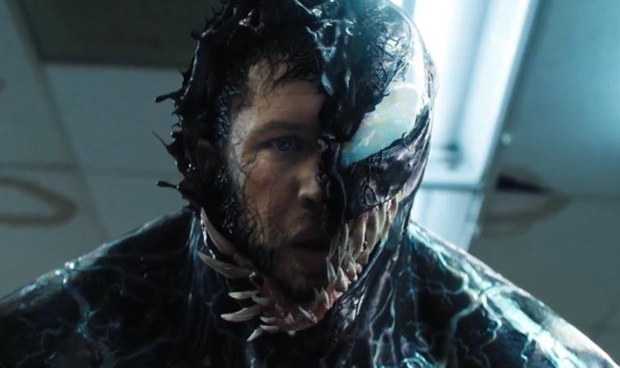 Venom is the source of a mixed feelings for Marvel Cinematic Universe fans. It's a Sony-MCU Spider-Man spinoff movie that not only lack Spider-Man but arrives cold without an introductory passing of the baton by Tom Holland's wall-crawling honorary Avenger. Yet, the trailer showcased the welcome revelation of a dark tone mixed with humor and seemed to telegraph an R-rated affair à la Fox-Marvel movies Deadpool and Logan. However, that might not end up being the case.
It appears that the Sony Pictures brain trust is pushing for the Tom Hardy-starring Venom movie to become a PG-13 release, reports Variety. While the intended purpose of this film was always to set up a release dynamic for future Spider-Man spinoff movies (which would presumably feature Spider-Man), the belief amongst the big brass is that Venom should do its part for that endeavor by pushing the content limits of what a PG-13 movie can achieve without crossing the line into a higher rating.
Read the latest Den of Geek Special Edition Magazine Here!
The reason for that limit-pushing is simple, Sony wants its future Spider-Man standalone movies to feature Spider-Man; something that's not quite feasible when pumping out R-rated romps, seeing as Spidey has always been a "Friendly Neighborhood" non-R-rated hero. Indeed, one look at the Venom trailer – which notably features a scene in which the symbiote-joined hero bares his fearsome fangs and bites off a man's head – and it becomes abundantly clear why the standalone film remans Underoos-free. Certainly, Venom is a dark character fueled by vengeance, who first arrived as a wanton killer before his gradual transformation into an anti-hero, the dynamic that the film is clearly embracing.
Regardless, Venom, which was directed by Zombieland's Ruben Fleischer, has quite a task ahead when it comes to winning over incredulous MCU fans, especially if can't sell itself as an unapologetic trend-deviating comic book movie brandishing ultraviolence, swear words, nudity, etc. However, less auspicious efforts have ended up finding success. After all, Marvel movies, regardless of the producing studio, are still practically printing money at the box office – 2015's Fantastic Four notwithstanding.
Venom arrives at theaters on October 5.