News
Valerian Trailer, Release Date, Cast, Photos, & Everything Else We Know
What you need to know about Valerian and the City of a Thousand Planets, including latest news, release date, trailer, and much more!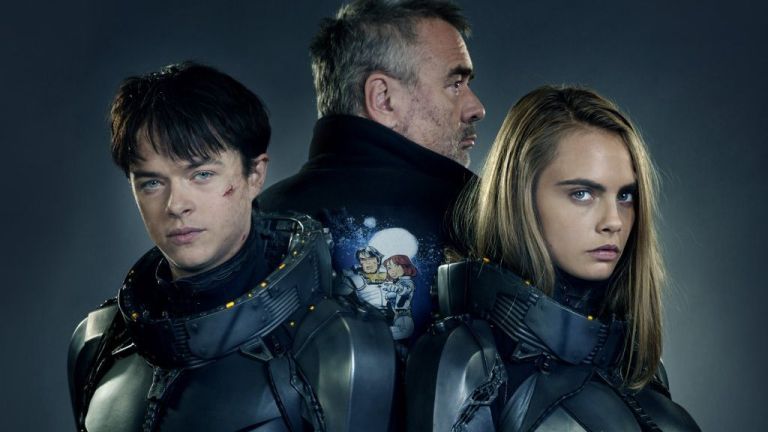 Luc Besson's next science fiction epic is Valerian and the City of a Thousand Planets. It's based on the popular French comic book Valerian and Laureline by writer Pierre Christin and artist Jean-Claude Mézières. The film will undoubtedly remind some fans of an earlier Besson work, The Fifth Element, which is also inspired by the work of French artist Jean Giraud, also known as Moebius. 
Valerian looks even bigger than The Fifth Element, in fact, and boasts quite the cast, including Dane DeHaan and Cara Delevingne. Rihanna, Ethan Hawke, Herbie Hancock, Rutger Hauer and Clive Owen have also joined the ensemble.
Here's everything else we know about Valerian…
Valerian Release Date
Valerian and the City of a Thousand Planets will arrive in theaters on July 21, 2017.
Valerian Trailer
Here's a brand new, action-packed trailer for Valerian:
We've got some sneak peeks into the world of Valerian. The latest? This scene that shows Valerian and Laureline arriving to Alpha, the City of a Thousand Planets. We get a nice little introduction to the city and a glimpse at some of the expansive worldbuilding the film will get into.
This movie looks absolutely gorgeous! Check it out the second trailer below:
Another sci-fi stunner from Luc Besson, and featuring the best, most surprising use of a Beatles tune in a movie trailer in, well…ever. Check out the first trailer below:
Valerian Cast
Valerian and the City of a Thousand Planets stars Dane DeHaan as Valerian and Cara Delevingne as Laureline. The film also features Rihanna, Ethan Hawke, Herbie Hancock, Rutger Hauer and Clive Owen.
Valerian Synopsis
The ambitiously titled sci-fi film Valerian and the City of a Thousand Planets has officially started shooting. Based on a French comic book called Valerian and Laureline by writer Pierre Christin and artist Jean-Claude Mézières, here's the official synopsis:
Rooted in the classic graphic novel series, Valerian and Laureline- visionary writer/director Luc Besson advances this iconic source material into a contemporary, unique and epic science fiction saga.

Valerian (Dane DeHaan) and Laureline (Cara Delevingne) are special operatives for the government of the human territories charged with maintaining order throughout the universe. Valerian has more in mind than a professional relationship with his partner—blatantly chasing after her with propositions of romance. But his extensive history with women, and her traditional values, drive Laureline to continuously rebuff him.

Under directive from their Commander (Clive Owen), Valerian and Laureline embark on a mission to the breathtaking intergalactic city of Alpha, an ever-expanding metropolis comprised of thousands of different species from all four corners of the universe. Alpha's seventeen million inhabitants have converged over time- uniting their talents, technology and resources for the betterment of all. Unfortunately, not everyone on Alpha shares in these same objectives; in fact, unseen forces are at work, placing our race in great danger.
Luc Besson is making this one. You might remember Besson from things like The Fifth Element and Lucy, but not for the same reasons. One is a masterpiece and the other is really bad. (Stay objective, John!)
Valerian Composer
Valerianhas found its composer. Alexandre Desplat, who just dropped out of composing the score for Rogue One: A Star Wars Story,has come on board Valerian and the City of a Thousand Planets. Luc Besson made the official announcement via his Instagram account (which is a treasure trove of Valerianimagery), writing:
Sadly the composer Alexandre Desplat have to leave the "Black Star"… but he find a new home in "The City of a Thousand Planets." Welcome on board of "Valerian" maestro!!!!
Previously, Desplat has scored such films as The Grand Budapest Hotel, Harry Potter and the Deathly Hallows (Parts 1 and 2), and The King's Speech — but his resume is extensive and impressive. We can't wait to see what he does with Valerian.
Valerian Poster
Dane DeHaan revealed a gorgeous, poster for Valerian and the City of a Thousand Planets on Twitter. Check it out below: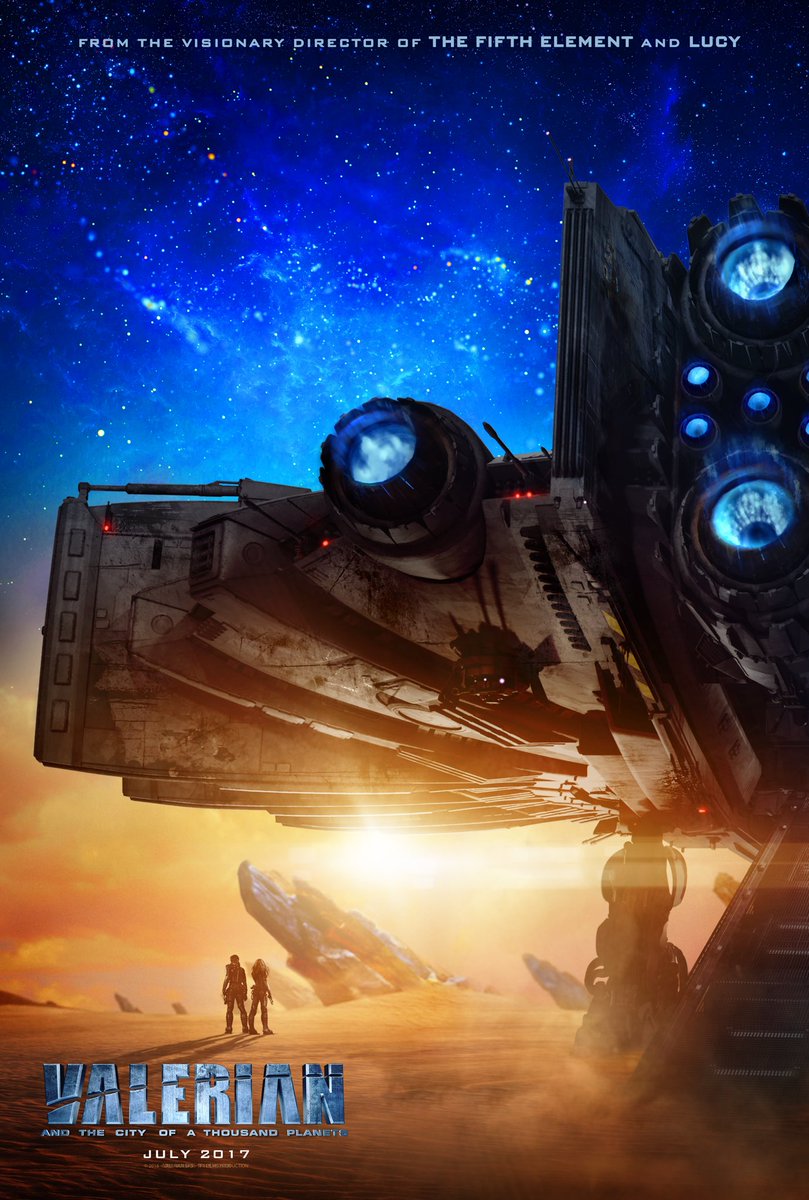 Here are a bunch of character posters: Valerian Photos
Check out this gorgeous concept art for Valerian and the City of a Thousand Planets (courtesy of Entertainment Weekly), along with the finished film shot from the trailer showing that art implemented.
Here's the concept art, designed by Singaporean artist Feng Szu…
And here's the finished shot from the Valerian trailer…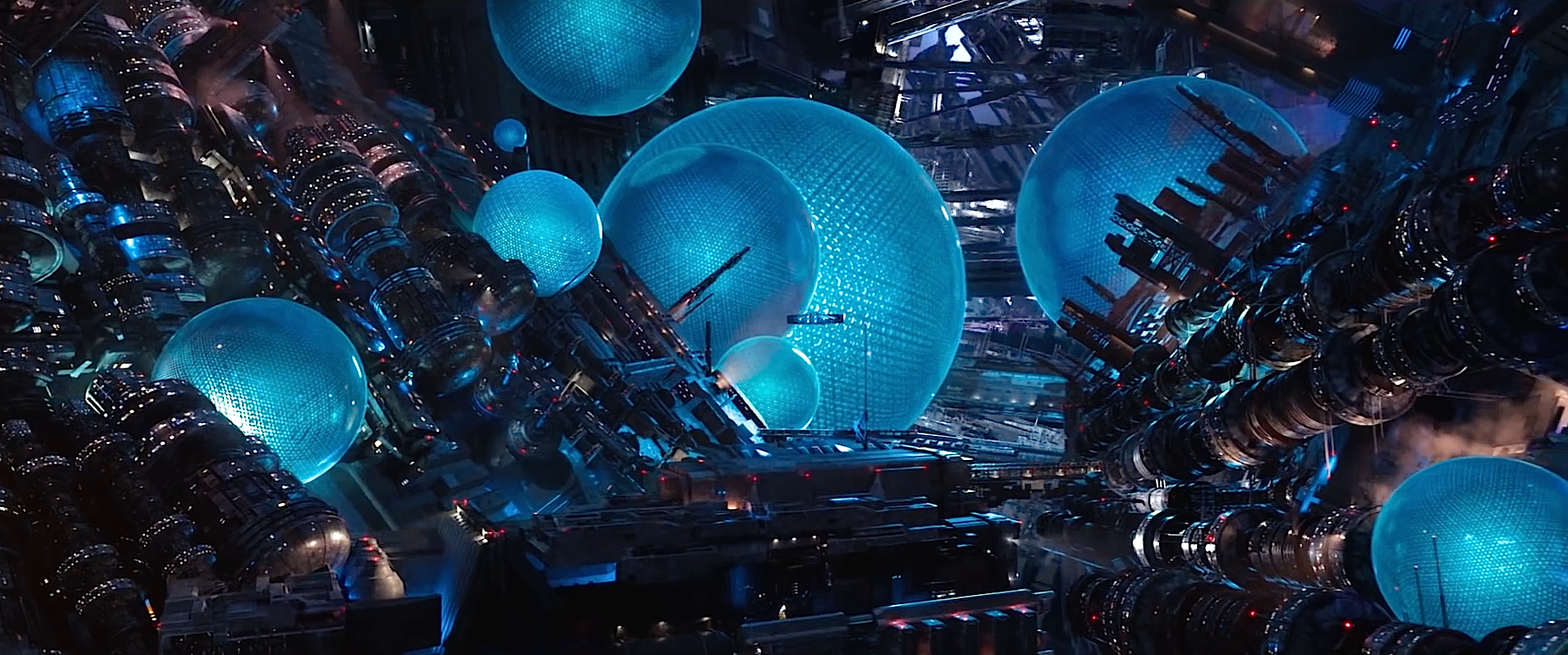 The shot depicts a neighborhood on the way to Gasland, according to EW. The bubbles house are airlocks so that different species can live within the city, while the tall buildings host both offices and apartments. Looks great!
Empire has revealed one of the new aliens in Valerian and the City of a Thousand Planets. Meet Ambassador Dan Makta:
According to the site, Makta is only one of "roughly 2,000 species of alien" you'll see in the film. Alpha, the titular city of a thousand planets, seems to be a bastion of progress for the countless alien races of the film's galaxy.
"Most of the time when you see aliens in a film, they're trying to destroy things," says Luc Besson told Empire. "But Alpha is the city of science and culture: everybody is exchanging knowledge. It's a very rich world."
Check out the new promotional images, teasing some pretty stunning shots from the film as well as introducing one of the alien species in the movie called the Kortan Dahuk. In fact, one of the aliens is played by director Louis Leterrier (The Incredible Hulk) in a cameo role.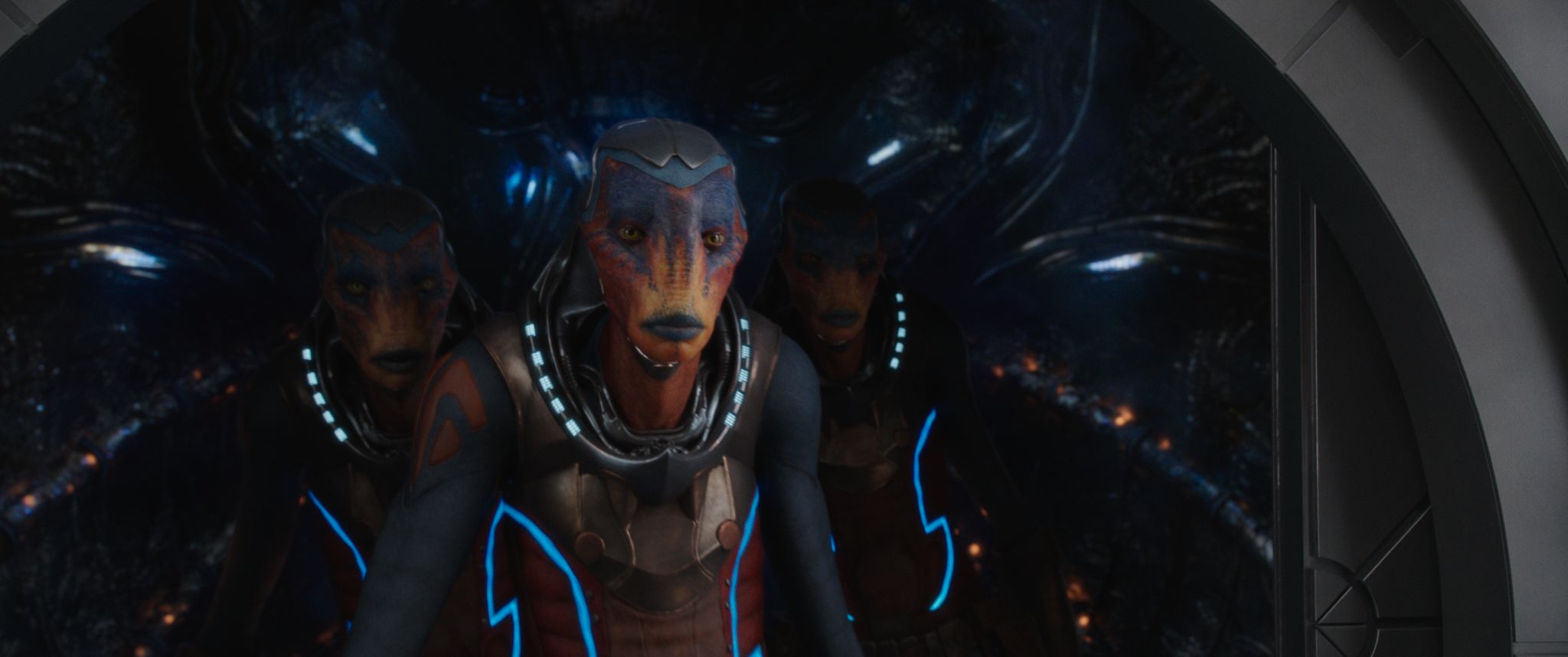 According to Cinema Blend, direct Luc Besson created 600-page story bible for the film, which is based on a French comic series by Pierre Christin and Jean-Clause Mezieres. Here's what the site learned about the Kortan Dahuk:
The orange and blue aliens hail from a planet known as Kas-ônar, which is 5,000 lightyears away from Earth and has three suns that produce stunning sunsets and colorful winds. Being from a planet of such incredible splendor, the Kortan Dahuk have a powerful appreciation for art, and their entire society is "organized around the quest for harmony and beauty." It's this cultural mission that actually makes the Kortan Dahuk known as one of the best traveled species in the universe, as there is a rich history of them going from system to system searching out new cultures.

It's this part of the Kortan Dahuk history that's particularly significant for humans, as they were actually the first extraterrestrials to make contact with the people of Earth. The peaceful nature of the aliens has led to a peaceful relationship with humanity, and this extends to their coexistence — alongside many, many other aliens — in the intergalactic city of Alpha (which is the City Of A Thousand Planets mentioned in the title). In Alpha, the Kortan Dahuk exist as influential ambassadors and important figures — which means that we may be seeing a good amount of them on screen as we watch Valerian (Dane DeHaan) and Laureline (Cara Delevingne) fulfill their duties as special operatives and maintain order in the universe.
Here are those other two images, too: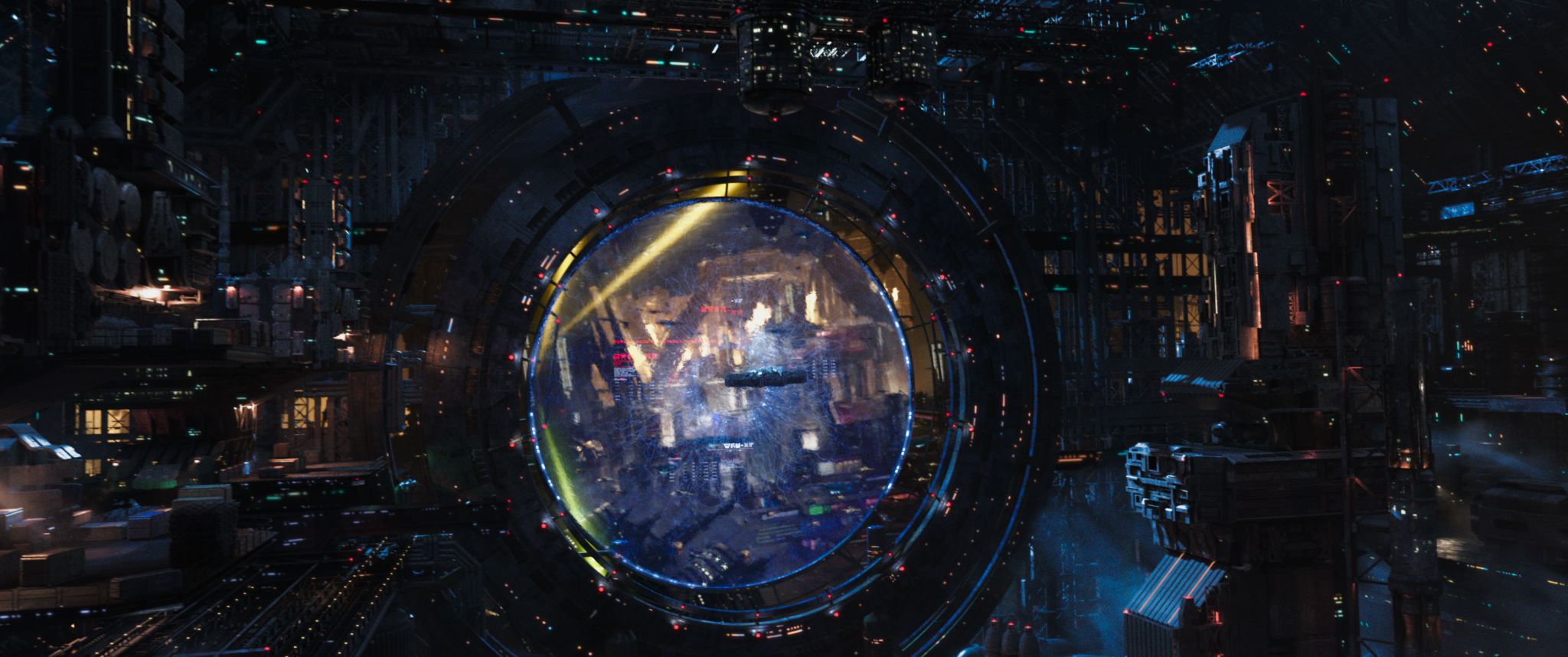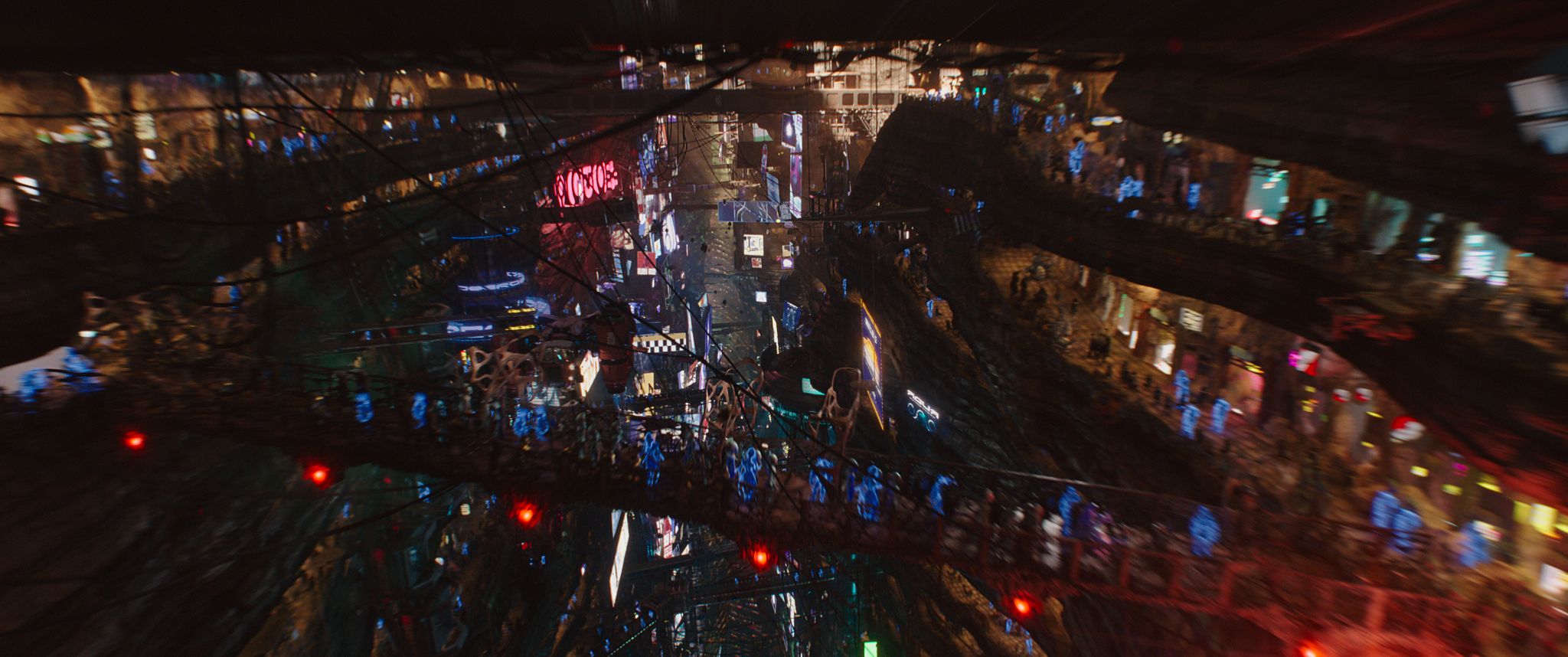 Brand new pictures have arrived for Valerian and the City of a Thousand Planets that feature Dane DeHaan and Cara Delevingne in the main roles of Valerian and Laureline. EW dropped some additional pictures from the set of Valerian and the City of a Thousand Planets earlier this year that show off an early scene from the film, an undercover mission that sees the main characters get into a bit of trouble, as well as a police robot named K-Tron. 
Check out the pictures:
[gallery:0]
Screen Crush has dropped a new still from Valerian and the City of a Thousand Planets featuring Dane DeHaan's Valerian. It looks like he's about to show off his piloting skills: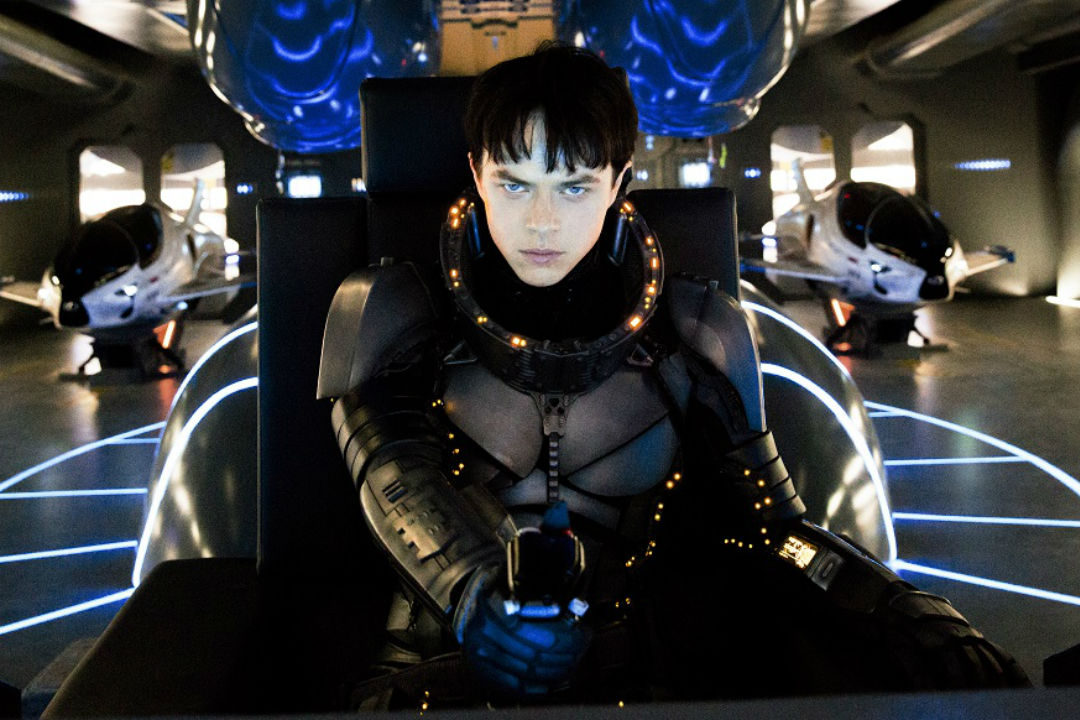 Director Luc Besson tweeted out the first official image of his upcoming space adventure film, Valerian and the City of a Thousand Planets, featuring Dane DeHaan and Cara Delevingne: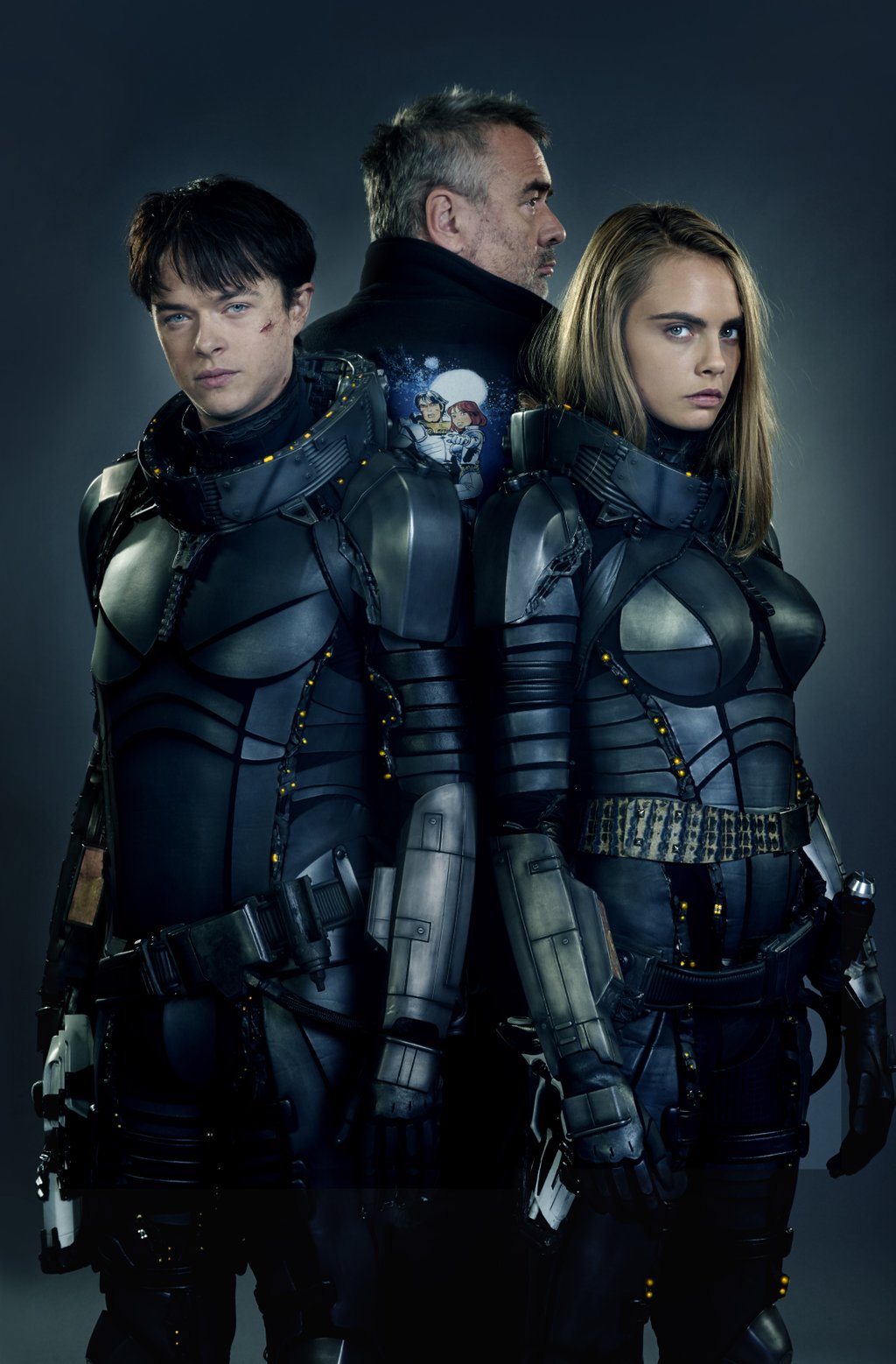 Cara Delevingne, who is playing Laureline in the film, shared some pictures from her Instagram of the set. Here's one of her wearing a crown: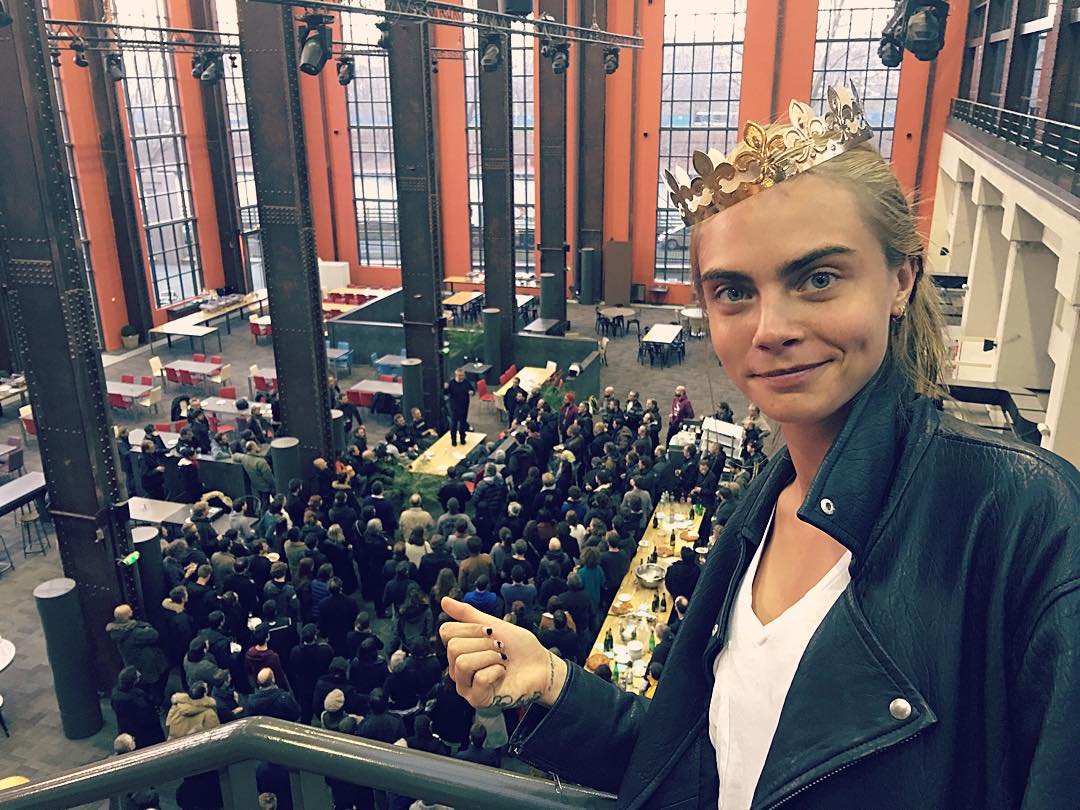 Not much in terms of details here, as this looks like a crew meeting, but whatever. Here's another of Delevingne and Dane DeHaan, who plays Valerian, sitting around and being pals: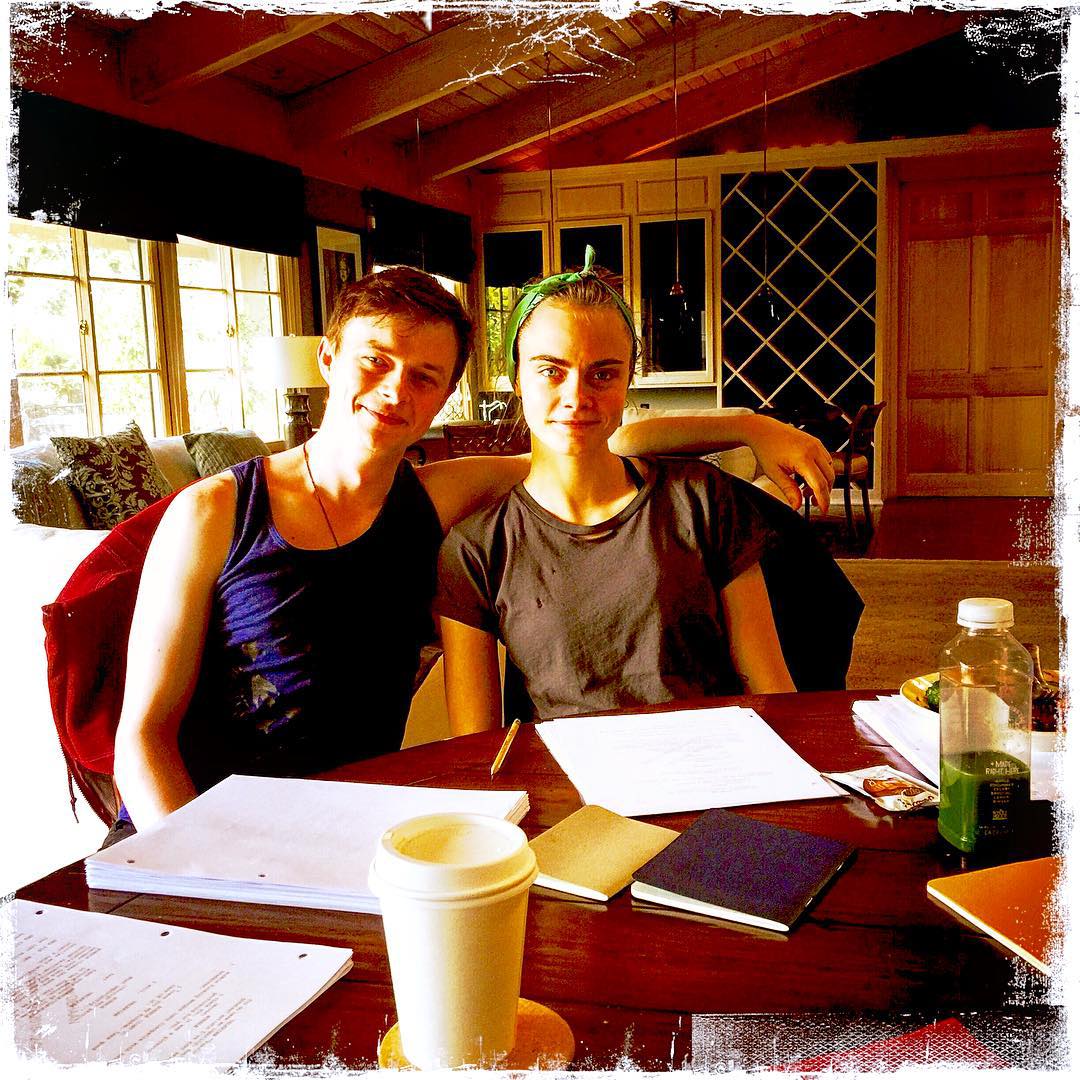 Totally not in love with the filter she chose for the picture, but I'll live. Anyway, you can see what looks like the Valerian script on the left side of the picture. What a tease!