News
Valerian: Luc Besson & Dane DeHaan Show New Trailer, Talk Beatles Music
We chat with Luc Besson and Dane DeHaan about Valerian and the City of a Thousand Planets after seeing the new trailer.
While watching an early screening of tomorrow's Valerian and the City of a Thousand Planets trailer, I got the distinct sensation that I was experiencing a waking fever dream, one painted in the pastels of obvious (and gorgeous) computer generated artifice. This is meant as the highest compliment. Most genre, science fiction and would-be blockbuster franchises strive for a certain degree of "realism" or verisimilitude in their intergalactic landscapes. Even the self-effacing Guardians of the Galaxy wants you to believe that's an actual talking raccoon.
Yet, Luc Besson doesn't seem even incidentally preoccupied with such trivialities for his new film, which judging from the trailer seeks to evoke a bygone age of crackerjack adventurism told in a stardust wonderland, found by way of an acid trip.
The trailer, which just premiered at CinemaCon today, was presented early to a small group of journalists, including myself, and it will likely have the same hypnotic tractor beam effect on geek culture that its predecessor enjoyed when it drops online. In the meantime, I can say it remains provocatively different from any other summer tentpole on the horizon, right down to the fact that it manages to keep the Beatles' haunting harmonies from "Because" in its soundtrack.
According to Besson himself, who Den of Geek and a number of other outlets chatted with over breakfast following the sneak peek, the song's inclusion in the trailers (and possibly the film) was made possible by a thumbs up from Paul McCartney himself. After seeing the first preview cut to the song, sent to the rights holders on a gambit by Besson, the knighted Beatle unexpectedly gave the go-ahead. "He was a big fan of sci-fi and fantasy," Besson says. In that case, Sir Paul will get a kick out of what he sees next.
The new trailer is an arresting slice of happy-go-lucky surrealism. Obviously banking on some cult nostalgia for Besson's The Fifth Element—his last sci-fi picture all the way from 1997—it begins with a better look at the characters of Valerian (Dane DeHaan) and Laureline (Cara Delevingne) as they escape a desert planet crawling with big bads in duster coats. But lest this sound too serious, their spaceship has a bestial stowaway, a green and adorable cg-monster that only seems mildly perturbed that the two main characters' vessel leaves him floating in orbit.
The tone of the rest of the piece maintains that kind of self-aware playfulness. Obviously, there is a certain degree of Guardians of the Galaxy evoked in the marketing (I even believe I heard at one-point Valerian and Laureline called "guardians"), yet it is much more in line with the self-amused and decidedly continental undercurrent that swelled in most of Besson's earliest films—Fifth Element and otherwise.
In the trailer, we get a better look at Alpha, the titular metropolis of a thousand planets that's ever expanding. It's inhabited by a race of golden and/or albino-white aliens of beatific grace and full motion-capture. They also enjoy crisply sanded beaches with crystal blue water, which is only outshined by the brilliant sapphire of energy balls they keep in caves, which we're told is the cumulative knowledge of all their cultures. Along with striking cityscapes and umbrellas aglow in neon lights that are reminiscent of Blade Runner, Alpha might appear to be a paradise (we're certainly told it is by its inhabitants).
There is also a nefarious evil force coming to this urban utopia, which hasn't known war or danger for centuries. Thus it's up to DeHaan and Delevingne to save the day by fighting hordes of enemies in spacesuits, beachwear, underwater submarines being pursued by enormous beasties, and what I'm pretty sure at one point is a formal wedding dress on Laureline. They even appear to team with Rihanna's Bubble, who gets another nifty costume change in this trailer when she strikes a pose like Joel Grey in Cabaret, and then sees her costume transmutate from master of ceremonies to a nurse's uniform.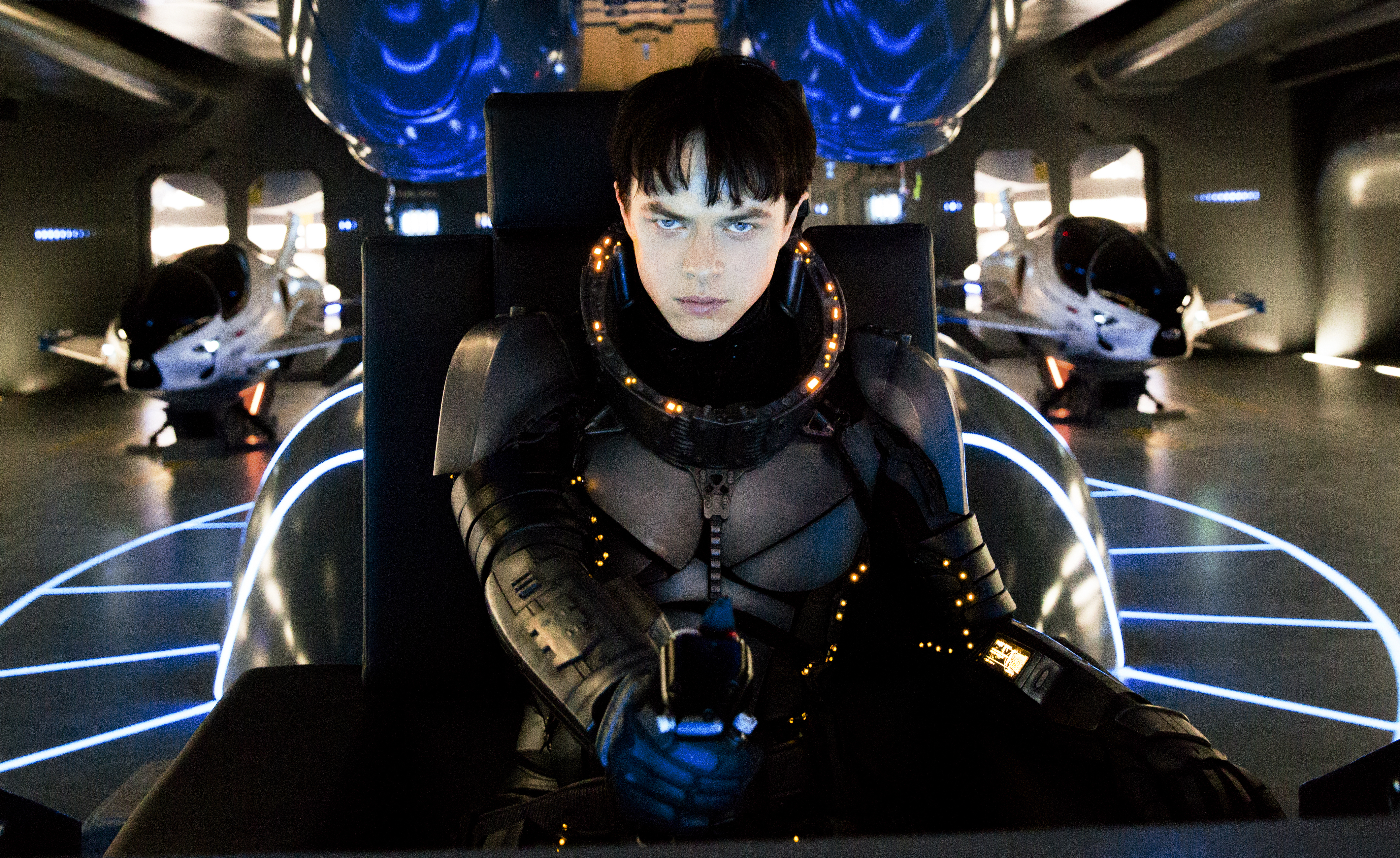 "We're not going for the dark gritty version of Valerian," DeHaan confesses with a laugh in the reception afterward. Sitting with a group of journalists, he continues, "But that's Luc's vision. I think it has an aesthetic and tone to it that only Luc can achieve, and that I think would be difficult to achieve even within an American studio system."
It's a vision that's been lingering in Besson's head for decades. Indeed, the filmmaker first read Pierre Christin and Jean-Claude Mézières' Valérian and Laureline, a French comic series which began in 1967, when he was 10-years-old. However, he contends he never even entertained the idea of attempting to adapt it to film until he worked with Mézières himself some years later during the pre-production process on The Fifth Element in the 1990s.
"So I worked with him for six months, and he's the one who bothered me and said, 'Why are you doing this stupid film?'" Besson recalls with a smirk. "'Why you don't do Valérian? You say you love it, why you don't do it?'" At first, Besson dismissed it as impossible, not least of all because it has all of two human characters and then a thousand aliens surrounding them.
"But then I start to think about it and say, 'Why I never thought about it?' Then I start to write a little bit in case the technology would be ready one day. And then the technology became ready one day."
Of course, it really is about those two human characters that will make or break the film. Judging from the trailer, there is not much that isn't digitized in the Valerian movie beyond DeHaan and Delevingne. By the lead actor's own admission, he spent most of the film in front of a blue screen working with guys in motion-capture suits. Still, his interest is all in the central relationship he has with Delevingne's heroine who in the trailer brags she's taught Valerian everything he knows.
"Valerian really loves Laureline," DeHaan says of their dynamic. "He wishes they were more than just co-workers… so they're always saving the universe together, and he's always in pursuit of something more."
Besson is even a little more explicit about how non-illicit this dynamic tends to be.
"The little story is about this guy and this girl, and he desperately wants to get the girl, and the girl is very old fashioned," Besson reflects. "She says, 'I will have one man, and he will be the father of my kids and that's it. The rest? Not interested.' And it's the story of the life of everyone! Is the guy going to get the girl? You can be in space, you can be in the 12th century, you can be in India, you can be wherever."
This mix of the "old fashioned" with an eccentric love story might explain why the third act involves what appears to be a conservative 19th century wedding dress as Laureline's battle armor. That mercurial tone will likely be Valerian and the City of a Thousand Planets' real virtue when it opens later this year.
"There's nothing about it that's necessarily cookie cutter," DeHaan tells me while remarking on what he hopes differentiates this movie from the rest of the genre landscape. "I think when you go and see whatever superhero movie these days, in a way you know what you're going to get. Because it's gotten down to a formula and system that works, and draws people into the theaters. I think that this is something that's—it's not crazy or experimental, but there's just a tone to it and a uniqueness to it that I think people will hopefully really latch onto and enjoy."
If it can maintain its Beatles-approved harmonies, many probably will.
Valerian and the City of a Thousand Planets opens on July 21, 2017.