News
V The Movie Coming With Original Creator
The beloved '80s sci-fi miniseries V is finally being made into a movie.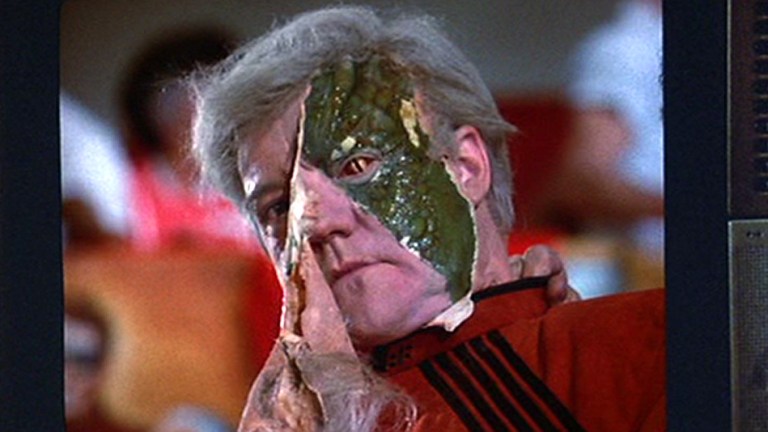 V has had a strange journey since it originally exploaded onto TV screens in the '80s as a two part miniseries. Chronicling a different sort of alien invasion, the franchise features the alien "Visitors" coming to Earth seemingly with open arms but secretly enslaving it.
It had a pretty solid follow up miniseries, a lackluster TV series, and then a TV reboot that failed to last past two seasons. Along the way though there was never a movie version of the story, thanks to creator Kenneth Johnson holding onto the movie rights and refusing to let them be used unless he felt the legacy of V would be respected. The movie has been languishing on the back burner for years, until now.
Desilu Studios, famous for its history with the Star Trek franchise, announced it will bring a big-budget treatment of the miniseries to movie screens worldwide. Not only that, but Kenneth Johnson will write and direct the film. It will be produced by John Hermansen and Barry Opper. 
"We are delighted to team up with Desilu to bring the timeless — and timely — story of resistance against tyranny into the 21st Century," Johnson said. "V will be the first of a cinematic trilogy which will tell the full epic tale in the manner I always envisioned."
Cinematic trilogy? They're already thinking ahead for this new version of V.
"V is a multi-billion dollar film franchise and merchandising juggernaut," said Desilu Exec VP Steven Posen, adding, "we couldn't be more excited and honored to bring this film to the millions of devoted fans worldwide."
On his personal website Johnson posted a message specifically for fans of V.
The announcement above is a very important and extremely positive development toward achieving our goal of making V The Movie and the two sequels based upon my novel V The Second Generation.

Desilu has entered into a contract with our company, Victory Pictures, which grants them an Exclusive Option on the motion picture rights to V The Movie and the opportunity to present it to their investors. Desilu hopes to have the full funding in place within the next few months.

Once that financing is complete we will be able to announce when actual production of the movie will commence. In the meantime we are indeed delighted to be involved with the great team at Desilu — who are as enthusiastic and eager as we are to make a movie that we can all be proud of.

Keep checking back here to learn about our progress and…

"Go tell your friends!"
The novel he mentions was based on his original screenplay for a follow up to the original V set many years after the original mini series (and ignoring the follow ups). It's likely any movie based on V The Second Generation now would follow up the new reboot movie instead of the original series.
More on the V movie as hear it.
Shamus Kelley is a pop culture/television writer and official Power Rangers expert. He can't wait to see those lizard people again. Follow him on Twitter!