News
Uwe Boll Is Upset About Dwayne Johnson's Rampage Movie
Director Uwe Boll is threatening legal action against Dwayne Johnson's Rampage movie, claiming it uses his "brand."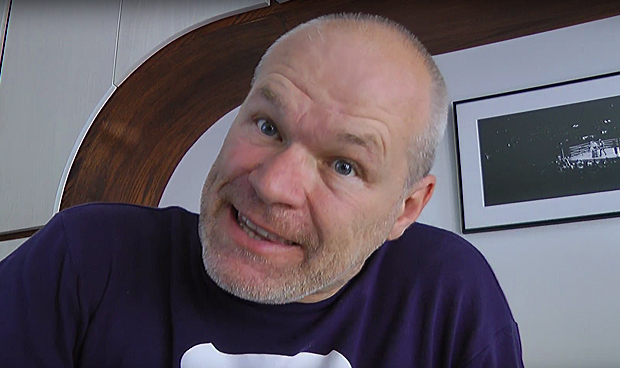 Uwe Boll certainly knows how to keep his name in the press. However, in his latest headline-making harangue, the German filmmaker – known for his movie adaptations of video game properties like In the Name of the King, BloodRayne, Alone in the Dark and House of the Dead, as well as his crowdfunding endeavors – has directed his ire toward the upcoming Dwayne Johnson-starring blockbuster, Rampage, a movie adaptation of the classic video game, centered on giant city-smashing-monsters. Yet, it seems that Boll believes that the film's title is an affront to the film franchise that he built, which also happens to be called Rampage.
Rampage (as in the upcoming blockbuster), according to Boll, needs to change its title immediately under threat of legal action of some kind against studio Warner Bros. This is due to Boll's claim that the new film will "shrink" the revenues generated from his own series of Rampage action films. As Boll expresses (rather circuitously,) in a statement that also, in characteristic form, throws plenty of shade on (successful) blockbuster movies:
"We are living now in a world where Independent Movies are dead and the big players only are making all the money. That they then use developed brands and ideas from established series such as my Rampage films in order to make even more money is unfair but typical. The new RAMPAGE movie will shrink my brand and my revenues I can make in the future with my RAMPAGE movies.  It also confuses the audience! I want that WARNERS change the title, especially because the new movie has nothing to do with a RAMPAGE and looks more like Jumanji 2 and is one of those typical feelgood, popcorn bullshit movies that the studios use to brainwash America even more! All these kind [sic] of movies including Transformers, Avengers are helping the military industrial complex in America to win and have retards like Trump be American President who would say that the earth is flat as soon they think they can benefit from this!"
Boll's narrative seems to depict 2018's Rampage as a colossal studio's cudgel, used to bully of the ever-embattled independent filmmaker (himself), evoking brainwashing claims, even an unfortunately-phrased shot at Trump that, regardless of how you feel about the president, feels like pandering for sympathy. Boll's trio of films, starting with 2009's Rampage, followed by 2014's Rampage: Capital Punishment and his most recent (and purportedly final) directorial effort, 2016's Rampage: President Down, are crime dramas, starring Brendan Fletcher as an angry machine-gun-toting lonewolf radical (not exactly an attractive premise given recent events). Boll, however, believes that the similar titles will "confuse" the audience and incur losses to his own brand.
Yet, the proverbial skyscraper-smashing albino gorilla in this room is clearly the fact that the Rampage video game property launched with Bally Midway's original arcade game in 1986, which obviously predates the launch of Boll's films by some 23 years. While the title, "Rampage," is not exactly an esoteric one, it is, nevertheless, more famously associated with the video game series and, consequently, Warner could even claim that Boll's selection of the Rampage title – as a director known for video game movies – might have expediently played on the gravitas of the video games. Thus, this sounds like the equivalent of a Chinese bootleg toymaker suing Saban over the new Power Rangers movie.
If, however, in some fantastical, lottery-odds-level, turn of events, Warner Bros decides to capitulate to Boll's Rampage demands, you can rest assured that we will keep you updated on the story.
Rampage, as in the blockbuster video game adaptation movie, directed by Brad Peyton, is scheduled to hit theaters on April 13.