News
US Box Office Report: Will Smith Owns All
Hancock KOs his detractors and proves to have big box-office punch, while the Sex And The City girls are still hanging in there...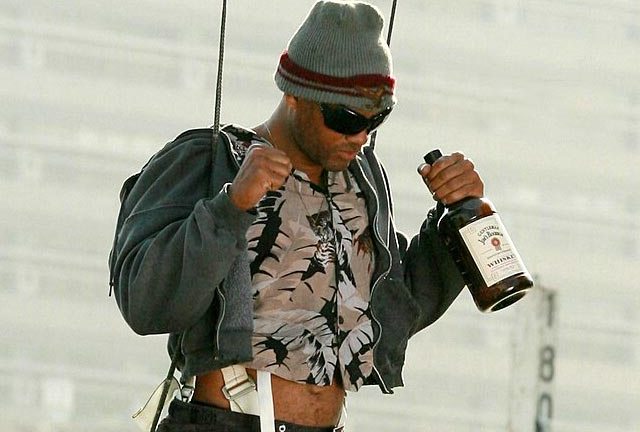 Well, that's it. I won't predict what opens where anymore. Considering I'm consistently wrong about my predictions, that means I should stop making them. For the record, I pin the blame solely on the box office beast that is Will Smith.
Opening unopposed, Will Smith's flawed superhero vehicle
Hancock
took advantage of the lack of fresh competition and racked up an impressive $66 million dollars this weekend. Even more impressive is the fact that, when you count the grosses from when the movie officially opened on July 1, the film has already made over $101 million bucks. Will Smith is the king of the July box office (eyeball
these
figures ), and I'll never doubt him again.
The two cartoon characters continue to do well, in spite of being squashed beneath the Will Smith steam engine. Wall-E, last week's #1 film, held onto second place with $33 million. Kung Fu Panda, the more fun of the two features (in my opinion, which you can find all over this website), holds tightly to the top five with a fifth-place $7.5 million.
In non-cartoon news, live-action comic book Wanted continues to perform very strongly. Following up last week's very strong second-place performance, the Angelina Jolie action flick hands tight to third this week, bringing in another $20 million dollars on this weekend dedicated to explosions. I suppose, after the fireworks on the Fourth of July, some big-screen fireworks are totally appropriate. Fellow live-action comic book The Incredible Hulk picked up $4.97 million bones, finishing last weekend in sixth place.
Get Smart, the remake of the 60's cult television classic, also continued to perform strongly. The fourth-place film this weekend bags another $11.1 million dollars, and will be passing the $100 million dollar barrier this week. Indiana Jones and the Kingdom of the Crystal Skull, the reboot of the 20-year-old action franchise, picked up $3.9 million dollars for seventh place. So far, it has $306 million dollars Stateside, and a stunning $720 million worldwide, far ahead of Iron Man's $563.5 million dollar international gross.
The eighth-place film this week, in its opening bow in wide release, was Kitt Kittredge: An American Girl. This film, which I know absolutely nothing about (aside from it being about an American girl named Kitt, and not about the car KITT), picked up a decent $3.6 million dollars in its first week of availability. After perusing the IMDB, it appears Kitt is some sort of doll and the movie itself is a period piece about the Depression. Just what I'd want to see in these tough economic times!
Sex and the City, a movie in which people spend money like there's no tomorrow on designer goods and posh apartments, despite never seeming to actually go to work, is the ninth-place movie this weekend. Bringing in $2.3 million dollars, which is probably the costume budget for the film, the New York foursome will cross $145 million in US grosses this week.
You Don't Mess With The Zohan, thank goodness, will be the next movie to fall out of the top 10 (along with Sex and the City, I'd wager). The Adam Sandler vehicle has somehow grossed $94.7 million dollars at the box office, and eked out $2 million this weekend.
Next week is going to be a huge week, as Hollywood has decided to fight amongst themselves on July 11. Comic book adaptation Hellboy II: The Golden Army, which has never ceased to entertain me every time I see it, squares off with Brendan Fraser action yarn Journey to the Center of the Earth. The original Hellboy had a mediocre box office run, but the stellar sales on DVD caused Universal to pick up and bankroll the franchise. Brendan Fraser, obviously, has become box office gold in these sorts of films, thanks to the Mummy series (and they're making a third Mummy, as well, turning Fraser into a male Liv Tyler with multiple movies out at once).
Eddie Murphy, in spite of how awful his recent movies have been, is still a hit maker. His weird vehicle, Meet Dave, is also being released and expects to somehow make a fortune at the box office, despite the trailers making it look completely awful. He made $94 million dollars with Norbit, so if this script is even close to decent (with MST3K and Rifftrax member Bill Corbett getting a writing credit, it has to be at least not terrible), expect Dave to make a disturbing amount of money. This time around, Eddie plays a staggering 10 characters, so if you love Eddie Murphy acting against himself, go Meet Dave next weekend.
Hellboy looks to be the class of the releases this week, which means it's going to be buried by Eddie Murphy in funny makeup and Encino Man. Oh well.