News
US box office report: Paul Blart on top again!
Underworld: Rise of the Lycans failed to dislodge Paul Blart from the top of the US box office over the weekend. Blimey.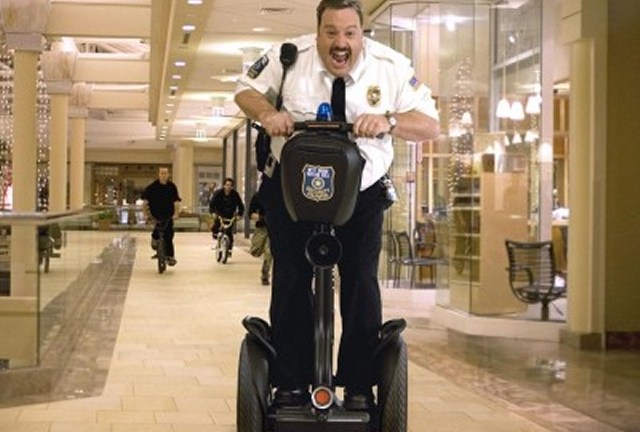 Last weekend's shocking box office champion, Paul Blart: Mall Cop, is back again. This time, it holds off a challenge from a very game Underworld: Rise of the Lycans to keep top position in this weekend's box office. I'm surprised.
Quite frankly, I don't see how this movie has managed to hold the top spot at the box office not one, but two weeks in a row. The Kevin James comedy brought in $31 million last weekend, and brought in another $21.5 million this weekend. Second place Underworld banked $20.7 million in the franchise's first release without Kate Beckinsale. You know Screen Gems wanted the top spot this weekend, but I guess Michael Sheen and Bill Nighy just aren't enough to attract that kind of audience. But hey, Frost/Nixon is getting good reviews, so Sheen can't be too distressed!
Speaking of good reviews, Clint Eastwood's Gran Torino continues to garner praise for all concerned. Most importantly for Clint and company, it also continues to rake in the box office. The old Ford continues to chug along with another 16 million dollars, good for third in the box office derby. Gran Torino ($97 million and counting) should pass Million Dollar Baby's 100 million dollar box office this week, and will probably pass Unforgiven's incredible $101 million before all is said and done. Of course, Unforgiven's money is in 1992 dollars.
Hotel For Dogs, tapping into the spirit of Paul Blart's relatively clean comedy, also performed really well this weekend. The dogs hang onto fourth place this weekend with $12.3 million. Meanwhile, another dog movie, Slumdog Millionaire, went into wide release this weekend and its box office results show that it was a good move. From tenth last weekend to fifth this weekend, Slumdog picked up 10.55 million bucks, making it it a millionaire 55 times over since it was released 11 weeks ago.
My Bloody Valentine 3-D is proving that only certain 3-D films hold their audience. While Brendan Fraser's Journey To the Center Of The Earth was a box office mainstay for weeks thanks to its longevity (5 weeks in the top ten and 22 weeks at the box office total), My Bloody Valentine finds its box office halved as it falls to sixth place this weekend. The gory horror film does bring in another $10.5 million, which means it fared worlds better than another Brendan Fraser film.
Brendan Fraser had a banner year in 2008, but if Inkheart's limp opening is any indication, 2009 won't be as big. The latest Fraser vehicle manages only seventh place in a box office weekend ripe for the taking on a take of 7.7 million dollars. Last year, The Mummy: Tomb of the Dragon Emperor made nearly $400 million worldwide. Journey To The Center Of The Earth brought in over $230 million globally. Inkheart probably won't get close to either of those, unless it's a gigantic hit in Iceland.
Bride Wars finds itself in eighth place this weekend, on 7 million dollars at the theater. For an underwhelming movie with the unfunniest trailer I've ever seen (for a comedy anyway), it has done fairly well. Perhaps this has something to do with Anne Hathaway's Oscar nomination?
Benjamin Button rises to ninth place this weekend, returning to the top ten after two weeks stuck at eleven. It brought in $6 million, one of many pictures benefiting from award buzz.
Closing out the top ten is Notorious. This biopic of slain rap star Notorious B.I.G. managed $5.7 million this weekend. It won't be as big a hit as Ray or Walk The Line, but music biopics have done really well historically and cost very little money to make. Notorious is no exception. I just hope no one checked it out thinking they were going to catch a revival show of the Hitchcock film of the same name.
It's going to be another quiet weekend next weekend, though we should see a new number one picture. Of course, I said that last weekend too, and I was completely wrong, so who knows? If anything can take over the top spot, it's Liam Neeson in a movie written by Luc Besson and directed by Danny The Dog/Transporter director Pierre Morel. If you're not excited by this collection of European action film superstars, you've got no pulse. (In case you can't tell, I'm very excited for Taken.)
Also out and kind of exciting is Hollywood It Girl, Elizabeth Banks. She's shedding her good girl togs and picking up the mantle of evil in The Uninvited. Meanwhile, former It Girl, Renee Zellweger, giggles it up in fish-out-of-water RomCom New In Town. That I'm not excited for in the slightest, but if you like squinty-faced women and Harry Connick, Jr., this could be for you.
26 January 2009