News
US box office report – Kung Foolery edition
Kung Fu Panda has just become DreamWorks' third best performing movie during its opening weekend. Awwww, pandas.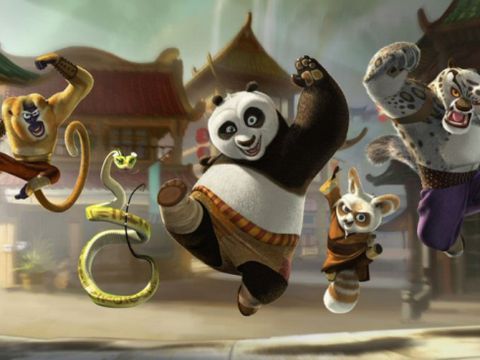 I called it last week. In the martial arts battle for box office supremacy, the cuddly panda managed to beat up the Israeli hairdresser. Your box office champion last week was the astonishingly popular Jack Black paired with the astonishingly popular DreamWorks Animation, with Kung Fu Panda chopsticking home an impressive $60 million dollars in its opening week. While it trails well behind the blockbuster Shrek 2 and Shrek 3, Kung Fu Panda managed the third-best opening in DreamWorks history, which is nothing to sneeze at.
Adam Sandler's You Don't Mess With The Zohan took home an impressive $40 million dollars. It's a pretty strong second place opening for the $90 million dollar film, and proves that even after his recent (and pretty good, actually) flirtation with dramas and serious roles, Adam Sandler can still sell comedies, no matter how short his Daisy Dukes might be. The $40 million dollar take is right in line with other recent Sandler openings, like I Now Pronounce You Chuck & Larry, Click, and Big Daddy, but below Sandler's remake of The Longest Yard in terms of raw cash.
Last week's champ, Sex and the City, suffered a big downturn this weekend as it fell to fourth place, with box office receipts dropping 62% to a still-respectable $21 million. The film will definitely pass $100 million this week in overall American gross, which means we'll be seeing other movies from the quartet of middle-aged New York socialites.
Indiana Jones continues to perform well, with $22.8 million dollars. In sixth place was Marvel's impressive debut, Iron Man, with $7.5 million dollars. I contributed to the total grosses of both films last week, and I must say I was very impressed by Iron Man. In particular, Robert Downey Jr. makes a hell of a Tony Stark. Indiana Jones, until the finale, was very good, too. Shia LaBeouf doesn't bother me as much as he bothers other people. If I'd listened to my friends and left when they told me, it would've been a much more satisfying experience.
Fifth place suspense film, The Strangers, made its (estimated) budget back this weekend, with $9.2 million dollars. This dirt-cheap set piece has quietly taken in $37 million dollars on an investment of only $9 million, which is probably the amount spent on the clothes in Sex and the City. The opposite example of this, Prince Caspian, took in $5.5 million dollars for a current worldwide take of $200 million, its estimated production costs. No matter how you slice it, Disney has to be disappointed by the results of the film so far, as they were obviously hoping to turn The Chronicles of Narnia into another Harry Potter (don't get me started on how troubling it is that a literary classic compares negatively to books about wizards).
What Happens in Vegas is the only other film in the top 10 to gross in 7 figured ($3 million), while Baby Mama and Made of Honor took in nearly identical totals, $779 thousand to $775 thousand dollars. Speed Racer, perhaps unfairly, has fallen off the face of the earth and out of the top ten.
There are only two movies coming out next week, which is a sign that the box office summer season is officially in full swing. French action auteur Louis Leterrier takes over for Ang Lee (and Edward Norton takes over for Eric Bana) in The Incredible Hulk. The other big release is M. Night Shyamalan's The Happening, which sounds like he's throwing a rave full of zombies, or possibly a pajama jammy jam with Kid and/or Play in attendance. When you have to sell a film by stapling the director's name in front of the title, that's NEVER a good sign. Another troubling note is the fact that this has been advertised as M. Night's FIRST R-RATED FILM, which means they've added gore in an attempt to sell it after a string of mediocre box office performances.
If I had to bet, and I do, The Incredible Hulk will smash The Happening, but neither one will catch up to Kung Fu Panda.