News
US box office report is trapped behind the Wall-E
Ron guessed, last week, that Wall-E would prove a box office smash, and he was right - but what about Wanted?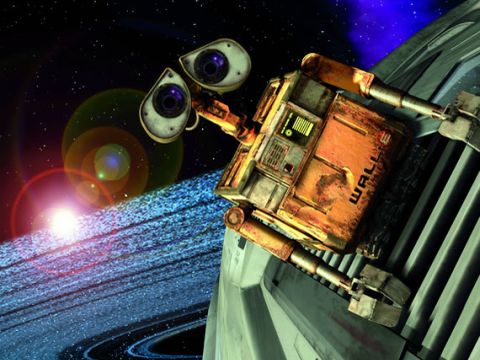 I think maybe I should retire from box office predictions. Yes, I was right last week when I said that Wall-E would be the box office champion, but I must have grossly underestimated the drawing power of Angelina Jolie and Morgan Freeman. Angelina, you can adopt as many children as you want, you've earned it.
The latest juggernaut from Disney/Pixar, Wall-E, is the story of how a little trash cleaning robot lands on earth and somehow escapes with a staggering $63 million dollars in three days. That's the third-largest opening for a Pixar project, trailing only Finding Nemo and The Incredibles. It's also already the 20th highest-grossing film in 2008, based on the strength of one weekend. Wow.
The biggest surprise of the weekend, at least for me, was the wild success of Wanted. The comic book adaptation, starring James McAvoy and Angelina Jolie, stormed out of the gates in a tough weekend (do you really want to open against a Pixar film, even if you're counterprogramming?) to pick up an insane $50.9 million dollars. For an R-rated action film made for only $75 million, you can't ask for a better opening weekend than that.
Well, you could ask for it, I guess, but then you'd just be greedy.
Get Smart continues to hold its own in spite of the competition from all sides. The pleasing comedy, starring Steve Carrell, picked up an additional $20.2 million dollars on top of a successful weekend last weekend. It slides to third place, but in such a competitive environment, you can't find much fault with another 8-digit weekend take.
The animated film that will be fighting with Wall-E for box office supremacy this summer, Kung Fu Panda, clings with panda-like tenacity to fourth place, with a weekend gross of $11.69 million dollars. The little panda that could will break $250 million dollars before it leaves the top ten. The mostly cartoon Incredible Hulk takes fifth place, with a gross of $9.5 million, breaking the $115 million dollar barrier. Seems like word of mouth caught up to last week's #2 film.
With $5.3 million dollars, Mike Myers vehicle The Love Guru has raised controversy, but that hasn't translated to box office success. Thankfully. The quicker this movie goes away, the happier I'll be. That said, it's the second least-offensive film appearance of the year for Verne Troyer, who horrified fans around the world when it was announced that he's had a sex tape leaked onto the internet. I shudder in horror at the very thought.
Speaking of horror and sex, seventh-place Indiana Jones ($5.17 million, breaking the $300 million dollar mark this weekend) is followed closely by horror film The Happening ($3.9 million for an eighth place finish) and Sex and the City ($3.8 million for a ninth place finish). The quartet of New York socialites has been the most surprising hit of the summer where I'm concerned, and M. Night's latest film is a sneeze from turning a profit as well (another surprising development, considering it's a $60 million dollar R-rated horror film AND it comes on the heels of a box office failure). You Don't Mess With the Zohan brings up the rear, with $3.17 million dollars in gross. Fortunately, like The Love Guru, it is disappearing fast.
Sadly, the remarkable top 10 run for Iron Man came to an end this weekend. The first film from Marvel's in-house studio picked up $2.25 million dollars this weekend, bringing it's total box office gross so far to $309 million dollars in the States and $560 million dollars overall. It won't pass any of the Spider-Man films in terms of total cash made, but it's the fourth-highest grossing Marvel property ever. I can't wait for the sequel, either.
There's not a film opening at the box office this weekend, but by the time you read this, Will Smith vehicle Hancock will have screened here in the US, getting an odd Tuesday bow to capitalize on the long 4th of July holiday weekend. The movie has absolutely no buzz, though, and the trailers don't exactly paint the picture of a fun summertime superhero romp. There's a bit too much angst, and a bit too much darkness. In spite of opening unopposed, I think this weekend belongs to Wall-E again. Hancock seems more like a fall movie than a summer movie, but I'm wrong consistently when I predict things, so watch it have a $100 million dollar opening weekend just to spite me.