News
US Box Office Report: 23rd July 2007
Stand aside Harry Potter! Adam Sandler is in town! And, along with Hairspray as well, he's declaring war on the blockbusters...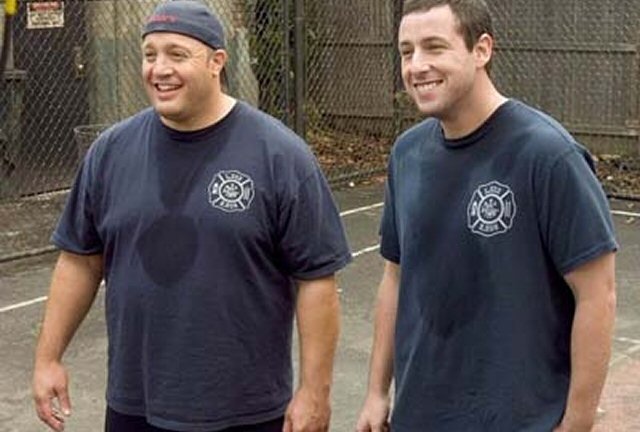 The usual poor reviews greeted Adam Sandler's latest comedy assault on the American box office. But, of more interest to its distributors, I Now Pronounce You Chuck And Larry continued his amazing streak of hits that has seen few troughs since the likes of The Waterboy and The Wedding Singer hit home the best part of a decade ago.
The story of two men pretending to be domestic partners to fool some insurers wasn't on the scale of some of Sandler's earlier comedies, but a near-$35m opening weekend take is still great business, especially given the modest costs of making a Sandler movie.
Knocked into second place, but hardly doing shabby numbers itself, is Harry Potter & The Order of the Phoenix. Appreciating lots of its target audience was reading book seven over the weekend, its $32m second weekend take has raised its total to $207m so far, and growing at speed. It's likely to peter out just short of $300m.
The real surprise was Hairspray. Strong reviews helped, but a real distinction from everything else in the market also didn't hurt for the tame musical remake of John Waters' shit-eating original. $27.8m is a great opening, and it's a film that should have some legs to it, too.
In fourth, Transformers added another $20.5m for a $262m running total, while Pixar's Ratatouille ate up another $11m for $165m thus far. The former has a good shot at $300m, the latter may just about scrape $200m.
Sixth? That'll be Live Free or Die Hard, currently up to $116m in total after another $7.3m was brought in over the weekend. Robin William's License To Wed isn't faring anywhere near as well, thanks to its $3.7m weekend haul, for a $38m running total. $50m is the best it can hope for now.
The enduring Stephen King adaptation 1408 sticks around at eight, now running at $67.5m given the $2.6m it brought home over the past three days. Universal's pair of comedies, Evan Almighty and Knocked Up, scored ninth and tenth, both bringing in just under $2.5 for cumulative totals of $93m and $142m respectively.
Just out of the top ten, Ocean's Thirteen sits at $114m, Fantastic Four: Rise Of The Silver Surfer at $128m and Pirates 3 at $306m.
Next week: blockbuster season is nearly over, but expect The Simpsons Movie to score big, big, big.