Features
Upcoming Women-Led Action Movies of 2018
Here are some of this year's women-led action movies that we're most excited about.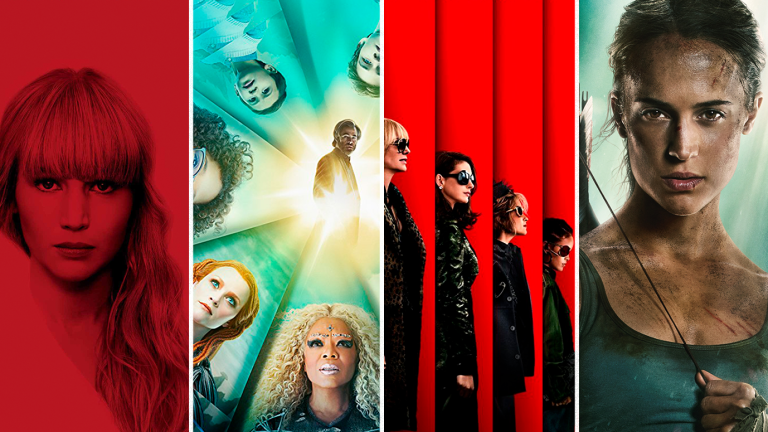 Two of the three top-grossing movies of 2017 were action movies fronted by women: Star Wars Episode VIII – The Last Jedi and Wonder Woman. Together with Thor: Ragnarok, Guardians of the Galaxy Vol. 2, and Atomic Blonde, they helped make 2017 an amazing year for women kicking ass on screen.
2018 is already shaping up to be even more promising, with a slew of movies from sci-fi films and thrillers to heist movies and shoot 'em up flicks, to keep us coming back to the theatres for more women who kick ass.
Here are some of this year's women-led action movies that we're most excited about.
Red Sparrow – March 2
Jennifer Lawrence stars in this movie based on a spy novel written by an actual spy. As a young woman with few options, she finds herself forced into the abusive service of the KGB and has to use every skill in her arsenal to stay ahead of everyone, even those on her own side.
If it sounds like fanfic about our favorite Russian Avenger (or even Keri Russell's character from The Americans), you're not wrong. I hope this movie backs away from the "sexy ladyspy does sexy things" angle that features prominently in the trailer – can't she just kick their asses while wearing normal clothes? Does every woman spy have to use her sexuality to accomplish her goals?
A Wrinkle in Time – March 9
You probably don't think of one of your favorite childhood science fiction books as action-oriented, but the trailer tells a different story. Meg is the star of her own adventure; she has been inspiring young girls since the book first came out in 1962. Meg Murray (Storm Reid), alongside Mrs Who (Mindy Kaling), Mrs Which (Oprah), and Mrs Whatsit (Reese Witherspoon) will travel across space and time and push the bounds of our understanding in Ava DuVernay's latest, based on the beloved book by Madeleine L'Engle.
A Wrinkle in Time is the only woman-directed movie on this list, showing that on-screen strides in representation don't necessarily correlate with diverse roles behind the scenes. Moreover, like Black Panther's Shuri, Meg Murray is a role model for little girls interested in STEM subjects.
Tomb Raider – March 16
Alicia Vikander takes over from Angelina Jolie in this origin story of the video game character-cum-movie protagonist.
Do we need another Tomb Raider when we still have a perfectly good Angelina Jolie? No, absolutely not. Is this movie going to criminally underutilize Alicia Vikander's considerable talent? Most definitely. But thoroughly disposable action movies populated by forgettable men basically grow on trees, so why not?
Breaking In – May 11
This movie takes the concept that moms are the scariest people on earth and follows it to its logical conclusion: Gabrielle Union ruining a bunch of dudes who were dumb enough to break into her fortress of a house and hold her kids hostage. This looks equal parts terrifying and badass, with as many jump-scares as grueling physical stunts.
Union has been working away for decades now, from 10 Things I Hate About You and Bring it On to Being Mary Jane and a stunning silent turn in Birth of a Nation that was overshadowed by the controvery surrounding director-writer-star Nate Parker. It's great every time Union leads a movie, but I hope it receives the marketing push that it needs, considering I've only seen this action-thriller promoted before other movies with a predominantly black cast.
So watch the trailer, get hyped, and tell your friends: Gabrielle Union is coming to scare the shit out of you, and it's going to be great.
Ocean's 8 – June 8
If Hollywood is going to keep going with remakes, they may as well be gender or race-swapped. Ocean's 8 does both, to varying extents, and maybe even (but probably doesn't) kill off Danny Ocean.
Apparently Danny's had an unmentioned sister this whole time, in the form of Sandra Bullock. She assembles her own motley crew consisting of Cate Blanchett, Mindy Kaling, Rihanna, Awkwafina, Helena Bonham Carter, and Sarah Paulson, robbing the neck of Anne Hathaway during the Met Gala. I'll let you do your own math as to whether you think Hathaway is in on it – let's just say it's not called Ocean's 7. Oh and the internet is pretty sure Bullock and Blanchett's characters were (are?) girlfriends, and I'm into it. More boss queer ladies kicking ass, please.
This looks like it will be just as slick, fun and clever as the 2000s-era reboot, but with way fewer dudes. Let's hope Matt Damon doesn't talk too much.
Ant-Man and the Wasp – July 6
I won't lie, I'm disappointed that Marvel didn't have the guts to just title this movie The Wasp. Evangeline Lilly was the best part of the fun Ant Man movie, yet the studio still doesn't have the confidence to give her the sole title. As long as women superheroes are thought of as "the female version of [insert male hero here]", we'll always be considered second-class.
Nevertheless, I am excited to see this movie, and I hope that the lack of confidence indicated by the title doesn't carry over to the story itself. All the images we've seen so far look amazing, and Wasp's costume looks cool and functional rather than frivolous or hypersexualized, so I'm still holding out hope that this will be a movie deserving of Lilly's talents, the Wasp mantle, and Marvel's many women fans who are not-so-patiently waiting for more and better representation.
Alita: Battle Angel – July 20
Based on Yukito Kishiro's manga, this Robert Rodriquez adaptation focuses on a woman who's more cyborg than human, as she races to understand her past and outpace those with designs on her future, all while she works as a bounty hunter. The animation of Alita's face looks a little freaky, but this piece is poised to ask interesting questions about artificial intelligence and personhood.
After Blade Runner 2049's lackluster gender politics (and, frankly, the original's), I'm eager to watch a world in which human and cyborg women alike are treated with a modicum of humanity, rather than as sex toys and plot devices.
The Girl in the Spider's Web – October 19
If you're into the whole rape revenge thing, I hear these movies are great. Realistically though, women tend to fall into two camps with this sort of thing: they either love the badass factor and the way crimes are resolved (similar to the fervent love of Olivia Benson-era Law and Order SVU), or the inherent rapeyness and ensuing heightened violence feels like…a lot. So your mileage will vary, but you probably already know which kind of viewer you are. Go with your gut.
They're swapping out Lisbeth Salander yet again, this time for Claire Foy, which should make for some emotional whiplash if you watch The Crown right before or right after going to see Spider's Web.
Honorable mentions: We'll see more badass women in Avengers: Infinity War (May 4), Deadpool 2 (June 1), Halloween (October 19), and The Mortal Engines (December 14.)