News
Upcoming DVD and Blu-ray Releases
Some of 2014's award-winning films like American Sniper set to release in May, along with the tantalizing Fifty Shades of Grey!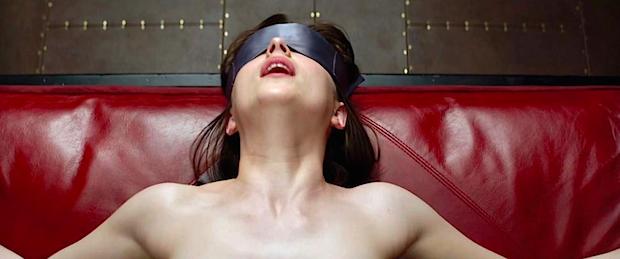 The weather may be getting warmer this May, but that doesn't mean that you can't spend at least a little bit of time indoors with your Blu-ray player. May means the summer blockbuster season at the multiplex, but award season is still going strong this month with films like Selma, American Sniper, and Still Alice seeing home video releases. Plus, the film that had everyone talking in February, Fifty Shades of Grey is coming to Blu-ray and DVD this month!
We've put together a preliminary list of upcoming DVD and Blu-ray releases. We'll continue to update this list as new titles are announced.
^ = Blu-Ray release only
* = DVD release only
Tuesday, April 28:
Paddington
The Wedding Ringer
The Gambler
Inherent Vice
The Boy Next Door
Mommy
Accidental Love
The Friends of Eddie Coyle^
From a Whisper to a Scream^
Miami Blues^
The White Buffalo^
Convoy^
Lord of the Flies^
Spaceballs^
Hollywood Shuffle^
Little Man Tate^
Harry and Son^
The Barber^
Wolf Hall^
Mad Max: The Complete Trilogy^
Covert Affairs: Season 5*
Royal Pains: Season 6*
Suits: Season 4*
The Mentalist: Season 7*
Tuesday, May 5:
Selma
Black or White
The Pyramid
Mr. Turner
Black Sea
The Last 5 Years
Lost River
Halt and Catch Fire: Season 1
Masters of Sex: Season 2
Goodfellas: 25th Anniversary^
Mad Max: Collector's Edition^
Munich^
Duel^
1941^
Always^
The Adventures of Ford Fairlane^
Ladyhawke^
The Terminator^
Raging Bull^
Road House^
Get Shorty: 20th Anniversary Edition^
Be Cool^
Bridesmaids^
Pitch Perfect^
The Breakfast Club: 30th Anniversary Edition^
The Predator^Red Dawn^
Showgirls^
WarGames^
All the King's Men^
The Usual Suspects^
I, Robot^
Fargo^
City Slickers^
Platoon^
Office Space^
Independence Day^
RoboCop^
Machete^
Alien^
Rocky^
The Transporter^
Napoleon Dynamite^
Hot Tub Time Machine^
Spare Parts*
Against the Sun*
Murder of a Cat*
Miss Julie*
Love, Rosie*
Parenthood: Season 6*
Superfast*
The Frontier*
White Collar: Season 6*
Friday, May 8:
Fifty Shades of Grey
Tuesday, May 12:
Still Alice
Mordecai
Blackhat
Batman Unlimited: Animal Instincts
Extraterrestrial
Just Before I Go
The Cobbler
Power
These Final Hours
Tracers
Power: Season 1
Wet Hot American Summer^Stigmata^
Mississippi Burning^
Jurassic Park Collection^
Ted^
American Buffalo^
The Lorax^
Despicable Me 3D^
Nikita: The Complete Series^
I Spit On Your Grave^
A Million Ways To Die In The West^
Entourage: Seasons 6, 7, 8^
Hop^
Bob's Burgers: Season 4*
Murder In the First: Season 1*
The Sleepwalker*
Unforgettable: Season 3*
Tuesday, May 19: 
American Sniper
Hot Tub Time Machine 2
Cymbeline
Leviathan
Orange is the New Black: Season 2
Zombeavers
What We Do in the Shadows
Meet the Parents: The Whole Focker Collection^
Harley Davidson and the Marlboro Man^
Boardwalk Empire: The Complete Series^
Terminator 2: Judgement Day^
Flawless^
Girlhood^
Call the Midwife: Season 4^
American Dad: Volume 10*
Glee: Season 6*
Before I Disappear*
Beauty & the Beast: Season 2*
The Living*
Welcome to Sweden: Season 1*
Tuesday, May 26:
Seventh Son
The Loft
Ballet 422
Cut Bank
Ray Donovan: Season 2
True Blood: Season 7
Sword of Vengeance
Sons of Liberty
To Kill a Mockingbird^
Touch of Evil^
Double Indemnity^
The Nutty Professor^
Moonrise Kingdom^
Savages^
Garfield: The Movie^
R.I.P.D.^
Da Sweet Blood of Jesus^
Kung Fu Panda^
Anastasia^
Shrek^
Shrek 2^
Blumenthal^
How to Train Your Dragon^
Kung Fu Panda 2^
Shrek Forever After^
Shrek the Third^
Rio^
Rio 2^
FernGully: The Last Rainforest^
Alvin and the Chipmunks^
Alvin and the Chipmunks 2: The Squeakquel^
Alvin and the Chipmunks 3: Chipwrecked^
The Purge^
Epic^
Robots^
Assassin's Game*
Heartland: The Complete Fifth Season*Hello Ladies: Season 1*
Major Crimes: Season 3*