News
Unlocked Trailer: Noomi Rapace and Orlando Bloom Star in Action Thriller
The trailer for terrorism-teeming thriller Unlocked teams CIA agent Noomi Rapace and MI5 agent Orlando Bloom.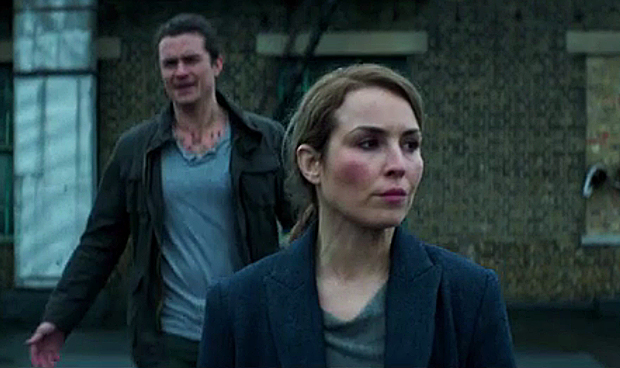 The upcoming action thriller Unlocked will soon arrive as a surprisingly low-key affair, especially considering the rather impressive cast it brings. While the film industry has collectively pumped out more than its share of post-9/11 dramas filled with nightmarish scenarios in which the threat of wanton Western destruction is on the table, Unlocked seems to throw in a pinch of the conspiracy thriller genre, with an oil-and-water partnership.
The debut trailer for Unlocked, arriving via Empire, showcases a slick, fast-paced suspenseful affair starring a CIA operative played by Noomi Rapace (Prometheus, the original Swedish The Girl with the Dragon Tattoo), who, after the interrogation (likely "enhanced,") of a captured terrorist underling, comes upon crucial information about a biological attack on London that suddenly makes her a target from ersatz agents working for the terrorists. Forced to go on the run, the only person she can trust is a brash MI5 agent played by Orlando Bloom (the Pirates of the Caribbean series, The Lord of the Rings and The Hobbit series). Amidst an atmosphere rife with betrayal and inter-agency miscommunication, it looks like our embattled duo are the last hope in stopping the catastrophe.
Unlocked is the directorial product of veteran helmer Michael Apted. Besides his genre-relevant entry directing the 1999 Bond film The World is Not Enough, Apted also fielded 2010 fantasy epic The Chronicles of Narnia, 2002 Jennifer Lopez drama Enough and the Oscar-nominated 1988 Dian Fossey biopic Gorillas in the Mist (which, coincidentally, starred Sigourney Weaver, whose iconic Alien franchise archetype was filled by Rapace's character in Prometheus.) Apted works off a script by a burgeoning screenwriter from the world of video games in Peter O'Brien, who worked on the writing team for 2010's Halo: Reach. Aside from Rapace and Bloom, the supporting cast also consists of big names like John Malkovich, Toni Collette and Michael Douglas.
Unlocked is set to turn its proverbial key to reveal itself at theaters in the U.K. on May 5. Momentarily, a U.S. release date has not been set.