News
Universal Studios to Celebrate 25 Years of Jurassic Park
Universal's California theme park will commemorate a quarter century of life finding a way.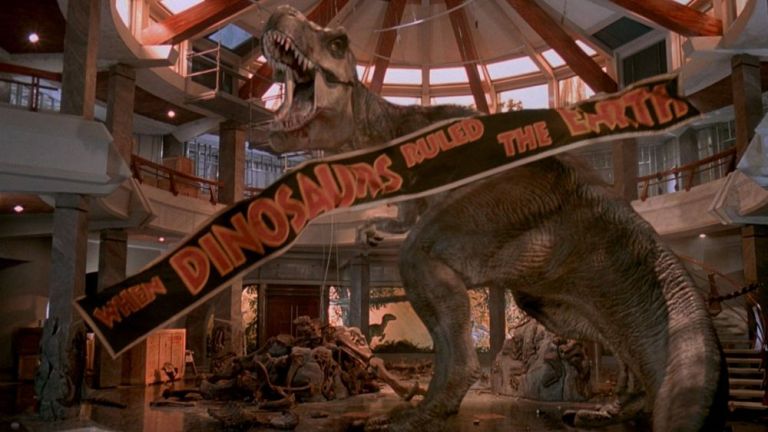 With Jurassic World: Fallen Kingdom barreling toward its June 22 release date, Universal Studios wants to make sure that you remember it's also the 25th anniversary of the arrival of Steven Spielberg's classic original film back in 1993.
To that end, the studio is launching a weekend-long event on May 11 and 12 at Universal Studios Hollywood dubbed the Jurassic Park 25th Anniversary Celebration. The event will center around a private screening of Jurassic Park, along with its original trailer, at Universal CityWalk's all-new, state-of-the-art Universal Cinema. 
The rest of the weekend's festivities will take place within the theme park itself, right next to Jurassic Park: The Ride, and will feature access to the ride, original maquettes and props from the film series (including the Gyrosphere from 2015's Jurassic World), costume displays, an interactive expo area, live entertainment and merchandise.
Guests are also invited to dress up as their favorite character from the franchise (I'm personally going as Samuel L. Jackson's severed arm).
Spielberg's film was an incredible sensation when it first came out: not only did it represent a major comeback for the director himself after two failures in a row — Always and Hook — but it was the second major motion picture after Terminator 2: Judgment Day two years earlier to showcase the power of visual effects done via CG (in combination with excellent practical work as well). 
It was also the first movie about dinosaurs in years, and it brought a real sense of wonder and terror to the fantastic creatures that were here before us and which so many of us have been obsessed with since childhood. Two and a half decades later, Jurassic Park still packs a wallop and arguably looks better and more convincing than the many spectacles that have followed in its wake. 
The 25th anniversary celebration is a separately ticketed event, meaning that if you and the family are already thinking about heading to Universal Studios Hollywood that weekend, you have to pay an extra price in addition to the regular park admission — that is, if tickets to the Jurassic Park celebration are still available. Visit www.universalstudioshollywood.com/JP25 for more info.