News
Universal Monsters Return with Invisible Man
Blumhouse summons Universal Monsters again after Dark Universe failed. Now it's a horror-focused approach via The Invisible Man.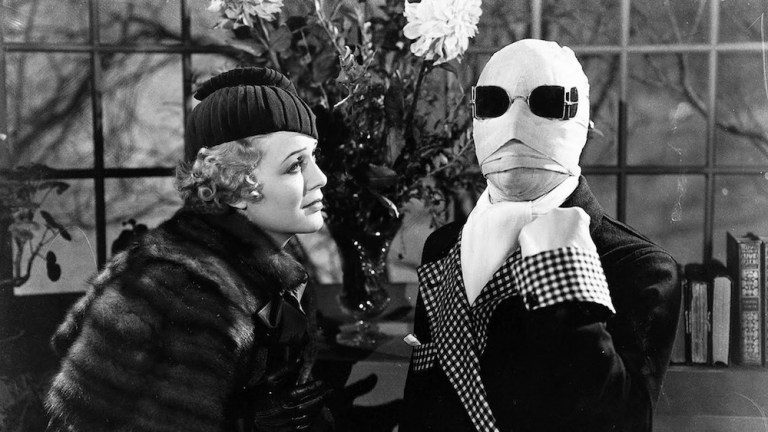 A good monster never really stays dead. They just sit in their grave, lying in wait for the next resurrection. So it is that barely a year after Universal Pictures' Dark Universe met a grim and ignominious end with The Mummy, the Universal Monsters are back, and at least at the launch appear to be coming from the production company that seemingly can do no wrong: Blumhouse Productions.
The news comes via Variety, which reports Universal and Blumhouse have tapped Leigh Whannell to write and direct a new version of The Invisible Man. Whannell, who wrote and directed one of Blumhouse's more overlooked and hidden gems from 2018, Upgrade, is a pick that also signals that Universal is serious about turning the page from the (rather misguided) idea of making their legacy monsters into action movie icons reminiscent of the superhero stable over at Marvel Studios. Instead Whannell, whose other credentials includes co-writing and starring in the original Saw and writing most of the Insidious movies (as well as directing the third one), is a sign that the emphasis will be about reintroducing these characters to their horror roots.
"Throughout cinematic history, Universal's classic monsters have been reinvented through the prism of each new filmmaker who brought these characters to life," said Peter Cramer, Universal's president of production. "We are excited to take a more individualized approach for their return to screen, shepherded by creators who have stories they are passionate to tell with them."
In this vein, Universal has revealed to the trade that "budget, tone, and rating" will not determine how each film is made, but rather every film will spring from each creative team's own sensibility. For this reason, the focus will be on legacy characters as opposed to creating an interconnected shared universe. They also suggest that The Invisible Man will not necessarily be the first one to get in front of cameras.
It seems prudent to focus on individual characters for the time being. While it is not hard to imagine a scenario where these characters crossover again—producer Jason Blum just saw massive success doing that with M. Night Shyamalan on Glass—the focus should be on reinventing them as appealing horror icons in the 21st century. As we've previously studied, Universal Monsters were the original cinematic shared universe, but one that was built on high-quality films defined by their own evocative visions from filmmakers like James Whale and actors like Bela Lugosi, Boris Karloff, and Claude Rains.
Indeed, Rains made his American cinema debut in the original The Invisible Man directed by Whale circa 1933. The picture was Whale's third Universal horror movie after Frankenstein and The Old Dark House, and it liberally adapted H.G. Wells' story of a mad scientist who saw his countenance vanish into thin air. The picture also starred Gloria Stuart and has never been fully remade by Universal, although there have been other adaptations and reimaginings of Wells' concept. Universal was all set to include the Invisible Man in their "Dark Universe" and had gone so far as to cast Johnny Depp in the title role. We suspect Whannell and Blumhouse will go a different way.
While it's unclear if Blumhouse will be involved in the production of all the new Universal Monsters' latest revival, from the outside it would seem like a smart bet. Blum's company has been responsible for many of the popular horror movies of the last decade, relying on a formula that lets creative directors have nearly full autonomy for a "micro-budget." (Many of Blumhouse's original IP films have a budget of $3 to $5 million. Sequels see that rise with Glass just capping a new ceiling at $20 million.) Having helped nurture a more commercial but a still inventive side of the current horror renaissance, Blumhouse's previous hits include Insidious, Sinister, Split, The Visit, Paranormal Activity, Happy Death Day, and Get Out. That final film, written and directed by first-timer Jordan Peele, turned into a cultural phenomenon culminating with an Oscar nomination for Best Picture and an Oscar win for Peele in the Best Original Screenplay category. (Blum has also produced Oscar winners and contenders like Damien Chazelle's Whiplash and Spike Lee's BlacKkKlansman).
Given Blumhouse's precision at picking good talent for horror projects, as well as being able to reinvent horror icons to modern success (see last year's Halloween revival), we have a hunch this take on the Universal Monsters will outlast the Dark Universe.
David Crow is the Film Section Editor at Den of Geek. He's also a member of the Online Film Critics Society. Read more of his work here. You can follow him on Twitter @DCrowsNest.