News
Underwater: Jessica Henwick and T.J. Miller Join Kristen Stewart in Action Film
Action thriller Underwater adds Iron Fist's Jessica Henwick and Deadpool's T.J. Miller to a cast headlined by Kristen Stewart.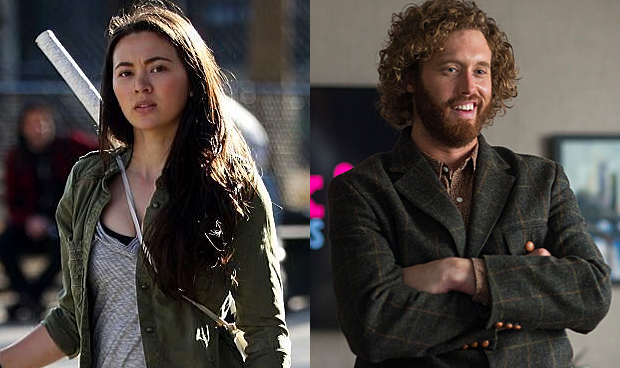 The genre of deep-sea action films will soon be represented by a project called (plainly enough,) Underwater, headlined by a former big screen franchise player who, after years of art house detours, seems to be resurging in the former Twilight star Kristen Stewart. Now, Stewart's upcoming popcorn flick is on the verge of acquiring some personnel prominently featured in recent Marvel Comics adaptations.
According to Variety, the gestating Underwater project is close to landing some co-stars with Jessica Henwick and T.J. Miller in final negotiations to join Kristen Stewart in the deep-sea action epic. The story of Underwater will center on the crew of a sub-maritime scientific expedition in search of a solution to an apparently devastating earthquake. The quick pitch implies that the film will essentially take shape as an underwater-set version of director Michael Bay's 1998 asteroid-assailing box-office bonanza Armageddon (likely minus the tear-inducing Aerosmith rock ballad). Other than the fact that Stewart will play a protagonist described as a "jaded crew member," not much else is known about the project at this point.
Jessica Henwick will soon debut her Marvel Cinematic Universe character Colleen Wing on the Netflix series Iron Fist, a role she will reprise in this summer's crossover The Defenders. She also fields a role on HBO's Game of Thrones (albeit a role set in the show's much-maligned Dorne theater,) as one of the deadly "Sand Snakes" Nymeria Sand and also played Resistance pilot Jess Testor in 2015's Star Wars: The Force Awakens. For T.J. Miller, this gig sounds like it's the latest in a solid string of comedy-relief roles. In-between fielding a regular role on HBO's Silicon Valley, Miller also appeared in last year's genre-groundbreaking Marvel movie Deadpool, having been previous seen in 2014's Transformers: Age of Extinction, 2008's Cloverfield and heard in several voice roles for animated hits like the How to Train Your Dragon films and Big Hero 6.
In the director's chair for Underwater will be burgeoning helmer Will Eubank, who previously worked on some sci-fi-themed dramas in 2014's The Signal and 2011's Love. Eubank will work off a script by Brian Duffield, who worked on the 2016 Natalie Portman Western Jane Got a Gun and the 2015 second part of the tumult-stricken Divergent YA film franchise Insurgent.
Underwater is currently planned to commence production in New Orleans sometime this month.