News
Underappreciated Movies: The Toxic Avenger
Duncan revisits another of his 80s favourites and finds it just as much fun now as it was back then...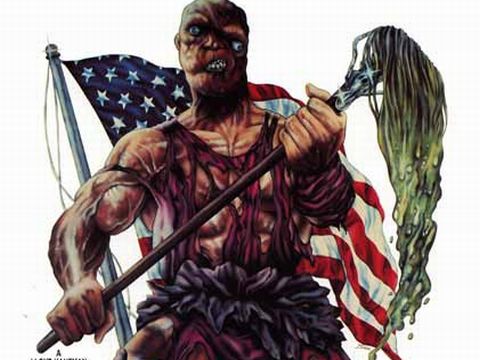 Troma movies could well be considered the cinematic equivalent of Marmite: people either love them or hate them. I've always had a soft spot for Troma, not just on account of their fantastic film titles (A Nymphoid Barbarian in Dinosaur Hell always springs to mind) but for representing independent cinema in all its glory,. For me, watching most Troma movies is more like hanging out with friends and getting drunk than walking round an art gallery – an awful lot of riotous fun. Of all the 80s titles though, there was always one that I genuinely loved more than any other, that delivered everything I was expecting and more, a movie that had me in hysterics from start to finish. That movie was The Toxic Avenger.
I hadn't seen Avenger for years, so as with all movies I have a nostalgic fondness towards I was slightly worried that re-visiting it would leave me a little disappointed, but if anything it was actually even better than I remembered. When I say it delivers I mean it really delivers: there's a shotgun pointed at a crying baby, an old woman beaten with her own walking stick and in true Death Race 2000 style, a 12-year-old boy on a bike run down by a car – which then reverses over his head, making it burst open in a shower of gory glory. If this all sounds a little too much, the key thing to remember is that it's all done with a dark sense of fun. There's no malice behind any of its exploitation roots just over the top, comic book mischief.
The Toxic Avenger is a part superhero, part vigilante movie, a genre which proved popular in the 80s with more serious fare such as Robocop and The Vindicator, which both feature justice being served by heroes who are led down their path of bloody righteousness after being transformed as a result of an early confrontation. Toxie himself starts life as Melvin, the hapless janitor at a health spa, a super geek whose social inadequacies lead him to be the butt of constant bullying. After a cruel practical joke by the local gang backfires, he finds himself falling headfirst into a vat of toxic chemical waste. This results in him becoming a muscular, mutated monster hero, taking to the streets to clean up crime in particularly brutal fashion. By far the best new feature of Melvin's new persona is his voice. Initial expectation is shattered to great comedy effect when Toxie's voice is actually revealed to be deep, smooth and debonair, making every one-liner that much funnier. This is also first construed by his proud mother to be the first sign that her boy has finally hit puberty, a theme which runs throughout the movie as Toxie/Melvin evolves and experiences emotions such as first love.
In keeping with its comic book influences Toxie, like Ben Grimm in The Fantastic Four, finds love in the arms of a blind girl, played with such smouldering innocence by Andree Maranda that I found my teen hormones lit up all over again like Bonfire Night. Which leads me nicely to another key aspect of so many Troma movies – the women. Right from the opening credits in which the camera happily zooms in on any available breasts (of which there are many), the schoolboy humour shines through and the instant and unabashed exploitation had me grinning from ear to ear. I think part of why Avenger has aged so well is that it actually feels refreshing to see a movie so free of social constraints and political correctness without ever seeming malicious in any way. And not just because I have a personal tendency towards lycra clad 80s lovelies (special mention should go to the Roy Lichtenstein dress. Well, I say dress, it's more like a t-shirt).
By far my favourite feature of Avenger though is the gore. There are so many glorious death scenes scribbled on my notes that I couldn't mention them all and, like the film as a whole, they manage to walk the fine line between being effective and being comical in the best B-movie tradition. Even now they still made me laugh out loud, mostly for never pulling punches and always showing every gruesome detail from splattered brains to dismembered limbs. In fact the budget, however low it might have been, still allows Avenger to stand out in terms of stunts and set pieces, showing not only a great car chase scene but even producing a tank for the finale.
The greatest praise I could give Avenger is that, despite being tired when re-watching it for this review, I stayed constantly entertained, laughing to myself and revelling in every second. It also gave me the idea that it should be handed out to teenage boys as a self help guide to the effects of puberty, as it contains all the things a growing boy should be educated in: boobs, comedy, boobs, gore, love and boobs.
Love or hate Troma, everyone should try at least one of their movies and The Toxic Avenger leaves no better place to start.