News
Underappreciated movies: The Last Boy Scout
The best Bruce Willis action film that pretty much nobody saw, Den Of Geek salutes one of the best movies of its ilk of the 90s...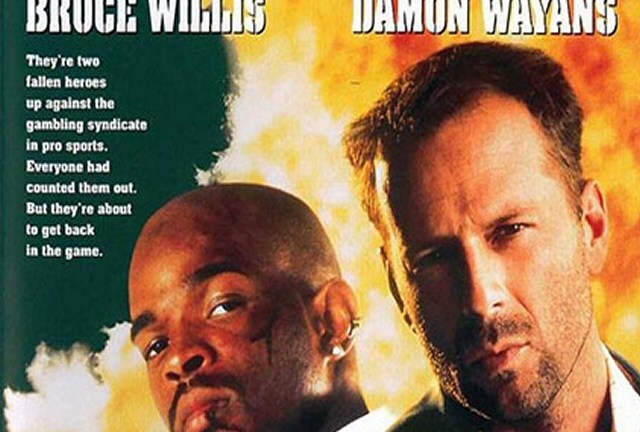 Somewhere, lost in the annals of the Bruce Willis back catalogue, is an action film that was made in between Die Hards 2 and 3, that for some odd reason continually gets overlooked. And yet The Last Boy Scout easily stands up to any of the Die Hard sequels, and far transcends some of the crappy action flicks that even the balding action genius himself was pumping out at the time: was it just me that sat through Striking Distance?
Even at the time, though, The Last Boy Scout struggled to find an audience. In many ways, it was the last movie outside the Die Hard franchise where Bruce Willis allowed himself to unconditionally relax into the wise-cracking action movie mould. Released in 1991, Willis starred as a secret service agent who was now working as a private detective. Teaming up with former US football star Jimmy Dix (Damon Wayans, arguably in his last really good role), the plot surrounds gambling in sport, and effectively provides a platform for a very funny, very entertaining blockbuster.
But then it should be. The Last Boy Scout came from the pen of Shane Black, he who gave us the first and second Lethal Weapon films, along with The Long Kiss Goodnight and the recent, sublime Kiss Kiss Bang Bang (he was also one of the many writers who worked on the flawed-but-still-underrated Last Action Hero). Black was ahead of his time with some of the post-modern irony that would infect the genre over the following years – "This is the 90s. You don't just go around punching people, you have to say something cool first", remarks Willis – but he never let it get in the way of a strong action flick. It didn't stop him scribbling some drop-dead brilliant lines either.
It's also directed by Tony Scott, arguably during his finest run that would see him direct True Romance and Crimson Tide a few years later. This was before he got carried away with all the stuff he could do in the editing room, and got more obsessed with flash cuts and whizzy camera effects over delivering a good, quality film. On The Last Boy Scout, he knew exactly what he was doing, and the results are there, big and brash, on the screen.
Yet it's Willis who stands tall here, in a role that clearly has his name stamped right through the heart of it. After all, who else are you going to draft in if you need a weary, cynical, wise-cracking action star? It'd be fascinating to see if they ever had a second choice for it. And there's no toned-down for a PG-13 mechanic here either: The Last Boy Scout is violent (how about the killing with one punch moment?), fast and funny, in many ways an action movie for grown-ups. Or for teenagers who get it off their dad's shelf.
And a bit of trivia: Halle Berry is in there, too. This was back in her pre-Oscar days when she wasn't shy about flashing her flesh.
The Last Boy Scout never achieved the success it deserved at the box office, and it's only in recent years that people seem to have started talking about it again. We've got a Bruce Willis ready reckoner coming up on the site in the next couple of weeks, but in advance of that, if you've not yet met Joe Hallenbeck, do check out the hidden gem that's sitting in John McClane's back catalogue. It's the film that a Die Hard sequel simply never could be.
See also: 
33 movies that deserved more than they got
We've also written about these other underappreciated movies at Den Of Geek:Matinee here.Demolition Man here.Con Air here.Big Trouble In Little China here.Rad here.Back To The Future Part III here.George Of The Jungle here.Gremlins II here.Screamers here.Daredevil: The Director's Cut here.Conan The Barbarian here.A Bug's Life here.