News
Underappreciated movies: George of the Jungle
Watch out for that tree! Simon salutes the supposedly one-joke goodness of George of the Jungle.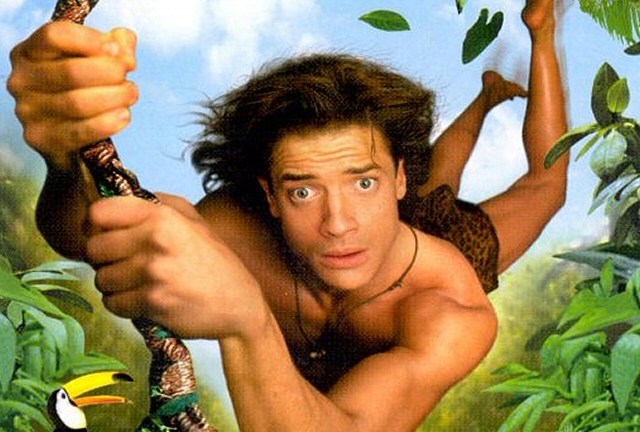 Sitting with a score of 5.2 on that bastion of movie taste, the Internet Movie Database, George of the Jungle is clearly a film in need of some love. And as Disney bask in the box office and acclaim for its 'post-modern' fairytale Enchanted, it's easy to forget that George of the Jungle did all that postmodern stuff ten years ago now. And damn funny it was.
I remember Channel Four used to have a movie review programme, where they got celebrities of sorts to review the films. And when George of the Jungle came round, Millie out of This Life was complaining that the film just had one joke that it told over and over again. I thought then and I think now that that's a churlish argument: I've spent good times in public houses with people who only know one funny joke, and the trick for them is how they can fit it in at every opportunity. Hell, I don't know a bloke out there who doesn't hammer any funny joke to death, even when it's gasping for air and complaining that nobody's laughing.George of the Jungle's joke is that George keeps swinging into trees. It's funny at the start of the film, and it's funny at the end. No matter what Millie says.
But George of the Jungle actually has plenty more going for it than that. Firstly, there's Brendan Fraser, in my view one of the most underappreciated leading actors in the movies. This is the man who almost made the second Mummy movie watchable, and who desevedly picked up plaudits opposite Ian McKellen in Gods and Monsters.
In George of the Jungle, he takes the title role as the survivor of an air crash who gets dumped in the jungle as a nipper and is raised by the animals. It's a little bit Lost, and a little bit Rudyard Kipling, but done with its tongue rammed so far in its cheek that you're never allowed to take it seriously. "Meanwhile, at a very expensive waterfall set" the narrator says over one scene change, later on reassuring the kids that "Don't worry. Nobody dies in this story. They just get really big boo-boos". Or what about "Okay, kids, let's stop and review the important information – Lyle is a big doofus. Poor George was really shot, but can't die because, hey, let's face it, he's the hero". Yup. If Blade Runner had narration like this, then fans of the film wouldn't have been debating the voiceover for anywhere near as long.
Fraser is great as George, but there are some surprising faces also to be found in the cast. Leslie Mann, seen in last year's Knocked Up, plays female lead Ursula, and there's John Cleese as the voice of the ape. Shaft himself, Mr Richard Roundtree, is in there too, while a pre-Sideways and Spider-man 3 Thomas Haden Church is the villain.
Played in an almost panto-esque fashion, and distinctly not outstaying its welcome, George of the Jungle is simply good fun. That's what makes that 5.2 rating at the IMDB all the more surprising: George of the Jungle isn't supposed to be any kind of art. Instead, it's a highly entertaining knockaround family movie. And one that's just as secretly clever as Enchanted is, too.
The sequel's crap, though…