News
Under the Silver Lake Trailer Promises Trippy Mystery
Watch the first trailer for Under the Silver Lake, a new film from the director of It Follows, which stars Andrew Garfield and Riley Keough.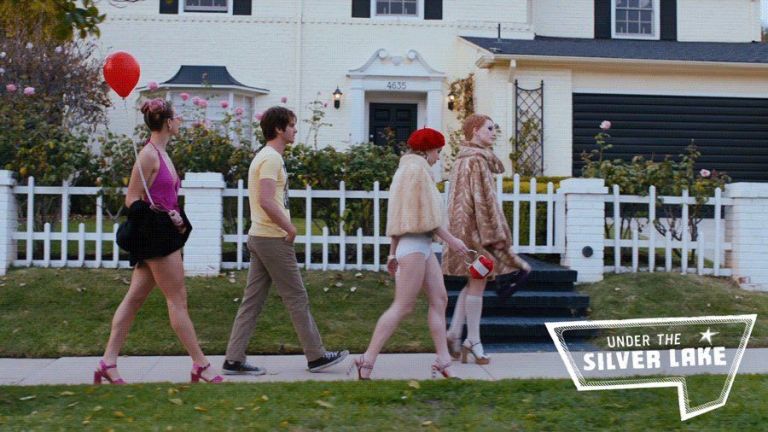 Los Angeles is a city built on dreams, which is also probably why so many filmmakers have enjoyed poking holes in the façade and finding the grim reality of waking up with what lies beneath. It's what gave us the noir movement in the 1940s, which looks to continue in David Robert Mitchell's Under the Silver Lake, his first film since the horror cult classic, It Follows. Described as a neo noir in its press materials, the film also looks to be going for something a little more bent and unique in its blending humor, cynicism, and a kind of dream logic that goes along perfectly with your dream girl vanishing the morning after meeting you.
In the film, Andrew Garfield plays Sam, a disenchanted 33-year-old who becomes smitten after meeting a woman who is swimming in his apartment's pool. Her name is Sarah (Riley Keough) and despite seeming to also enjoy the interaction with Sam, she mysteriously disappears the next day, leaving nothing behind in her apartment. Sensing foul play afoot, Sam goes to the police who don't care, nor do her neighbors, or much of anyone save for Sam. Yet he is beginning to notice a pattern of missing people throughout Los Angeles, and as he pursues that rabbit hole he will embark on a strange quest into the heart of the City of Angels that Under the Silver Lake's marketing team describes as having "mysterious dog killers and glitter-pop groups."
In the below trailer, you get a sense of its sun drenched surrealism and an undercurrent of dry nihilism, which is fitting for the director who made the movie about a monster who will never stop coming for you. For this film, Mitchell cites classic noirs like Kiss Me Deadly, The Long Goodbye, and Chinatown as influences, as well as more modern Lynchian hells like Mullholland Drive.
A24 releases the fever dream on June 22.