Reviews
Undead Or Alive DVD review
We review a zombedy period horror, and Undead Or Alive proves to have plenty of bite...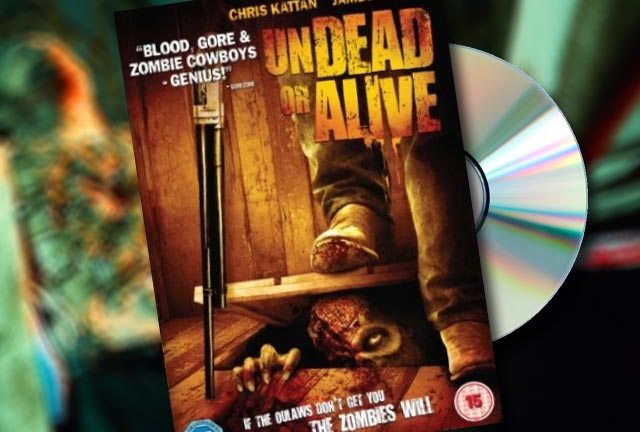 The great thing about zombies, as opposed to other movie monsters, is that they can pop up any time, anywhere and not suffer dramatically. Take the goth backdrop away from a vampire flick and it'll usually suck (pun most certainly intended); put a werewolf in a sci-fi film orbiting a moon rather than howling under one and you end up with a beast with less bite than a chihuahua. Yes, the undead are creatures of the night too, in the sense that all horror icons emerge from the darkness within us, but they can happily stagger around in the sunlight and still be as effective cinematically.
Which is one of the reasons why zombie/western comedy horror, or 'zombedy', Undead Or Alive works so well. Seeing cowboy corpses riding around in the Wild West is cool, not preposterous, unlike, say, 1950s B-movie Billy The Kid Vs Dracula.
The film presents a classic Western plot and adds a neat horror twist. Elmer Winslow (James Denton) is a deserting soldier on the run from the Union Army. After moseying in to a mid-West town he gets on the wrong side of the law and finds himself in jail with lovesick wannabe cowboy Luke Budd (Chris Kattan). They escape and try to flee corrupt sheriff Claypool (Matt Besser) but soon find themselves being pursued by a posse of brain-eating ghouls – victims of a zombie plague brought down on all pale faces by Native American champion Geronimo. Their only hope lies with a sexy squaw (Navi Rawat) seeking revenge for the butchering of her people.
Writer/director Glasgow Phillips' story isn't ground-breaking in its originality or spare-underwear-at-the-ready scary, but then it isn't meant to be. It's just a frame on which to hang a well-paced comedy with enough gags to keep you laughing and enough blood and guts to gross you out when required.
Phillips learnt his craft as one of the writers on South Park and the crude brand of humour Trey Parker and Matt Stone revel in shines through here, but without the vitriolic satire and taboo-baiting that can genuinely offend. There's vomit, blood squirting and dismemberments a plenty – a bit like a night out in Blackpool – but all played for laughs. One scene in particular which made me chuckle and retch at the same time features in the B-story about a preacher besieged by zombies. Surrounded by his decaying flock and without water, he is forced to drink from a spittoon full of brown goo. Hmm, nice.
There's also some great slapstick moments, usually featuring Brian Posehn (best-known for his role in early 90s USA sitcom Just Shoot Me!) as Ben, the first zombie we see in the film. The tone of the picture is set perfectly in the first few minutes with his attack on his family.
Trying to reach his terrified daughter through the window of their log cabin he gets a pie in the face. Temporarily blinded he then gets his foot stuck in a bucket before walking into a rake, which jumps up and hits him where it hurts (he may be undead, but he's still a man). It's like something out of The Three Stooges, but directed by George A. Romero. Ben is that rare breed of undead monster – one you find yourself warming to as the story unfolds.
None of these set pieces would work without talent to pull them off, and Undead Or Alive boasts a great cast – especially for a flick that went straight-to-DVD. There are two great partnerships on display: good guys Elmer and Luke and baddies Claypool and Cletus (Chris Coppola).
Geeks might remember James Denton, who plays Elmer, as Mr Lyle in late 90s cult show The Pretender. He builds a real chemistry with hapless sidekick Luke, whose winsome ineptness is perfectly conveyed by comedian Chris Kattan. Chris isn't a big name this side of the pond, but his Mango character on Saturday Night Live is the stuff of legends. Claypool and Cletus, on the other hand, hate each other from the start but it's hilarious seeing the latter, who was as filthy in life as in death, constantly wind his boss up. The moment when he comes over to Claypool and hands him his decayed penis – which has just fallen off – is laugh-out-loud funny.
Undead Or Alive is Phillips' first (and to date only) motion picture but he delivers an impressive début. Some of the praise should go to cinematographer Thomas L. Callaway for adding a visual feel reminiscent of Sergio Leone, the New Mexico location itself and FX gurus Precinct Thirteen Entertainment for some shockingly awesome gore and make-up, but in less capable hands the film could have still turned out a clunker. Battling against a tight budget,
Phillips manages to add some iconic moments to zombie cinema such as the pogo-spade decapitation and a ravenous 'Geronimonster' (the name for the cursed) with a spoon sticking out of his half-eaten brain.
Only the explosion FX at the end reveals the financial limitations of the production, but it's easily forgiven as the film is a (surprising) treat from start to finish and a must-see for horror and comedy fans alike. Saddle up and go hunt yourself a copy – you won't regret it.
Extras-wise, there are two featurettes concerning the making of the film and the zombies, as well as a commentary track featuring Phillips, Denton, Kattan and Rawat ,which add to an appreciation of the film and the spirit of sheer enthusiasm in which it was made. The inclusion of the trailer and deleted scenes would have been welcome, but it's a small omission.
Film:
Disc:
Undead Or Alive is out now.