News
Twins Sequel Triplets: Arnold Schwarzenegger Updates
Arnold Schwarzenegger says that Triplets, the long-awaited sequel to the 1988 comedy Twins, could shoot this year.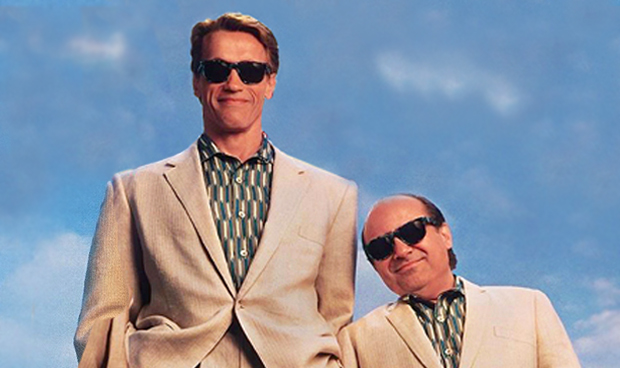 Twins, the conceptually-zany 1988 buddy movie starring Arnold Schwarzenegger and Danny DeVito as the eponymous, long-lost scientifically-bred siblings, remains one of the most beloved and financially lucrative ($216.6 million global,) comedies for the former. While the story doesn't exactly lend itself to sequels, a sequel project called Triplets has, nevertheless, been planned for the past few years and Schwarzenegger recently provided an intriguing update.
After announcing his return to the Terminator franchise, Schwarzenegger dropped some equally hopeful news regarding the long-gestating Twins sequel Triplets. Speaking to ScreenDaily at Cannes, Schwarzenegger reveals that Triplets is still alive and kicking, confirming that Danny DeVito will return alongside him, joined by a third comically-dissimilar onscreen sibling from the same genetic "milkshake" in comedy legend Eddie Murphy. Moreover, Schwarzenegger reveals that the project could go into production as soon as this year as the script rounds the finish line, stating, "The script will be finished in a month. It's just around the corner."
With original Twins director Ivan Reitman returning behind the camera, the Triplets script in question is being written by Frozen voicer and Beauty and the Beast film actor Josh Gad (Gigi: Almost American) and Ryan Dixon (Opening Night), who were tapped for the gig back in October 2013; an endeavor possibly delayed by the increasingly high profile of Gad's acting career. As Gad told Coming Soon at that time:
"We're very reverential to the original, but have our tongue firmly in our cheek. As it needs to be, it's very modernized, it's taking them into the new world, and it's acknowledging that comedy [has] changed a lot in 20 years."
While Gad also hinted of "miniscule changes" to the script after handing in the first draft (back in 2013), it will be interesting to see how things have evolved four years after the fact. Nevertheless, with Schwarzenegger and DeVito returning, with Eddie Murphy now in the mix, Triplets should present an interesting challenge. As a nostalgia-driven comedy sequel arriving some 30 years after the 1988 original film, it needs to be adherent to its beloved predecessor, while not hitting the trope well too often, lest it turns into exploitative glorified fan fiction.   
Triplets, per Arnold Schwarzenegger's words, could be set to reignite some legendary comedic chemistry with production possibly happening in 2017.