Features
Tribeca Film Festival 2018 Movies Round-Up
The Tribeca Film Festival for 2018 is over and our critics are rounding up what they saw, and what you should see too.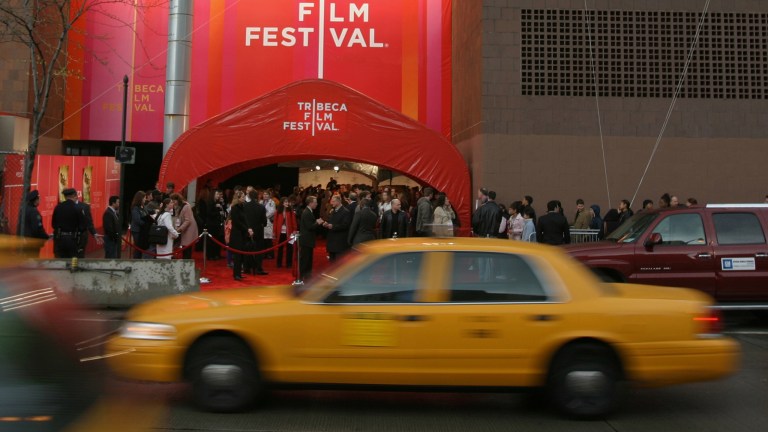 The Tribeca Film Festival has come and gone, and with the event behind us, some of our writers at Den of Geek were kind enough to present a round-up of the films they saw, and the thoughts they had on them.
Below you will find several films with entries written specifically for this article by associate editor David Crow and contributor Matt Schuchman. There are also excerpts of several of our reviews from the festival, which you can read in their full length by clicking on the links above the corresponding samples.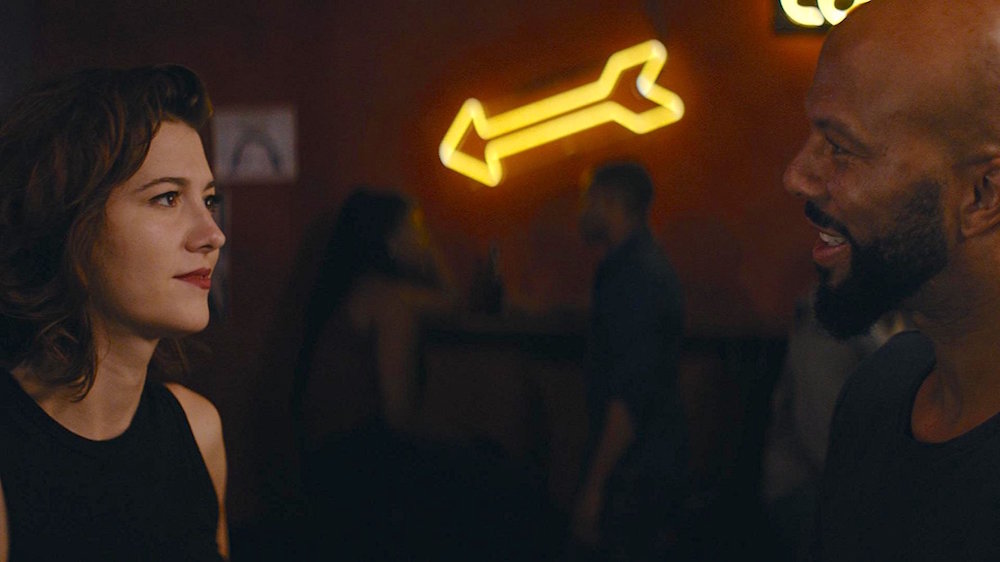 All About Nina
They say dying is hard, but comedy is harder. First-time director Eva Vives suggests, further still, that life is the hardest in this warm and sweetly human little character study about a stand-up comic who is either trying to reinvent her life or wreck it… depending on how she's feeling on the day. Said comic is Mary Elizabeth Winstead as Nina Gold, a talent who is being asked to audition for a Saturday Night Live stand-in that is trying to capitalize on the #MeToo era by hiring a new woman comedian… but only one after forcing all the ladies to compete for not-Lauren Michaels' (Beau Bridges) pleasure.
The setup of the movie is clever and leaves a lot to explore, however the film is ultimately more interested in a character study about a Nina, whose humor and self-destructive tendencies tend to derive from the same place. This feels somewhat like a missed opportunity, however by exploring that other supposed truism that all comics are self-loathing, the film finds a real authenticity beneath the familiarity. This is in large part due to a pretty fearless, take-no-prisoners performance by Winstead and and a truly unexpected turn by Common as Nina's new gentleman caller/Rock of Gibraltar.
– David Crow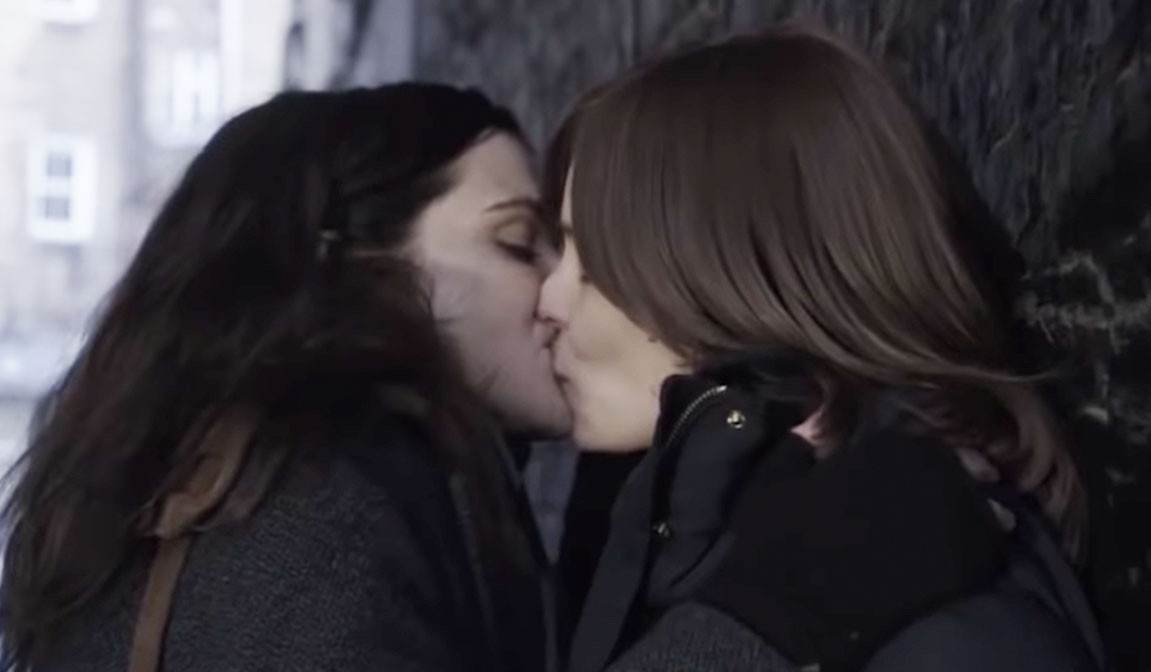 Disobedience
There is one word though that stuck in my head, all throughout the film and in the days after; natural. I felt I was watching life, and not actors portraying it. The three leads all excel in their performances, with Rachel McAdams truly showing what a great performance should be. Subtle and timid, you can feel the river rushing inside her as she never lets an over embellished look or emotion escape her face. Similarly, I'll go ahead and say that this is Alessandro Nivola's greatest performance. I knew it was him on screen, and I have seen him so many times before; and yet, every time Dovid was in a scene, Alessandro was not. He became the man he was portraying and all that was left was Dovid's stubbornness blocking any real emotion, until his final glorious and devastating epiphany.
Disobedience on its surface is a film about two women who finally learn to break free of what is expected of them by finding each other again. But at its core, it is a story about finding true freedom, and using it to finally understand real happiness, even if it means not getting what you want.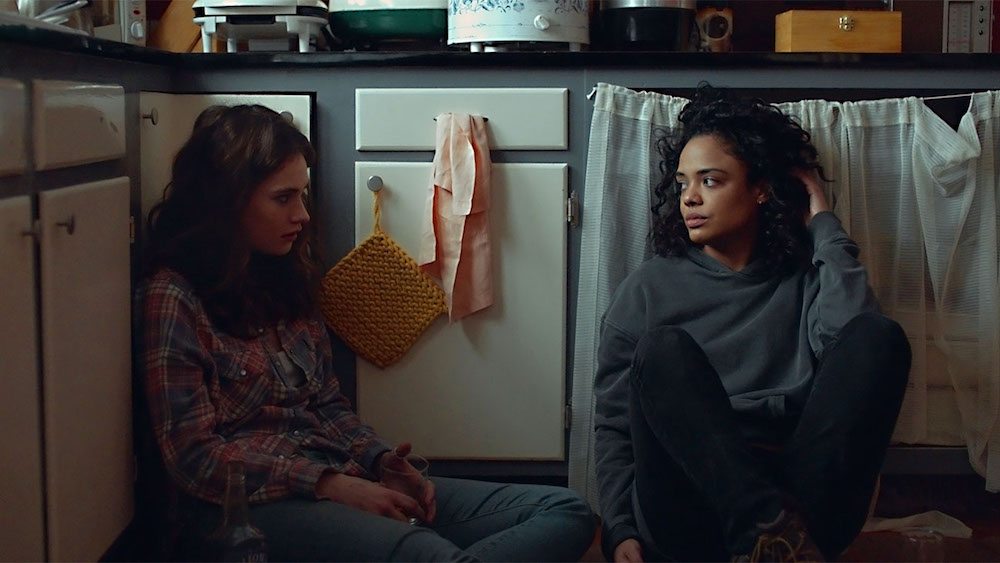 Little Woods
Tessa Thompson and Lily James play an unlikely pair of sisters in Little Woods, a film that is stuffed with strong performances, although not much in the way of narrative. Set in the rural side of North Dakota, it centers on two women who life has left with one bad choice after another. Thompson's Ollie has long been on probation after getting caught running cheap pharmaceutical drugs across the Canadian border some years before, and now makes ends meet by selling coffee to the few men who can find work outside of town. James' Deb, meanwhile, is a waitress with a son she can barely support when she discovers her drug dealing ex (James Badge Dale) has gotten her pregnant with a second baby.
A movie about tough women making tougher choices, director Nia DaCosta sets up a variety of harrowing sequences that let both actresses, and especially Thompson, shine. When Thompson has to bluff her way through a job interview while being threatened in the bathroom by an old colleague, or when James has to talk her way into a Canadian abortion clinic (she can't even afford one in the U.S. that is even further away), there is raw and justifiable anger about the opportunities offered women that is hot to the touch. However, the sum is lesser than these strongest pieces. Even so, it makes for a promising showcase for all involved.
– David Crow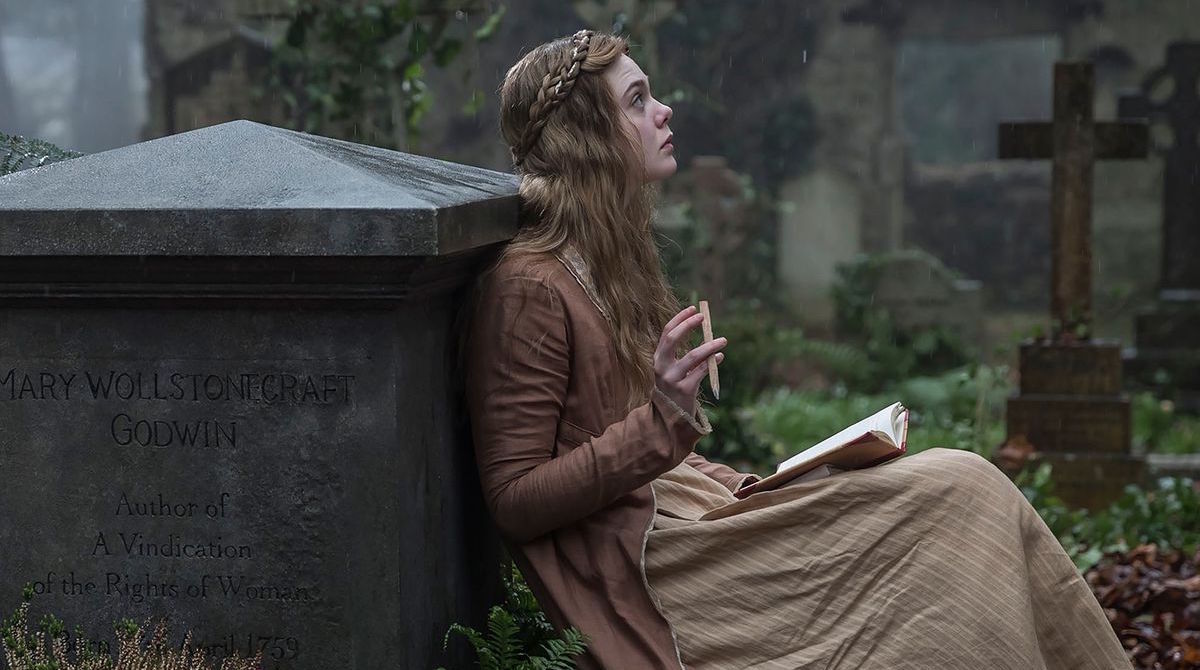 Mary Shelley
Such is the emphasis of Mary Shelley, a welcome biographical film on Frankenstein's author—here played with spirited fire by Elle Fanning—that takes a very, very conventional path to track a most unconventional life. As a film, Mary Shelley is a traditional period piece about an ill-fated romance between a naïve but burgeoning intellect in 16-year-old Mary and the rather crass way it is manipulated and used by promising poet Percy Shelley (Douglas Booth), a man already five years her senior, yet long on the road in his career of scandal-facilitator. (He's already left his wife and child when they meet.) Yet even if the narrative beats follow a too familiar drum, the melody enacted by Mary's thoughts remain as unique as ever.
The Party's Just Beginning
Actress Karen Gillan turns in a pointed and razor-edged effort for her first film as writer-director. Also starring in the movie, Gillan returns to her hometown of Inverness, Scotland to showcase a grim secret about the idyllic Highland community: it has a startlingly high suicide rate. In this vein, Gillan plays Liusaidh, a woman suffering her own form of quiet PTSD after her best mate (Matthew Beard) committed suicide a few years back. While he was a man who was marginalized his whole life for being gay, Gillan's Liusaidh finds her own way to follow him in self-destructive behavior that often ends in nights of alcoholic abuse and going into the back of allies with random strangers.
It's a dark and unrepentant tale, but it is told with a fair degree of grace and wistfulness by Gillan, who shows a real knack for tonal discipline, as well as a flair for bending chronological events. Meticulously told to its bitter end, the film works as an intimate character study and a real showcase for Gillan's talents in front of and behind the camera.
– David Crow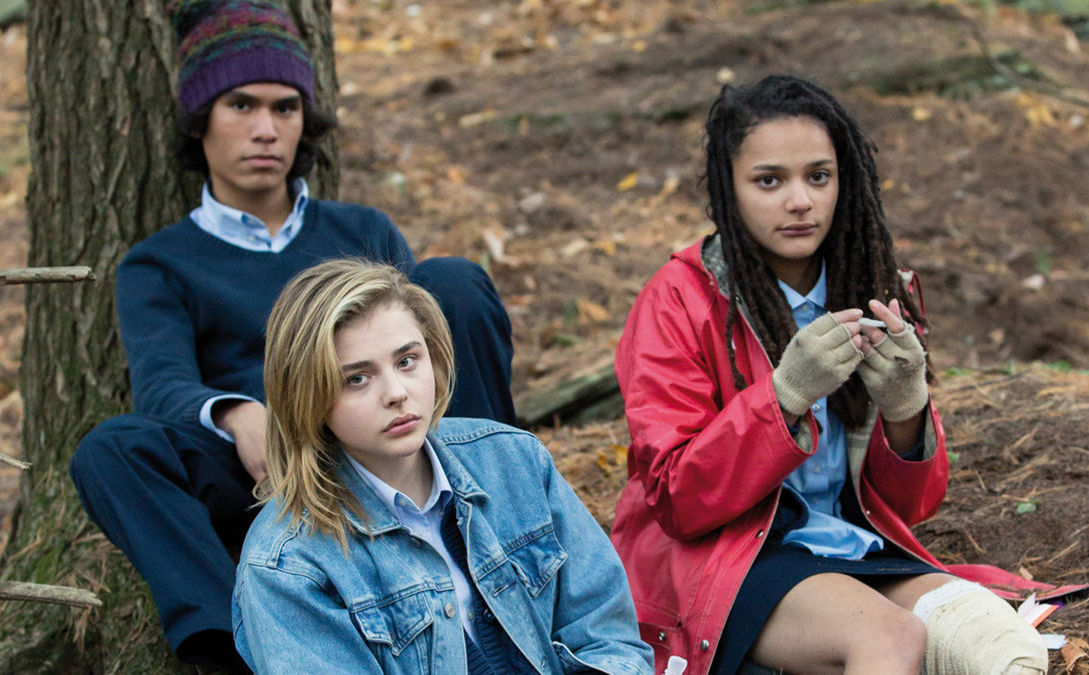 The Miseducation of Cameron Post
This familiar irony is at the heart of director Desiree Akhavan's provocative and genuinely poignant film, which looks to unlock the bitter, bitter truth about gay conversion therapy and these evangelical brainwashing centers. And it does so without pretense or apology. Indeed, the most striking and satisfying element of this Grand Jury Prize winner out of Sundance is simply how direct it is in finding not only humor and sweet coming-of-age contours in this familiar setting of LGBTQ cinema, but also an unrepentant ability to assess its horror and damage without arch posture or deflective handholding.
… The Miseducation of Cameron Post's success stems from how minimalist and yet sophisticated it can be in offering a dramatic rendering of of this special kind of hell. Adapted from an Emily M. Danforth novel of the same name, it takes a narrower and more sharply pointed, 90-minute route than the lengthy source. As opposed to older films on similar subject matters from previous decades, whether it be gay conversion satires like But I'm a Cheerleader (1999) or other melodramatic pieces about teenage evangelical crucibles, such as Saved! (2004), there is no desire to cajole or sweetly mock the naïve biases of godly oppressors.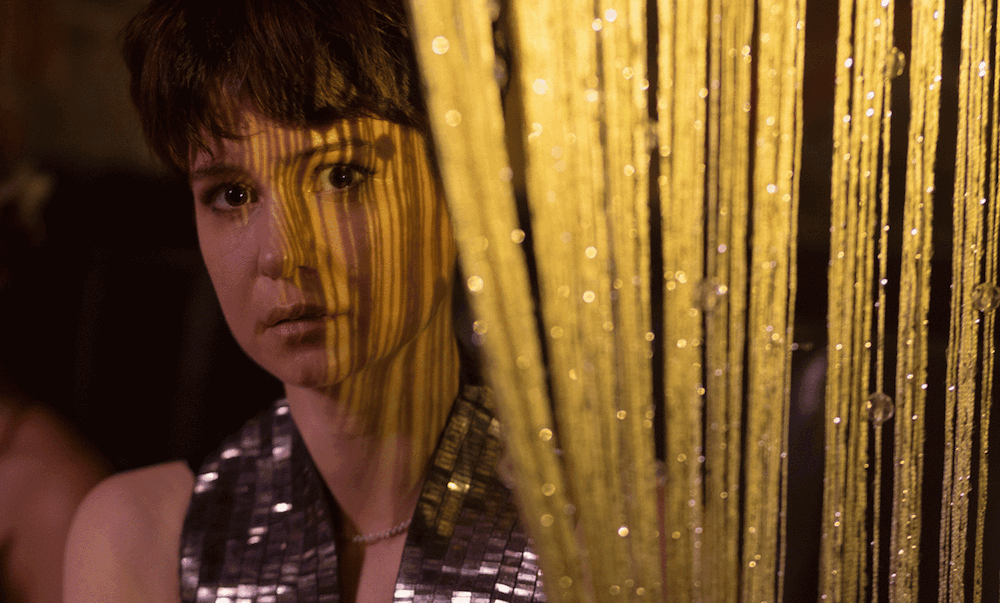 State Like Sleep
After the apparent suicide of her beloved film star husband, American photographer Katherine (Katherine Waterston) has distanced herself from their home in Brussels, leaving it exactly is was on the day of his death and moving far away. A year later though, Katherine receives a call that her mother is in Brussel's has suffered a stroke. The events take her back to her old life, and the mysteries behind her husband's death start to amass. Was it a suicide? Did he lead a double life? Did her husband's mother know more than she let on?
State Like Sleep feels like a film that wasn't sure what it wanted to be. There are glimpses of this idea of Katherine being lost in dreamlike state where she just drifts through the days with no conscious effort, but the visuals are far too few and short to lead to any real artistic life behind the film. People are definitely going to be torn with the films finale, which may feel like a letdown compared to what is being promised throughout the film. Yet that in itself is the point; leaving State Like Sleep in its own perpetual coma in a way, as it never really wakes itself up to keep the viewer engaged.
– Matthew Schuchman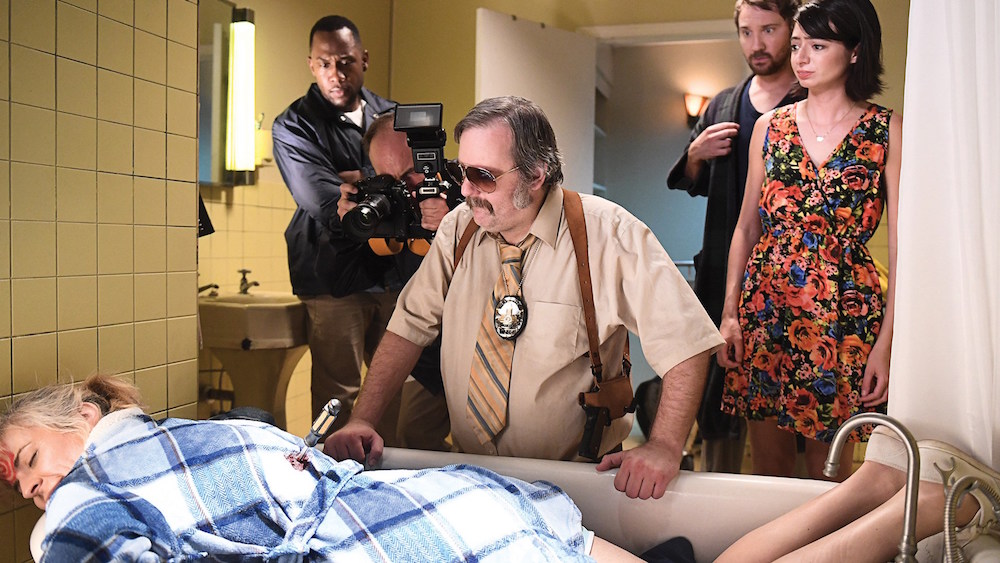 Seven Stages to Achieve Eternal Bliss by Passing Through the Gateway Chosen by the Holy Storsh
With a title destined not to be ever put on a full marquee, Seven Stages is a bizarre, defiantly hard-to-categorize comedy about suicide, spiritual enlightenment, and everything in-between. With a sharp ensemble cast, first-time feature director Vivieno Caldinelli makes tonally a dissonant but occasionally quite amusing little oddity.
Essentially the tale of a couple (Kate Micucci and Sam Huntington) having to deal with the fact that cult members are breaking into their LA apartment to commit suicide in their bathtub—as apparently a guru named "the Storsh" (Taika Waititi) did some years earlier—the movie is about them both being horrified, but coming to realize the Storsh's ideas ain't all bad. The movie is all over the place, but it has some comic firepower in a very winsome performance by Micucci in the lead role, comedy legend Dan Harmon as an inept detective trying to sell the couple on his spec screenplay, and most especially Waititi, whose deadpan elevator pitch for suicide finds that surreal stoner nirvana the film is so happy to pray for.
– David Crow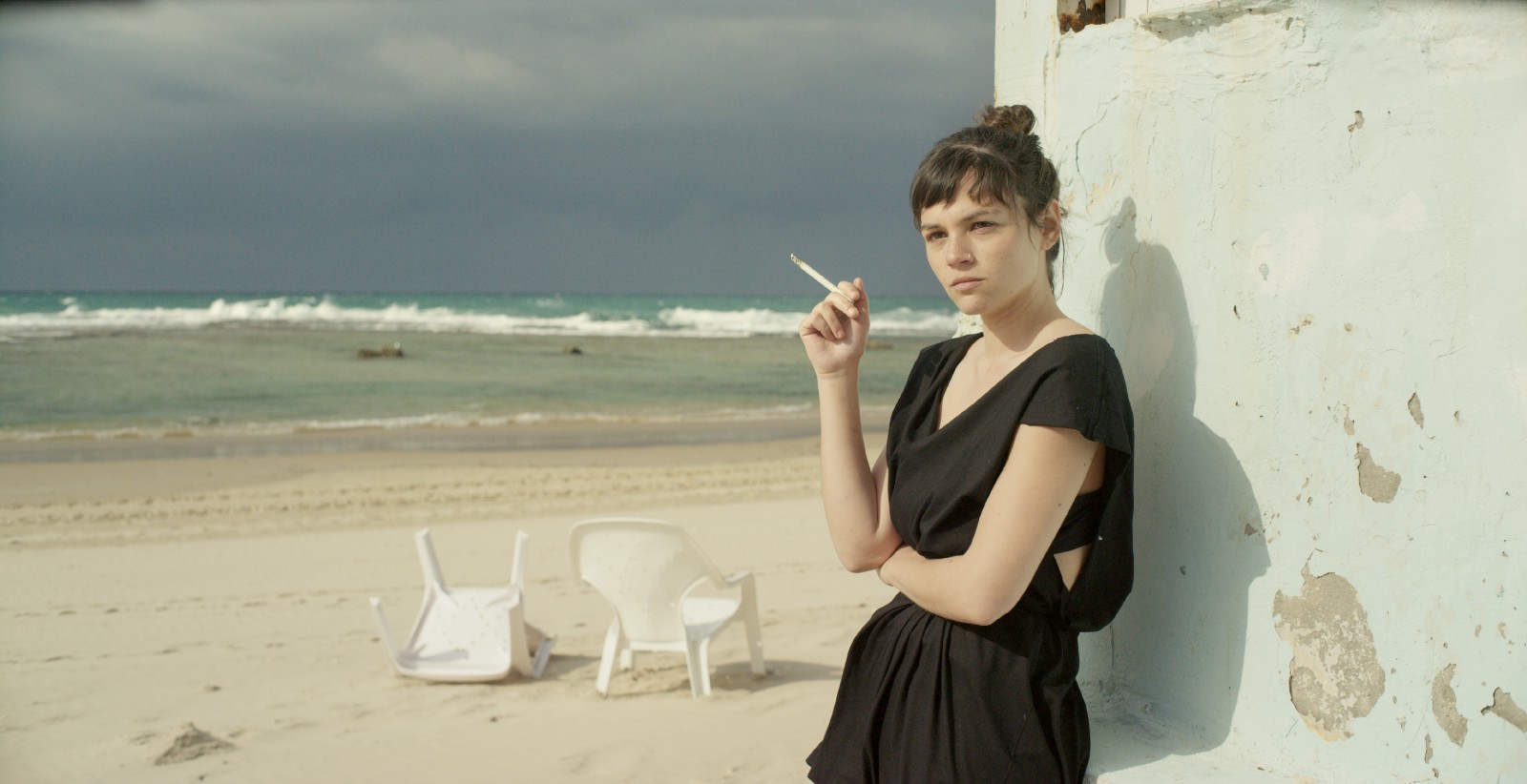 Virgins
Set in the beach town of Israel's Kiryat Yam, a location that actually has history of those claiming to see mermaids, Virgins follows the trials and tribulations of young Lana, a native teen whose only ambition is to raise the money to go to Tel Aviv. It is there she hopes to escape the boring and mundane suburban life she feels forced to live by her mother, but during a chance meeting with a journalist visiting the seaside haven, Lana's attempt at a silly joke turns into real life mania about a supposed mermaid sighting. She creates a boon of visitors to rush Kiryat Yam's shores, hoping to be the one to spot the mythical creature.
There are a lot of splintering plot points involving Lana's mother, her boyfriend, her half-sister, and other inhabitants of Kiryat Yam that help drive the narrative of people looking for hope and wonder in their lives, but under a microscope, the film actually feels more like a French-Israeli remake of the 1990 film Mermaids, starring Cher, Winona Ryder, and Bob Hoskins. Not just in name of course, but in many ways, including very specific scenes and scenarios. The stale momentum this causes during viewing the film definitely left a fishy taste in our mouth.
– Matthew Schuchman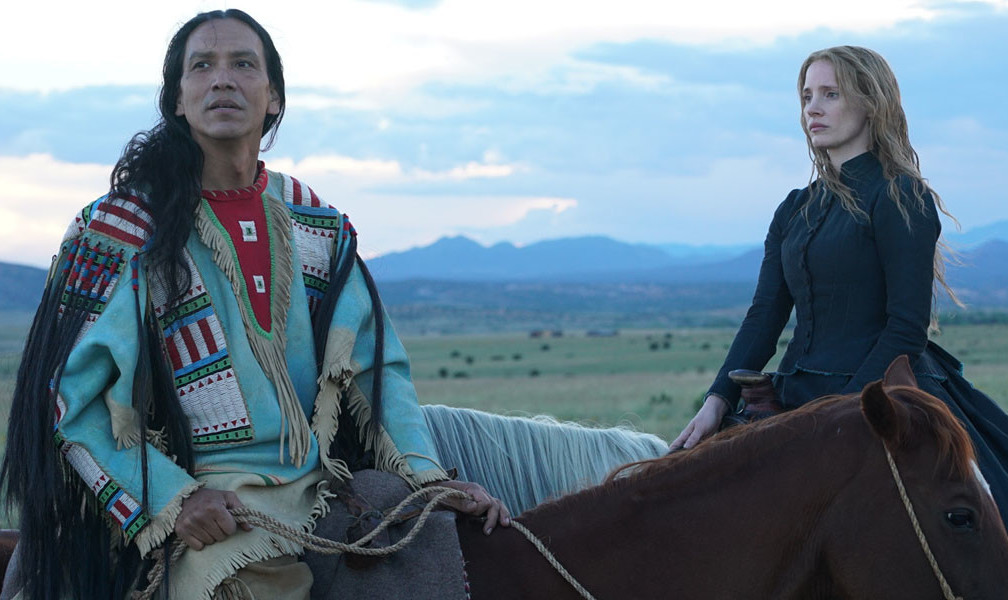 Woman Walks Ahead
With a deft hand and a large reserve of ambition, director Susanna White mounts a very elegiac vision with Woman, one in which she and star Jessica Chastain contribute to the growing subgenre of deconstructionist oaters. Within the familiar form of "Cowboys and Indians," they acutely assess the role of women in this well-worn cinematic genre, as well as the eternal tragedy of Native American relations in American history. While some have argued Woman Walks Ahead is a white savior movie, the sorrowful awareness of the film is that it knows all too well about its privilege, and the pain such good intentions can still inflict from 1890 to 2018.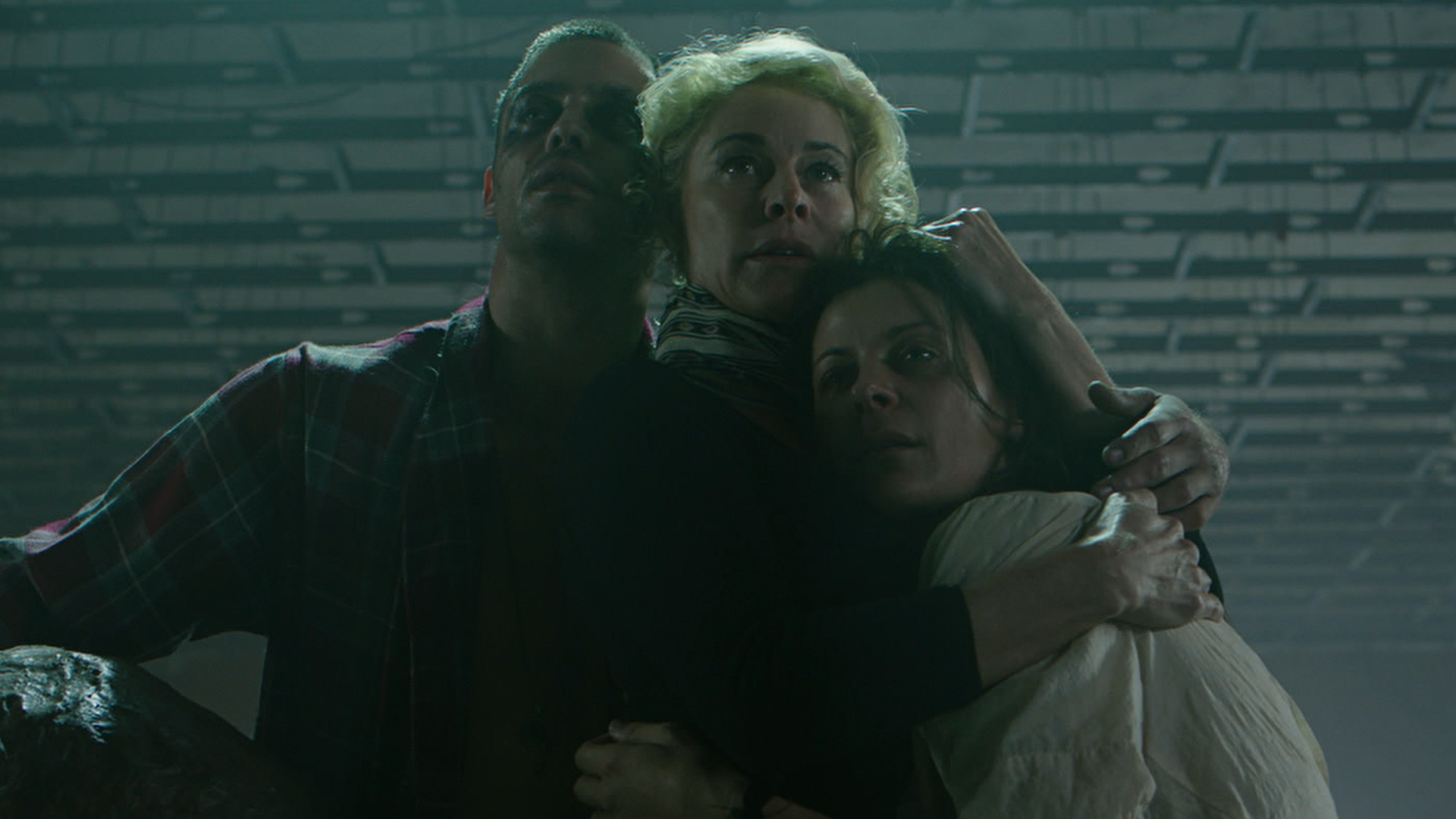 You Shall Not Sleep
Bianca is an aspiring actress who seems to be a star on the rise, but she is often held back by the need to take care of her father, who suffers from dementia. When the opportunity arises for her to work with her idol, a woman's whose method to get the most out of her actors is to deprive them of sleep, Bianca can't pass up the chance. She puts her father in the care of a hospital and heads off to an abandoned insane asylum, the site of this new production. The more Bianca doesn't sleep, the more she starts to see things, but are these apparitions just a construct of her mind, or something more tangible that she was meant to see?
The specifics of You Shall Not Sleep are a lot more convoluted that the above paragraph and really are hard to jam into one concise statement. Yet, that doesn't change the fact that the jump-scare horror aspects of You Shall Not Sleep to fall well short of any real fear inducing hits of the past. I'm trying not to be highly cheese and give you one of those, "You Shall Not Sleep will only do just that, 'Put you to sleep!' But really, that is what it does. For as awkward and far our as the film's premise stretches, it is another in a long line of spooky mysteries whose ending doesn't really justify the journey it took to get there.
– Matthew Schuchman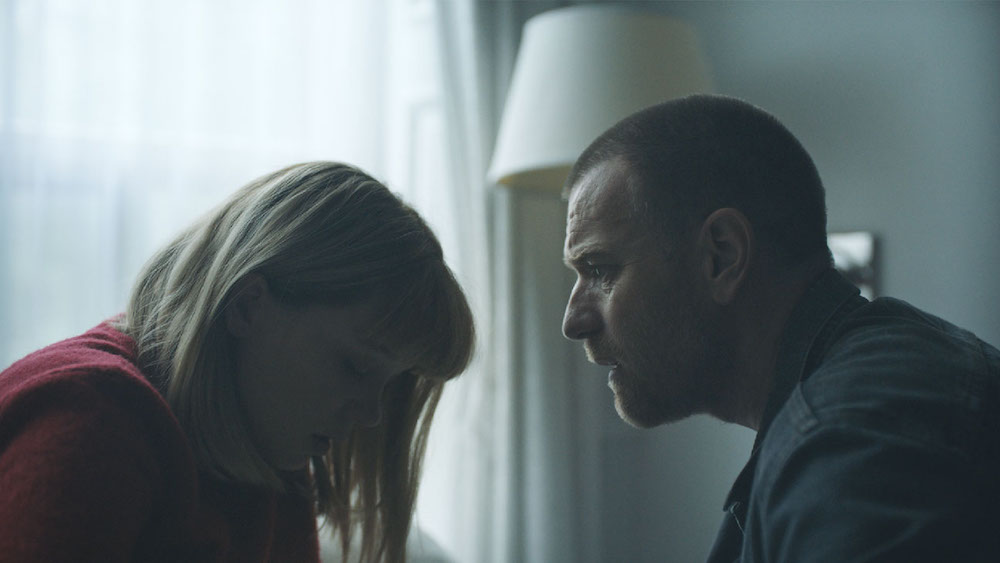 Zoe
In an indeterminate point in the future, companies are producing everything you need to live a happy life. Synthetic humans to trim your hedges, a drug to help you remember that feeling of falling in love for the first time, and even a machine that will tell you if you and your partner's relationship will last through the years. It is this machine and its process that sparks the main story between the man who created the machine (Ewan McGregor) and the woman who helps sell its services; Zoe (Léa Seydoux).
Much like a previous Tribeca entry (Equals) from filmmaker Drake Doremus, Zoe suffers from being too much like many films before it. Eternal Sunshine of the Spotless Mind, Ex Machina, Her, Making Mr. Right, and so many other films have explored the places Zoe goes, and in a much more fascinating way. That isn't to say as a film itself Zoe is totally devoid of any merit or emotion; it just lacks in any originality and is crushingly predictable. McGregor and Seydoux turn in lovely performances, but it isn't enough to separate Zoe from the rest of the pack.
– Matthew Schuchman